I love that my blog feed here is full of home and apartment renovations lately! I've mentioned this before, but it's my dream to buy and gut a house and start from scratch! Preferably an old baby like the one I live in now. My dream friend, Sarah Rhodes of Arrow and Apple, out in Phoenix renovates homes for a living now with her wood-making husband, Josh. They and their two perfectly adorable desert babies (let it be known my computer wants to correct it to 'dessert babies.' I do not want to eat your children, Sarah. Promise.) are livening up Phoenix with wood, concrete and cactus and her feed kills me. I'd snap one of those houses up so fast if I lived out west!
So in an effort to be like Sarah, it is with great pride that I share the beautiful before of my eventual before and after of my 1900s apartment. Try not to drool on yourself too much.
(Psst! See my previous tour here!)
Apartment Before:
Living Room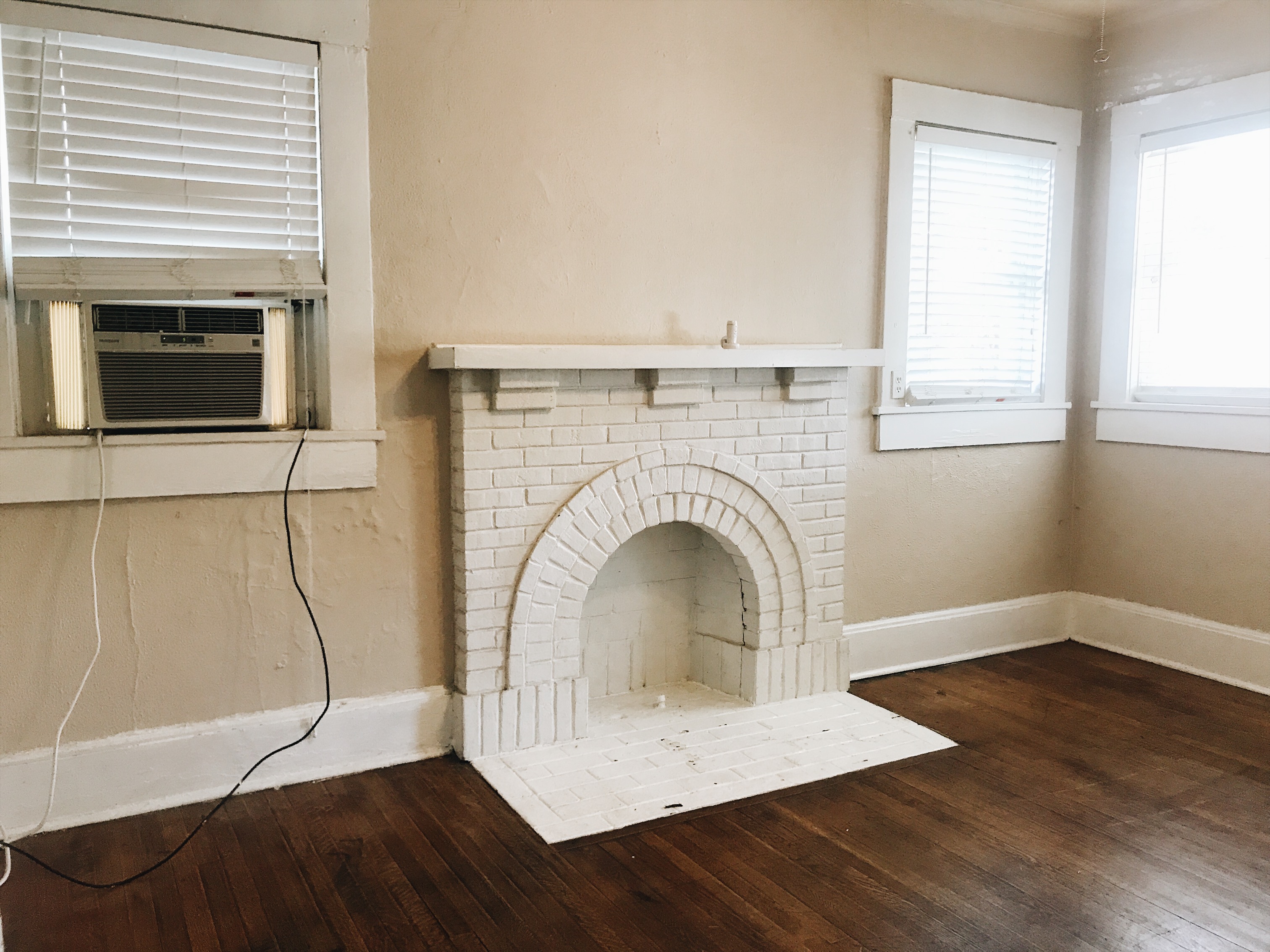 This fireplace is original to the apartment. While it doesn't work anymore, it's an incredible feature and I'm so glad it's been preserved! This is what you see right when you walk in. My apartment actually used to be a house, then it was a duplex, then a four-plex which is what it is now. Amazingly, most of the original features have been kept! The hardwoods, interior doors and doorknobs, windows and trim. It can be difficult to find apartments like this some places. I'm thankful for historical societies that protect these places!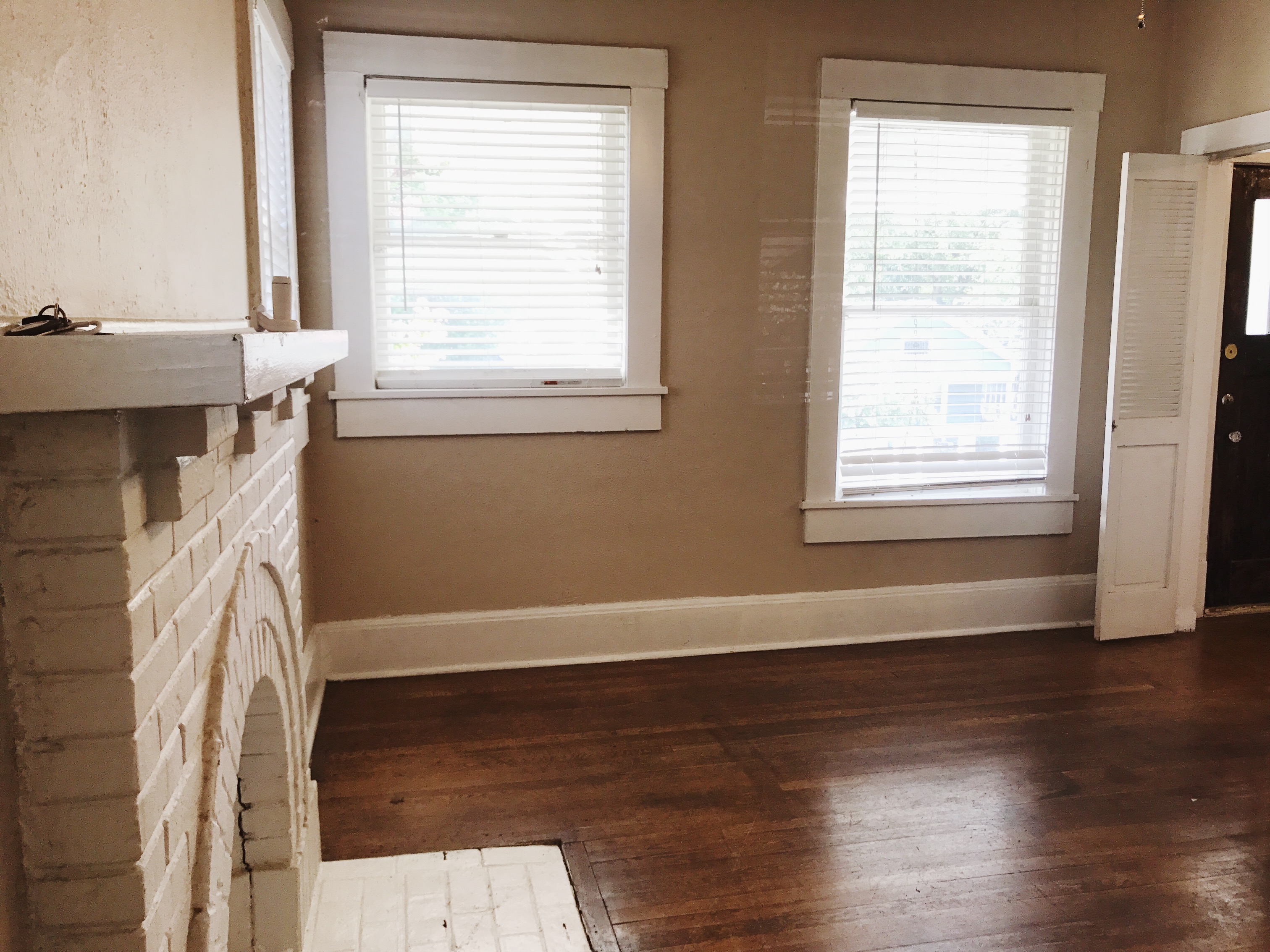 Here's the other side of the living room. The hardwoods are all original and have been redone. They're in decent shape actually! These windows get gorgeous indirect light and out the two corner windows is a pink crepe myrtle in full bloom. In the afternoon it gives the prettiest dappled light.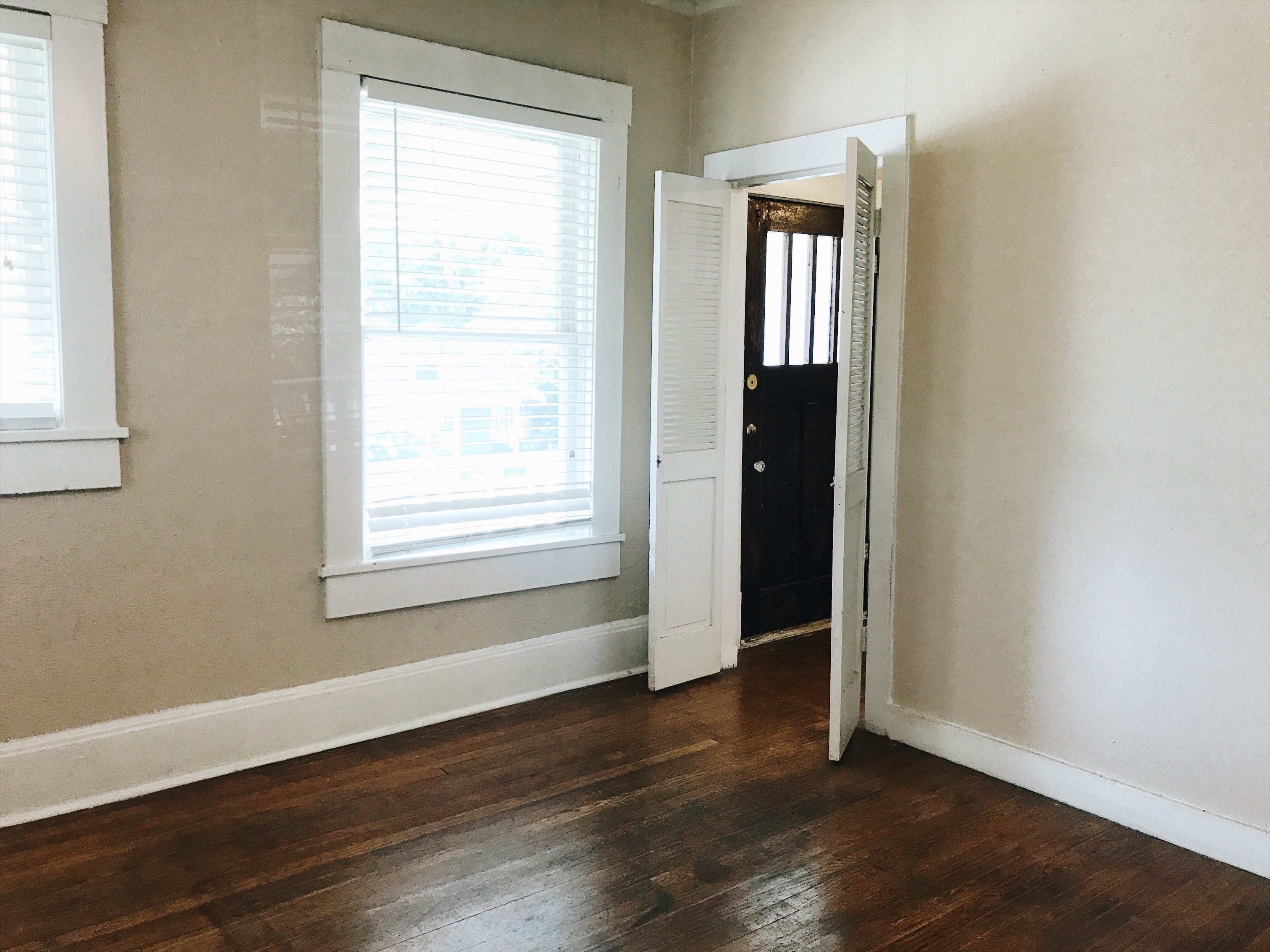 The living room is a really good size. I can fit my entire family in here and we all have a seat! Something I couldn't say for my old place. That dark stained door you see is in my bedroom and goes to the balcony which is the size of my old living room! I haven't gotten a good shot of it just yet, but it'll be it's own tour. It's that big!
Bedroom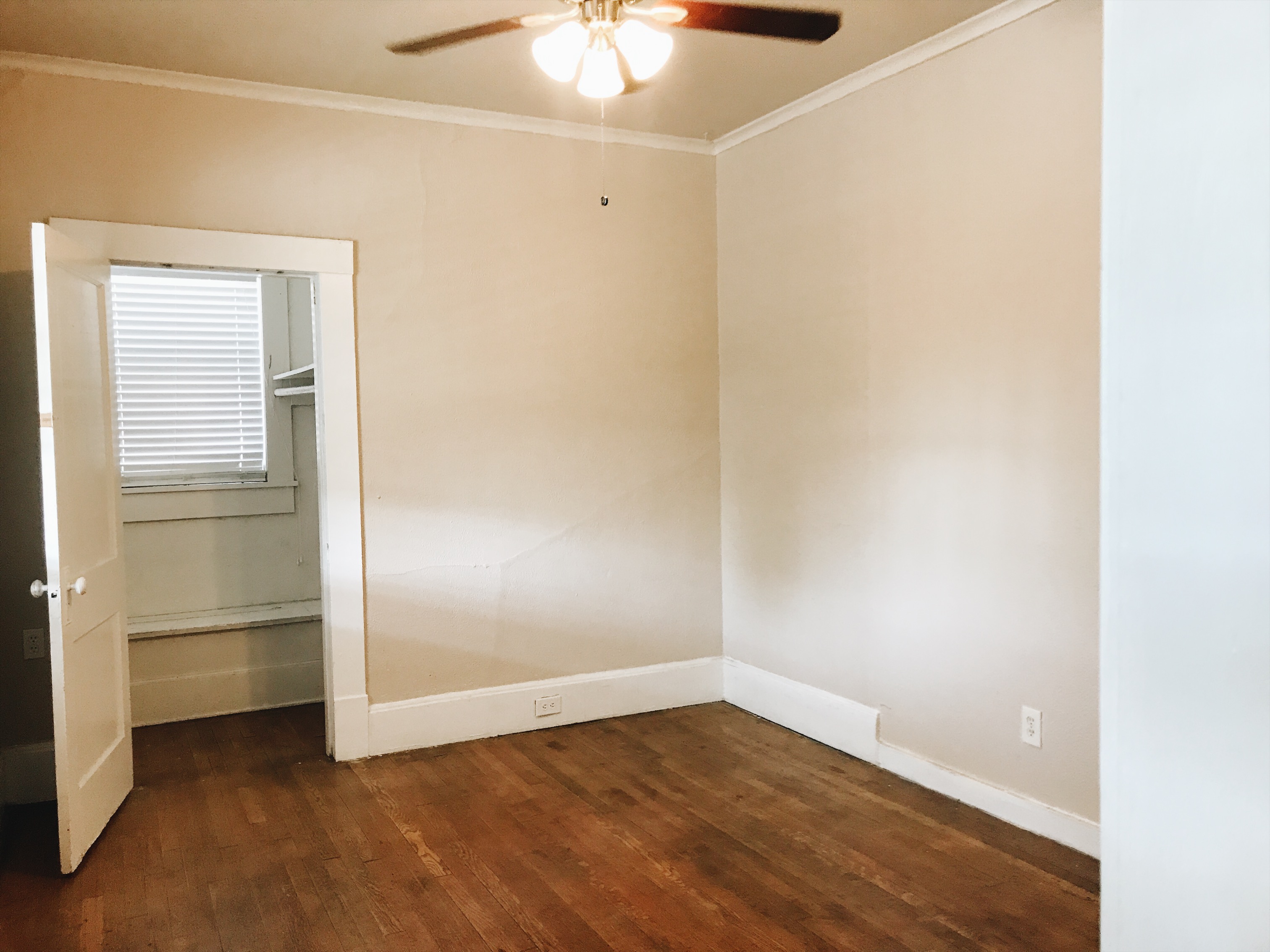 Swing through those little double doors and you get to my bedroom. This shot makes it look a lot smaller than it actually is. I can fit a large mid century desk, a long IKEA dresser and my queen size bed with tons of room to spare! The walk-in closet has two windows and an original bench storage seat that I store my winter stuff in. All the doors and interior knobs are original. I can't believe I get to live here. What insane luck.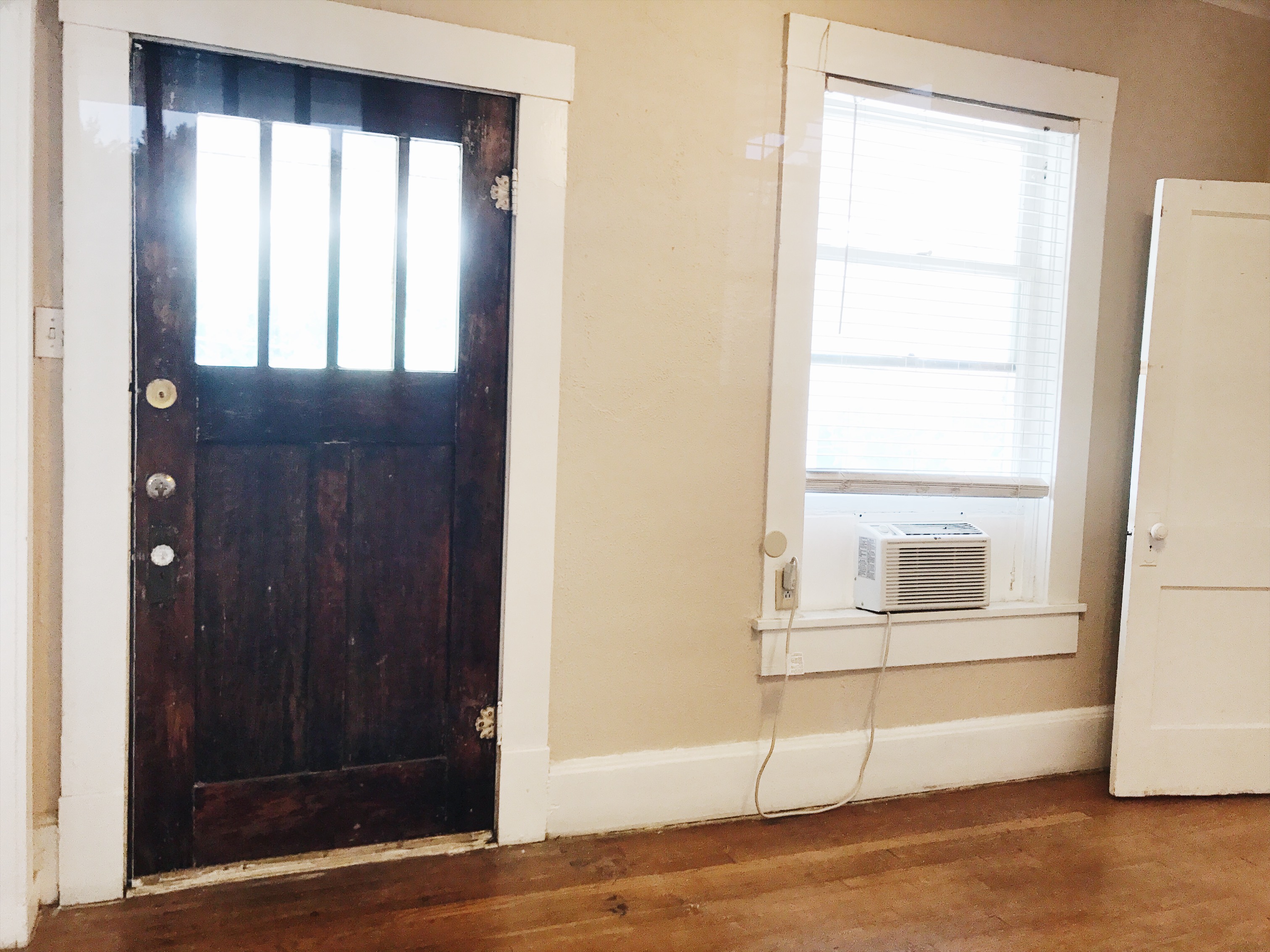 The doorknob on the balcony door is sparkly, clear glass. So pretty. The hardwoods in the bedroom could stand a refinish, but since I don't own this place I'll pass on that job. Lying in bed at night, I can see straight to the sky through the windows on the door.
Kitchen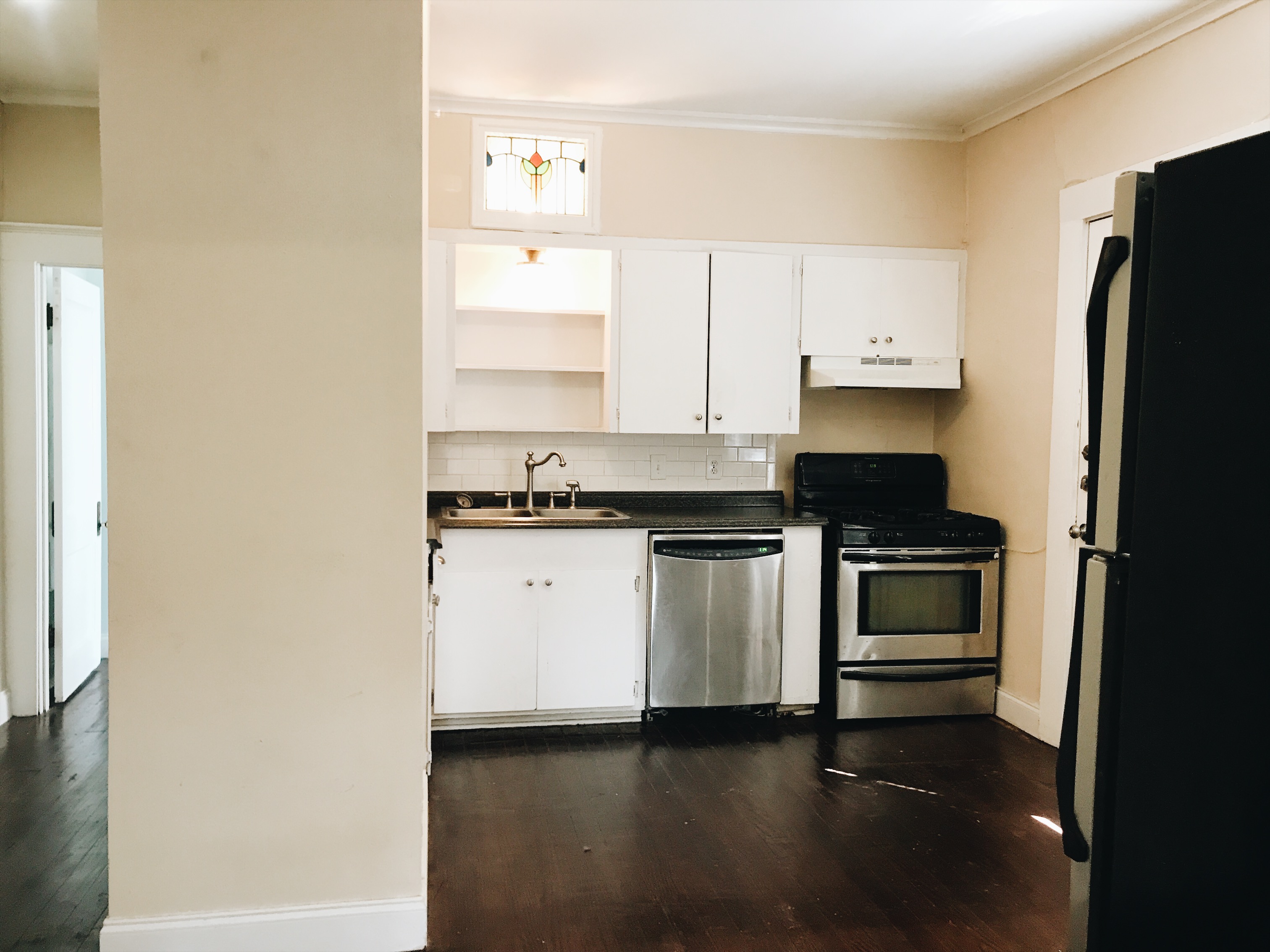 My landlord told me he and his nephew spent dozens, probably hundreds, of hours sanding down the old linoleum to find this gorgeous original hardwood underneath. They added a fancy dishwasher, a gas stove and the cute stained glass feature above the sink. This kitchen is big enough to hold almost everyone in the Dugger family. Like, no one has to back out butt first so the person at the end of the kitchen can get out like my old place. It was more like the stall a bull is in before he gets ridden in a rodeo than it was a kitchen. THIS is a kitchen. I plan to add a stainless steel island in the middle for extra counter space and to take up all that free space. I feel it will make the space feel more closed in than so open.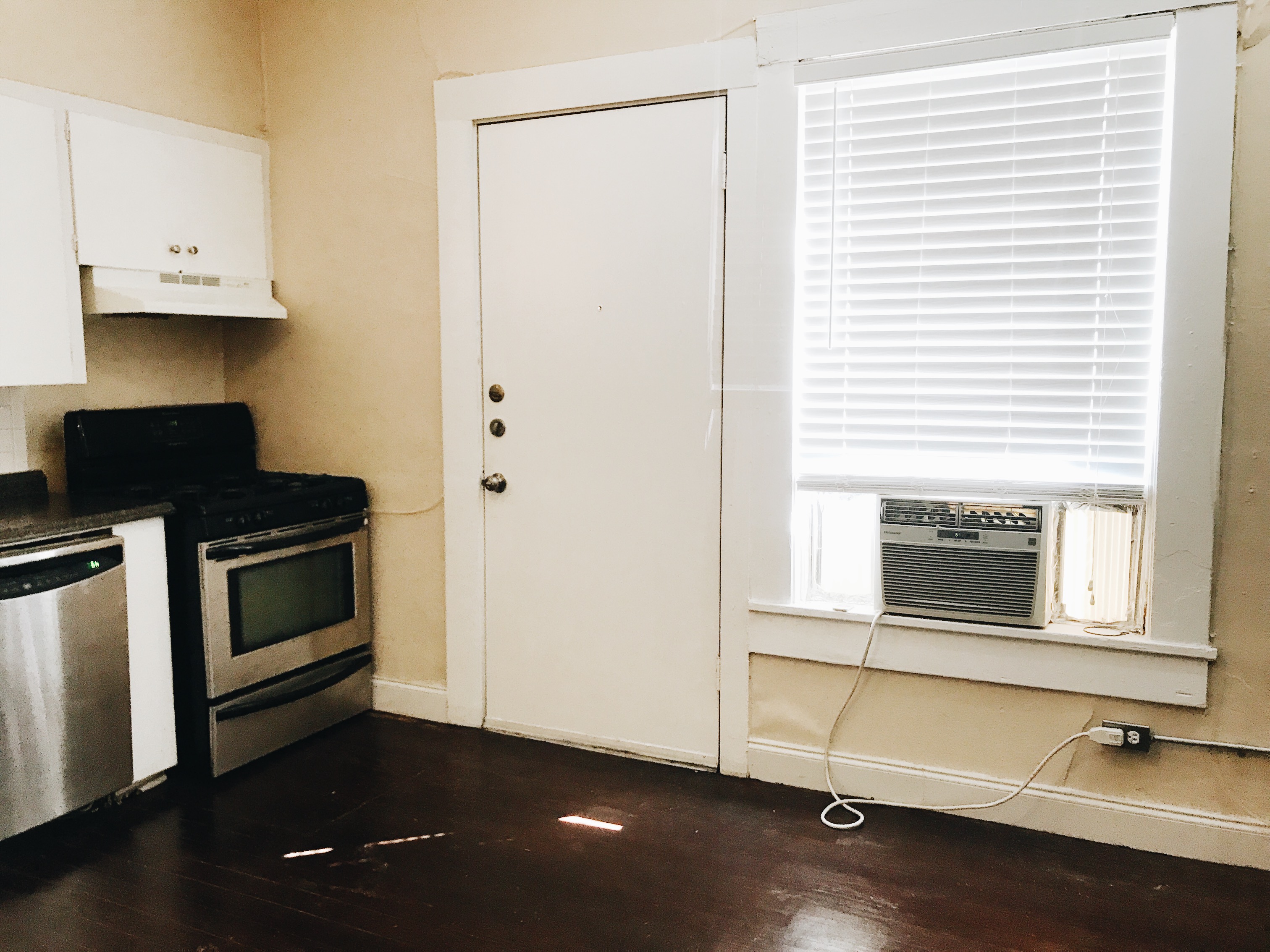 Swing a little to your right and here's the door that goes down to the yard. YES. THERE'S A YARD! It's in really bad shape, though. It's pretty shaded and bamboo from the neighbors has crept over and all but taken over the soil. When it rains it gets flooded in parts, but crushed granite will be there by the end of the summer to take care of that. I'm looking into grasses that can withstand shade. St. Augustine seems like a good possibility, but what about the bamboo? Would it kill it? I hate bamboo.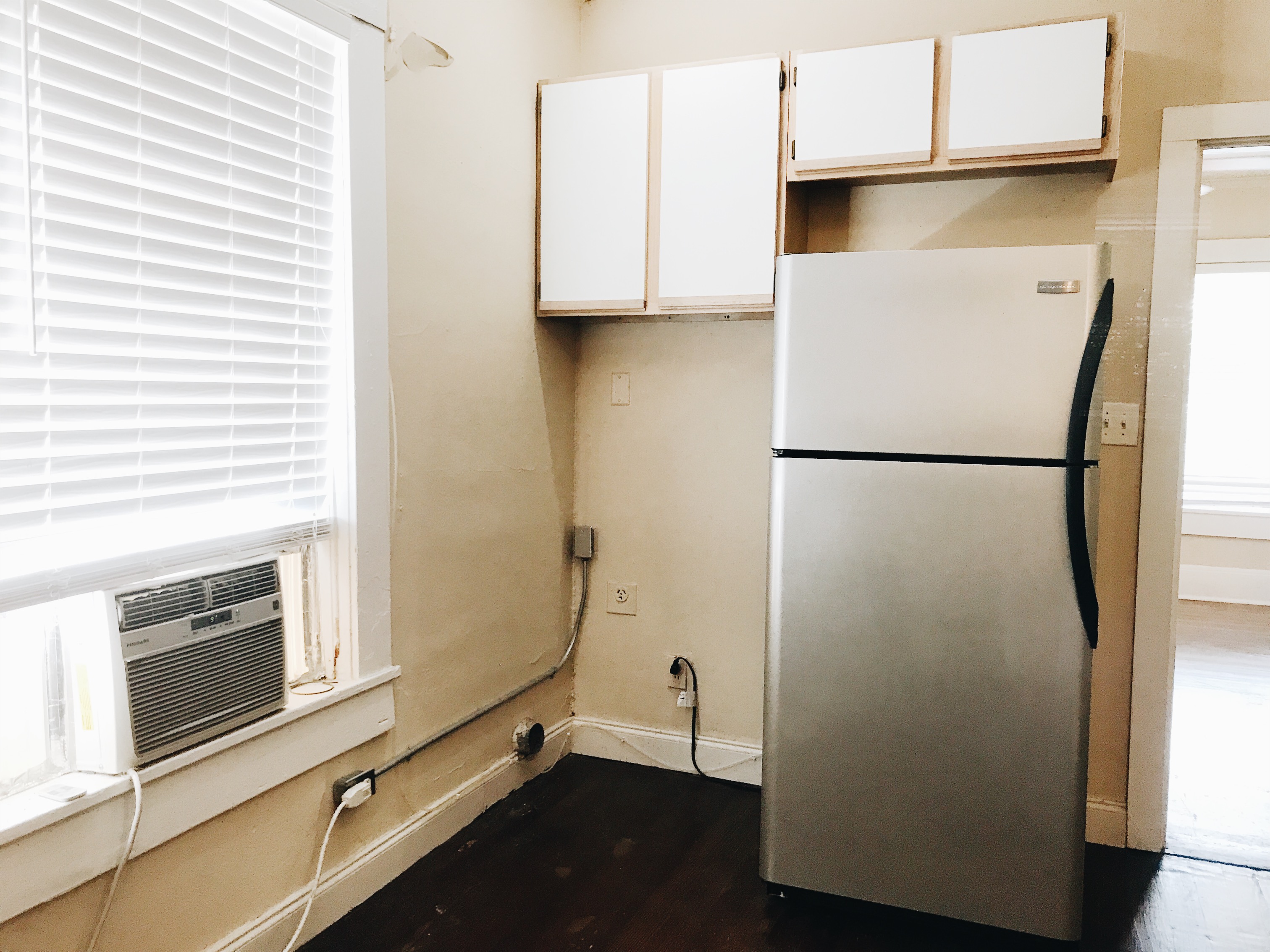 All the way around again and here is the fridge and where the dryer will go once I buy a set. The washer is just a few feet away in the hallway. Because it's an old building, there were only ever hookups for a washer. The dryer was added later.
Hallway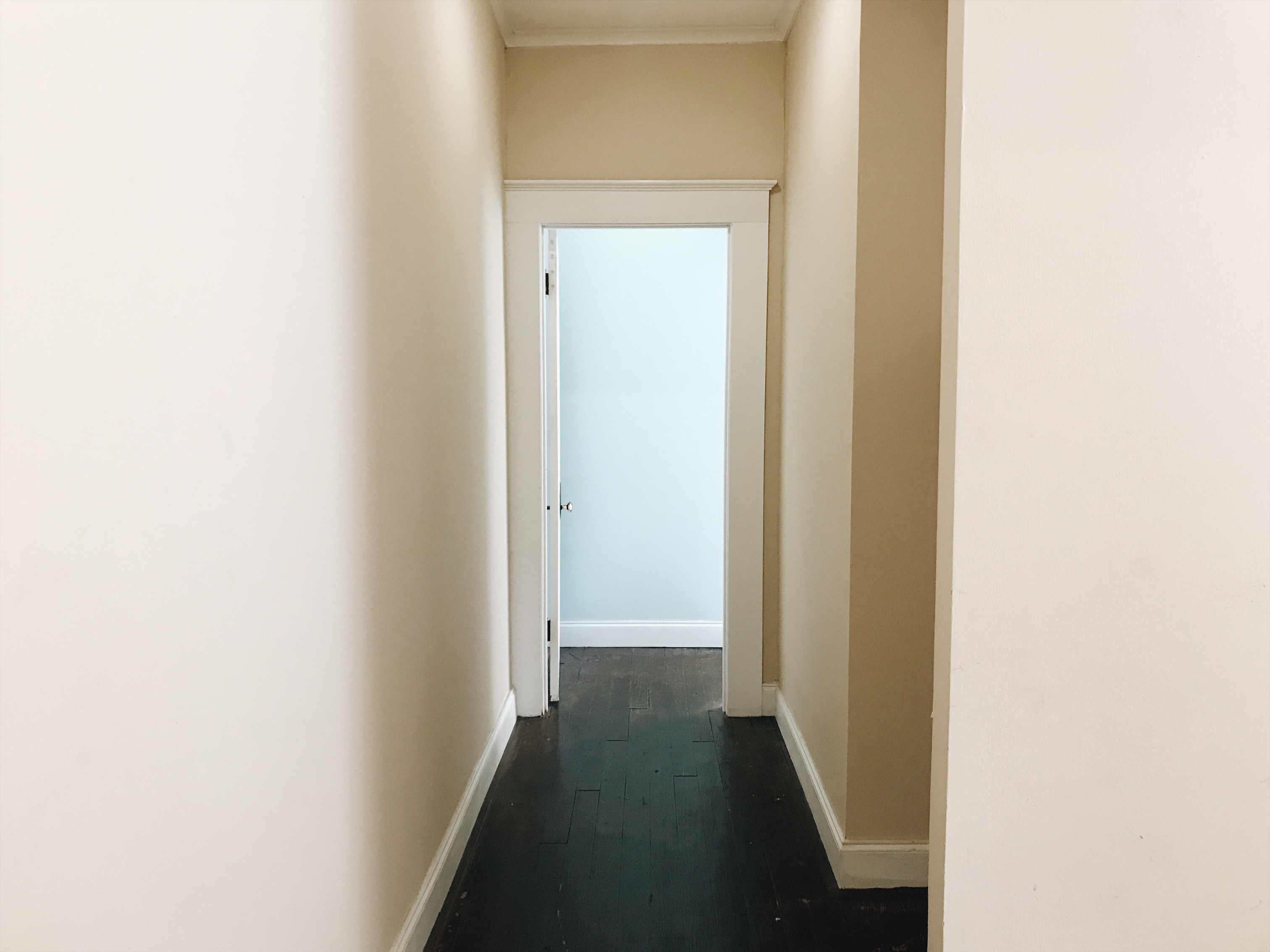 Here's the hallway off of the kitchen. See that nook to the right? That's where the washer goes. There are cabinets up above that provide a lot of extra storage for this craft lovin' (dog) mama. I plan to add some neat hook storage on the far right side of the hallway for my novelty bags. On the left I plan to add some kind of pattern. I was thinking small black cactus? The whole apartment will likely be white at some point this year, so keep that in mind!
Bathroom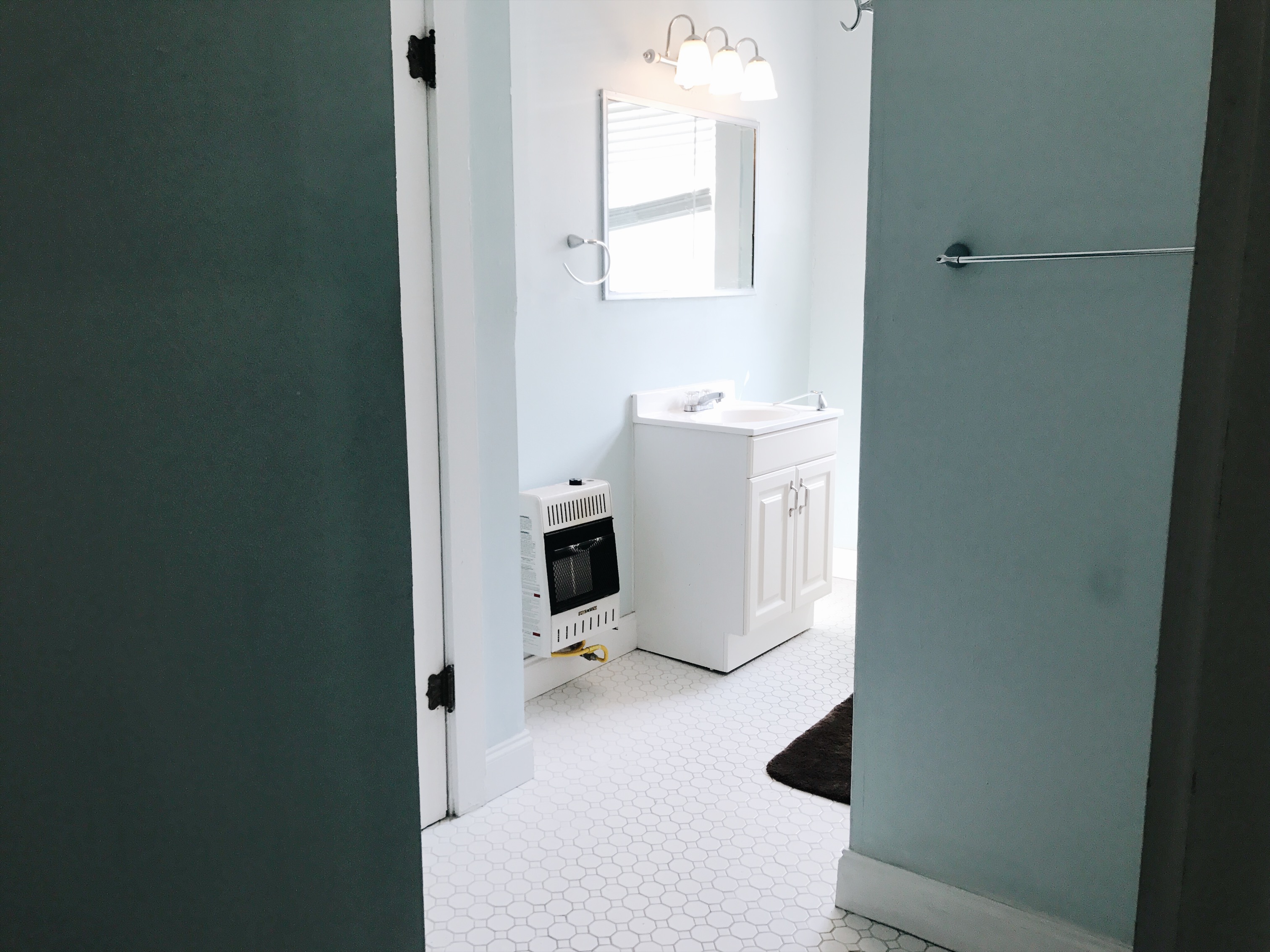 The bathroom. Oh! The bathroom. That tile. The original hardware on the closet door. The light. Ugh. It's sickening how gorgeous it is in here! There weren't any outlets when I moved in, bizarrely enough, but I'm having an electrician come out to add at least one. I'd love at least two in here but since my landlord doesn't currently have a sheetrock person I'll settle for one for now. I like the light blue color. It looks beautiful in the natural light, but I'm all for a new paint color. What would you do in here?
And that's it! This is just the before. I have some ideas already, but there is just so much more space in here than my old place that my want for more shelves just isn't needed. That means I get to fill up the walls with ART! Wahoo! Point me in the direction of some of your favorite pieces because that hallway is begging for some brightly colored art!
Stay tuned for the progress reports!
xx