UPDATED 5/30/17! Check out how Wayfair handles TV stands in small spaces!
Yes! Finally! After two months I've dubbed this place decent enough to show to the internet. I thought I'd spare you from the 43 photo heavy post and split it up by room. That way you can get the full experience.
Up first, we've got the living room. 90% of what you'll see in my place is either free, thrifted or Craigslist. A la Vintage Revivals style.
THAT COUCH THO. It was a sweet Craigslist score right before I moved. It fit snugly in the bed of my dad's truck and after a quick coat of pink paint by Valspar, it brought it into my eclectic mess of a style.  (heart emoji eyes all day.)
These white floating shelves were a surprise find at Target. The three of them, just sitting there, waiting for their mama to take them home. $7 a piece I was happy to do it. But the instructions LIEEEED. You're apparently supposed to easily just shove the plastic anchor screws with no pre-drilled hole. Well, an early 1900s apartment has PLASTER WALLS and needs a really big pre-drilled hole. After an hour of sweating in a contorted position at 11:30 one night, I threw down the screwdriver and gave up. I gave it another go a couple days later once I cooled off and pre-drilling is the key. That bottom one though, since it's the first one I did, is leaning wayyyy down. Whenever I decide to rehang it I'll have to patch the hole and paint over it. Fingers crossed.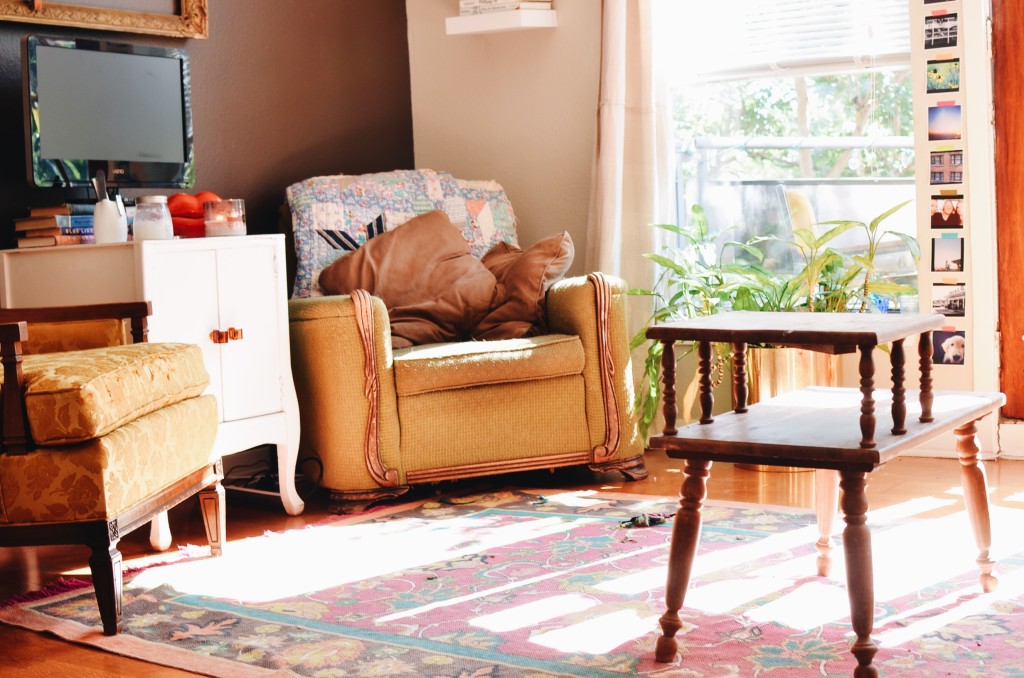 See that little white dresser? I've since replaced it with a tiny, half-moon shelf, but Wayfair had some better ideas! Check out the post they wrote collaborating with other bloggers living in small spaces here! Once I (FINALLY) get to move someday, I can't wait to check out what options they have. I'm way into mid-century these days and there are some crazy cool ones right now! Like this, this and this. ALL FOR UNDER $300! How do you style your TV stand?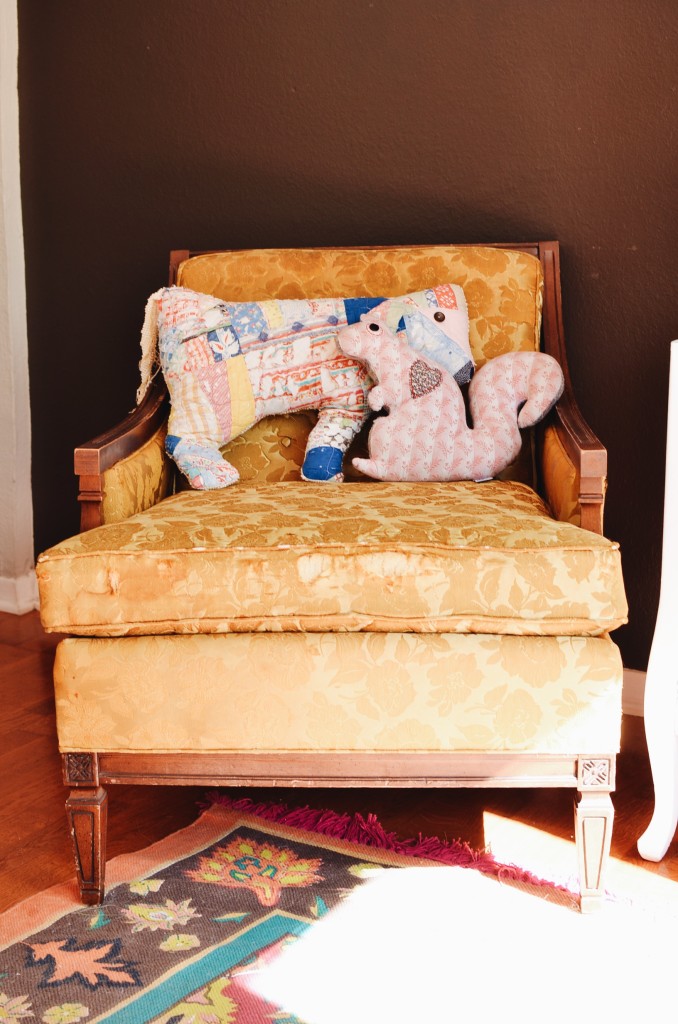 Both of the chairs were thrifted; the gold a $20 Goodwill score and the green tweed a $2.50 (YES. $2.50) estate sale. I think the green tweed is a little bulky for this space so I'm thinking a slim, worn-in leather chair would really fit better. The gold chair needs a recovering in a cool, modern gray or a bold navy. That's beyond my skillset right now, but maybe someday. There's a rogue blue suede footstool that the snake tongue plant is chilling on. It belongs with a matching wingback chair that just couldn't fit in this place. It is SCREAMING for a hot pink velvet makeover!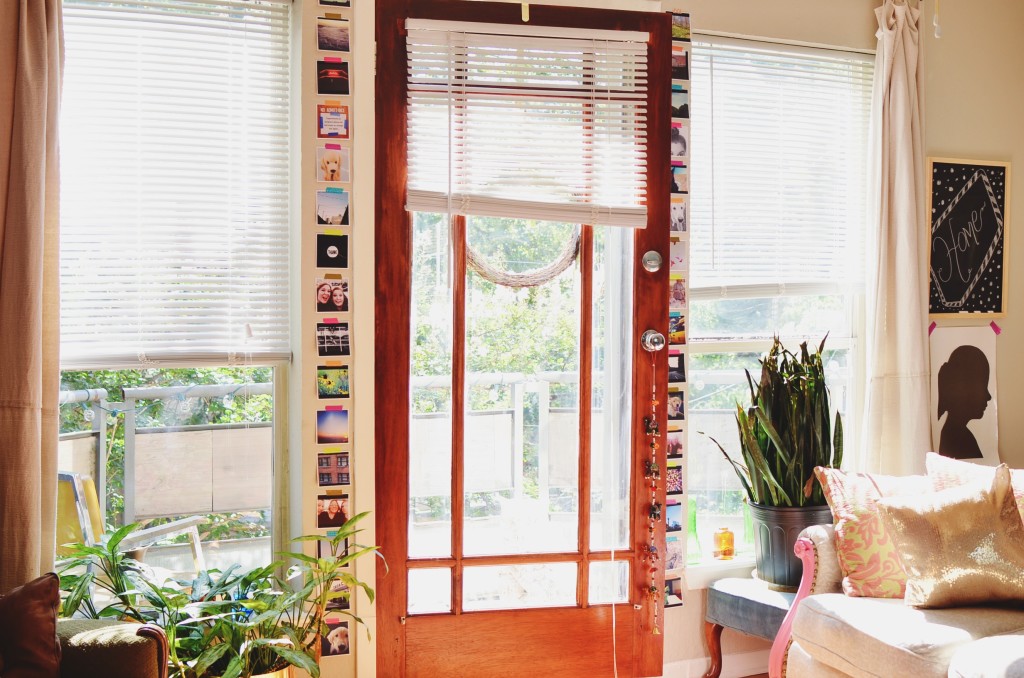 Both of the plants are scores from our big work move. I'm trying hard not to kill that snake tongue plant. It's in desperate need of a repotting. Hopefully it'll survive! My green thumb really only applies to succulent and cacti, but I actually killed a succulent last week so I'm not sure how accurate that is. All of the photos bordering the patio door are from Social Print Studio, my personal fave for easy Insta prints.
SO THERE YOU GO! It's been two months and I change something almost every day. Since I shot this I've already changed several noticeable things. It's like that game where you have two pictures side by side and have to note the differences.
Still to do:
-New entry table/shelving
-Replace green tweed chair
-Bleach dropcloth curtains and add pompom stripes
-Hang wicker pendant over green chair
-New, bigger rug
-New coffee table
-Art for gray statement wall
Totally achievable with a little saving!
What do we think? What would you do in this space? I think I've solved my rug dilemma! Good news on that front. Let me know your thoughts!
xx