I feel like this bedroom is only marginally bigger than the one I lived in at my parents place. But! Hardwoods! 8 foot ceilings! Big windows! I updated to a queen size bed when I moved (ballin'.) so that takes up most of the room. But here's how I laid everything out!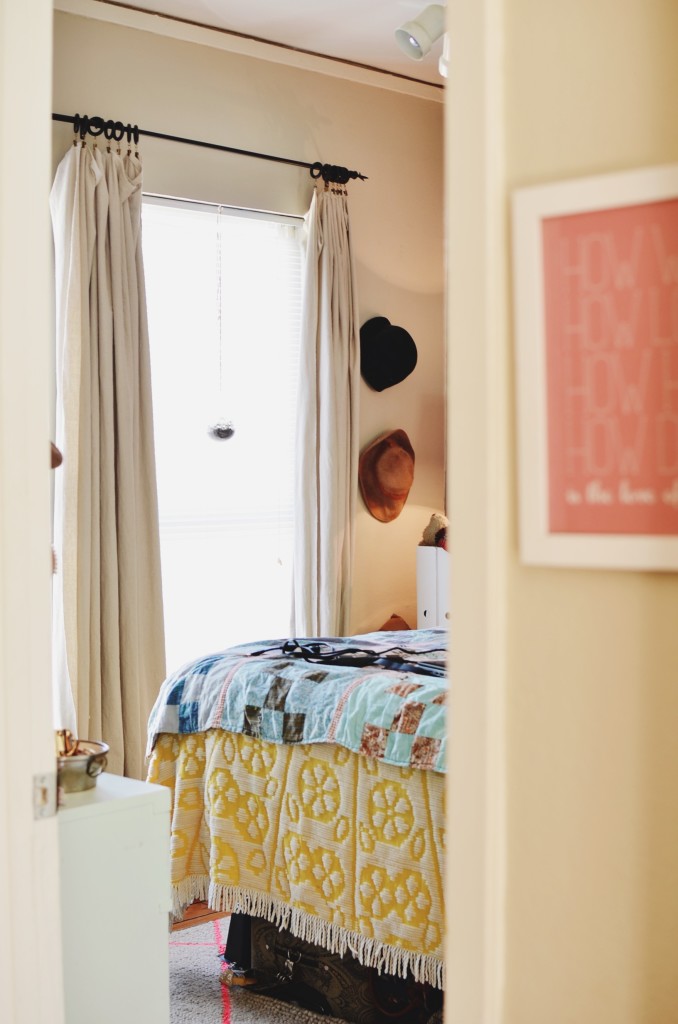 Here's the view from the "hall." AKA, where the bathroom, bedroom, and linen closet doors collide. For the warmer months I am LOVING this chenille blanket + quilt combo. Keeps me warm enough without needing to kick them off in the night. Texas summers are REAL.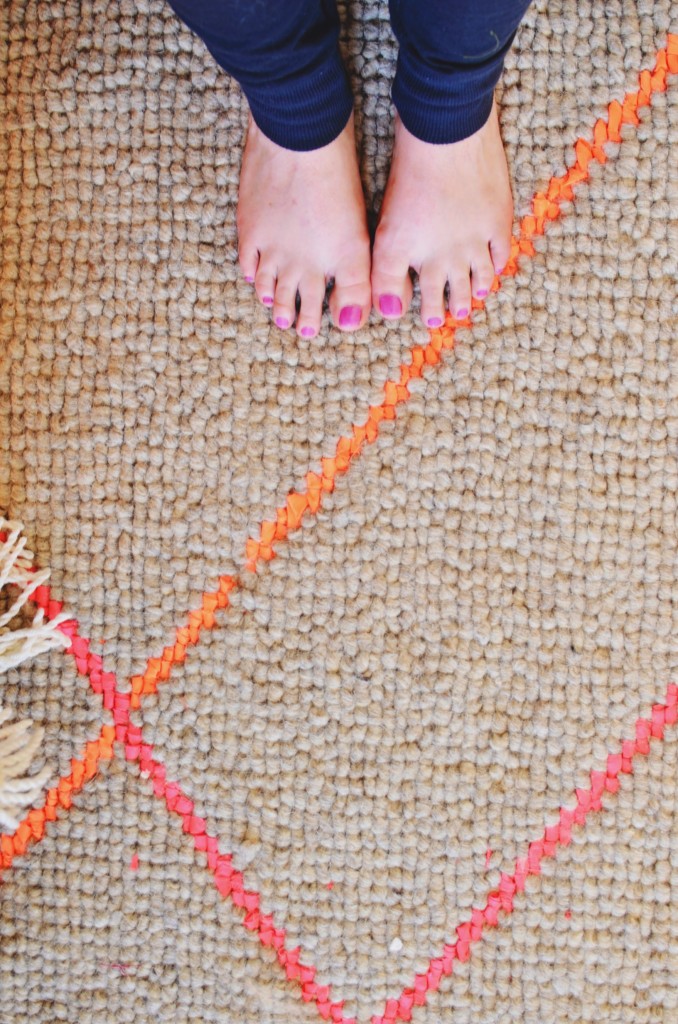 This is the West Elm rug I mentioned in my rug ideas post a couple days ago. It's thick, fuzzy and soft but sheds like crazy. Thanks, wool! I think I've decided to move this one into the living room since it's the size I want and purchase the black and white one from IKEA. Saving that $$$! Thoughts?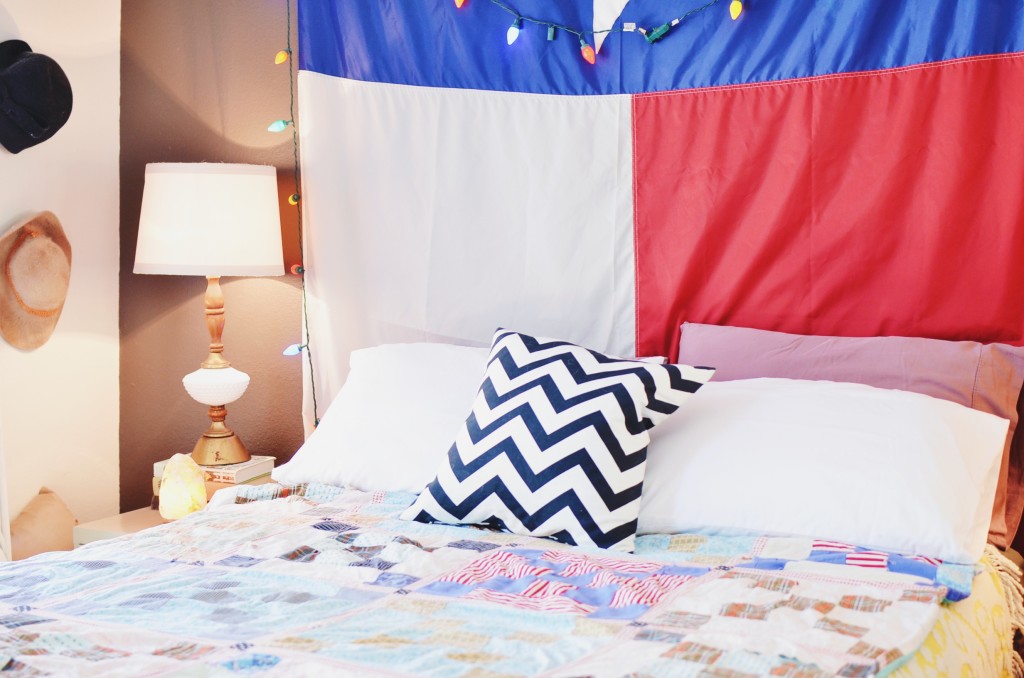 I love this quilt! It's another score from my aunt's antique shop in downtown Gladewater, TX. (Country Girl Collection!) That chevron pillow cover is from H&M. Did you know they have house stuff!? Reasonably priced, adorable house stuff. I'm a big fan of their pillow covers. That Texas flag? Yeah. It's humongous. It was hiding in the back of my parents closet! It flew for a while in front of my dad's work and dad (graciously) took it when they retired it. Way to take one for the team, dad. That milkglass lamp is a super cool Goodwill find, I think. was my grandmother's! The salt lamp is $19 at Walmart. Don't let Urban Outfitters screw you out of $20. Get it at Walmart.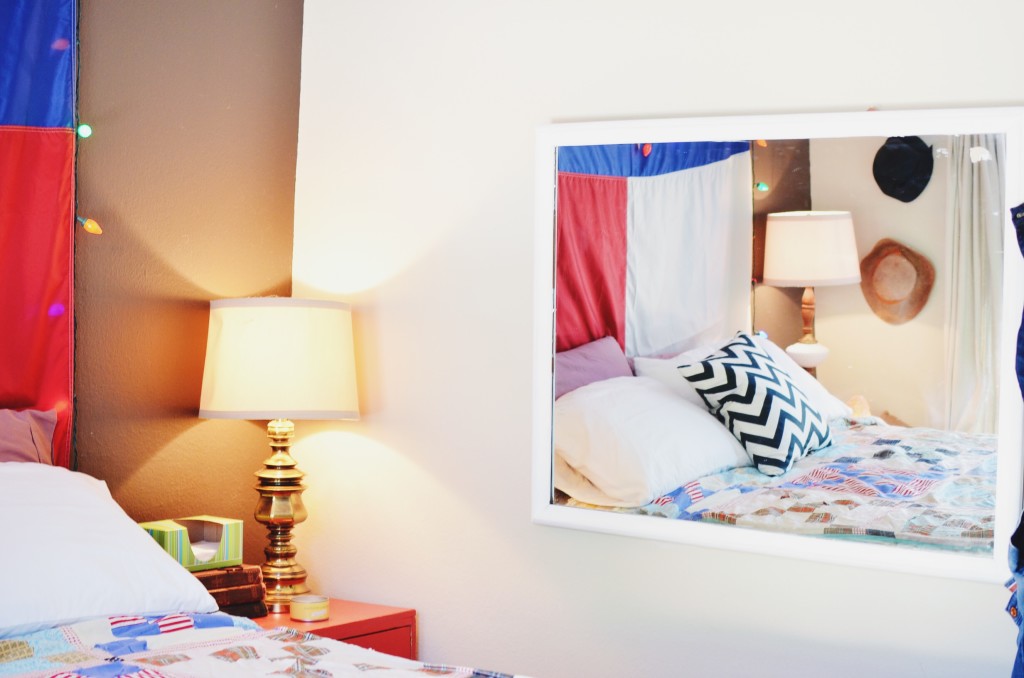 I've had this mirror forever. It's incredibly heavy and only hangs in this orientation for some reason? That brass lamp was $9 at goodwill! The red nightstand you see peeking out is a campaign dresser from Canton Trade Days years ago. It needs a new coat of paint and updated hardware, but I can't wait to see it come back to life. Kleenexes are from Target.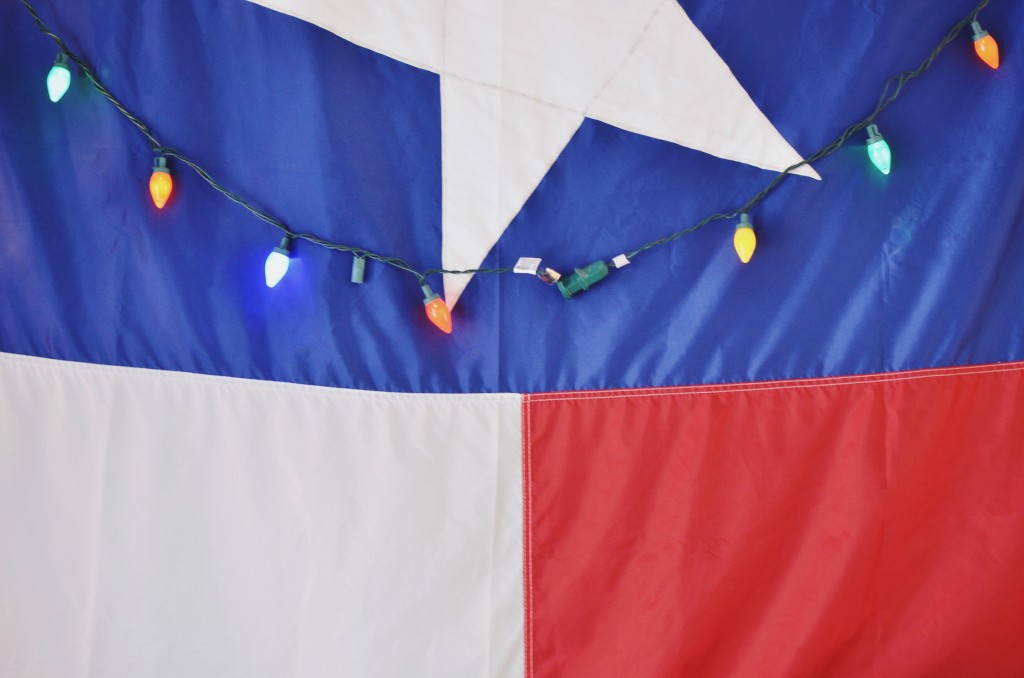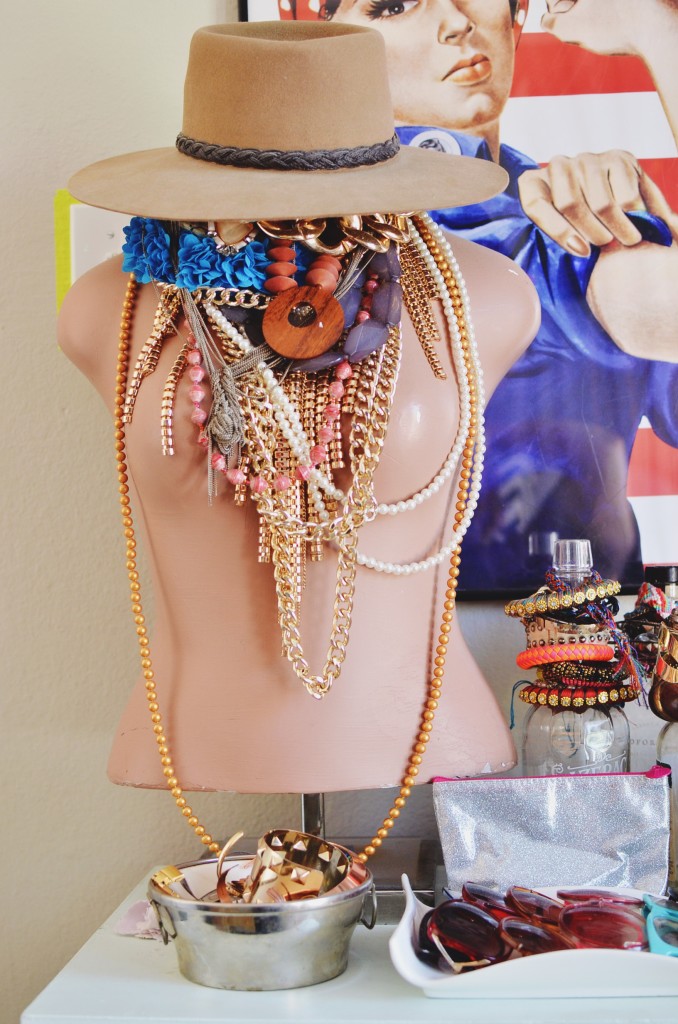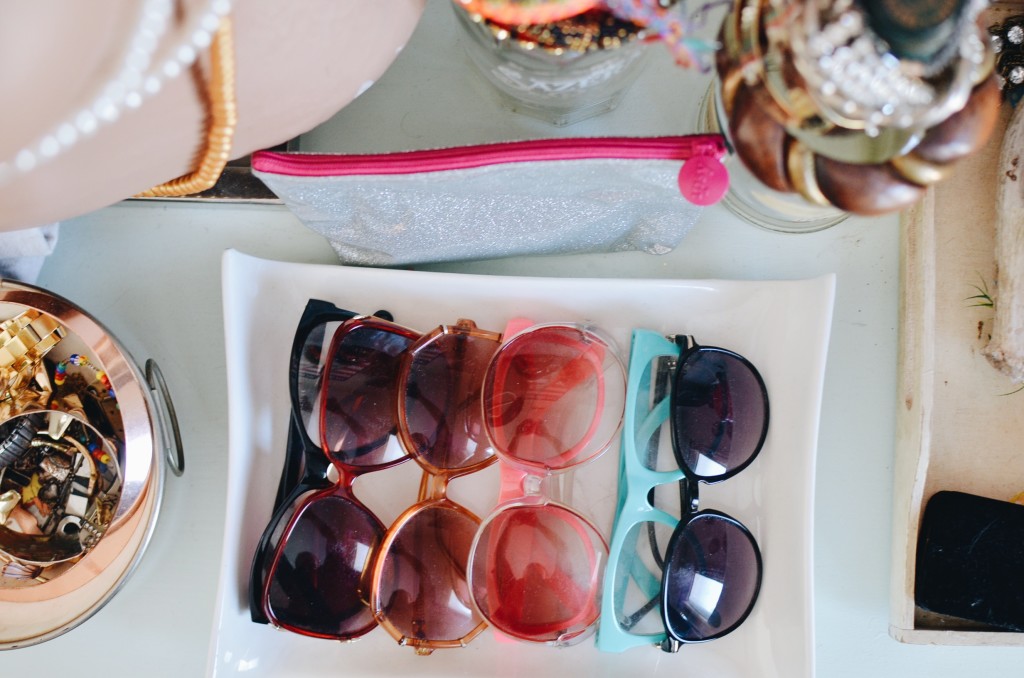 Hi, my name is Melody and I'm a jewelry hoarder. (Largely due to my employment at Gaudy Me + Dressin' Gaudy.) A couple of years ago, my parents found this old mannequin bust and gifted it to me for Christmas. I LOVE IT. It houses my bulkier necklaces and temporarily that (sweet) Goodwill hat.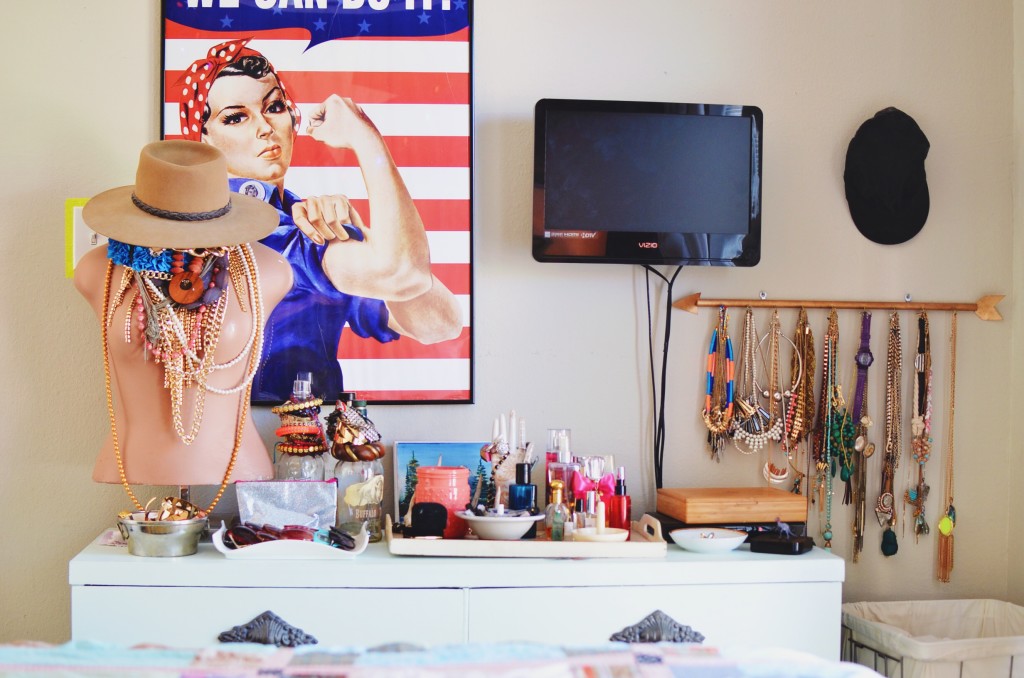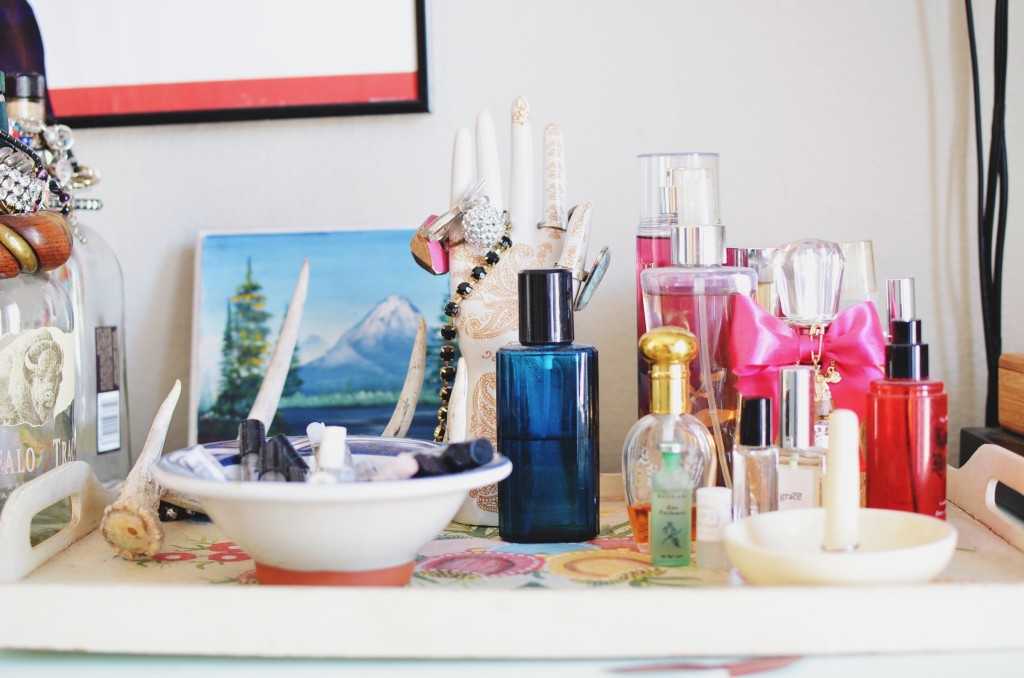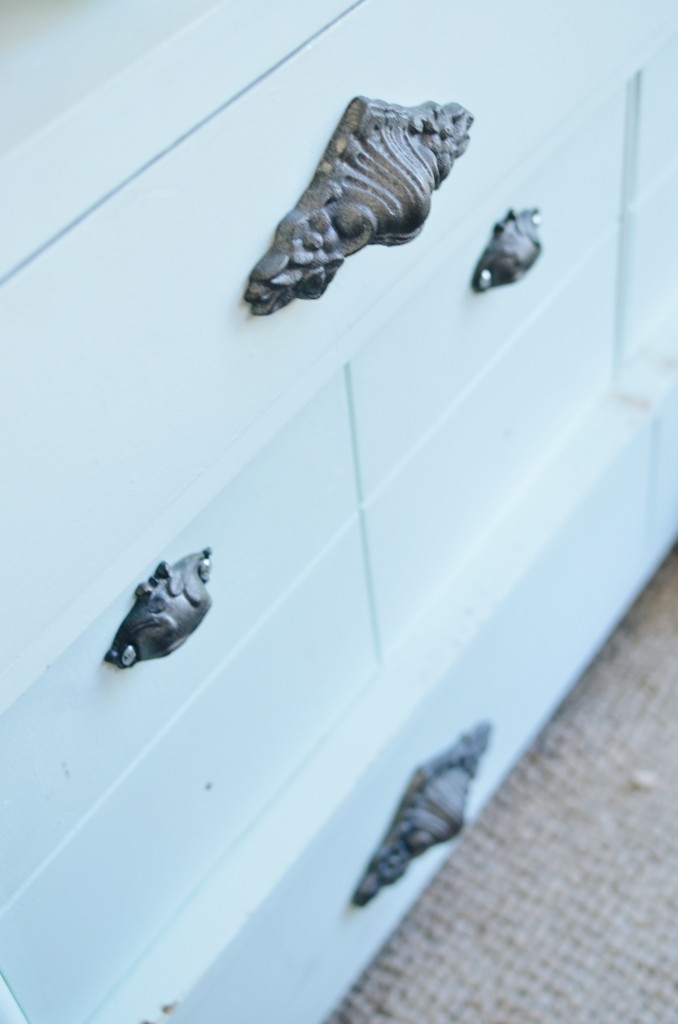 I've had this dresser FOREVER. It's incredibly heavy and it's nearly taken off a toe or finger many a time. I'll replace it someday, but for now it'll do. I updated it to this (very) light minty color and added drawer pulls (again) from my aunt's antique shop. I think I'd like to either repaint it or stain it, a huge project unfit for my 3×5 patio. But I'd honestly replace it before I did that, I think. I'd like to keep all of my appendages.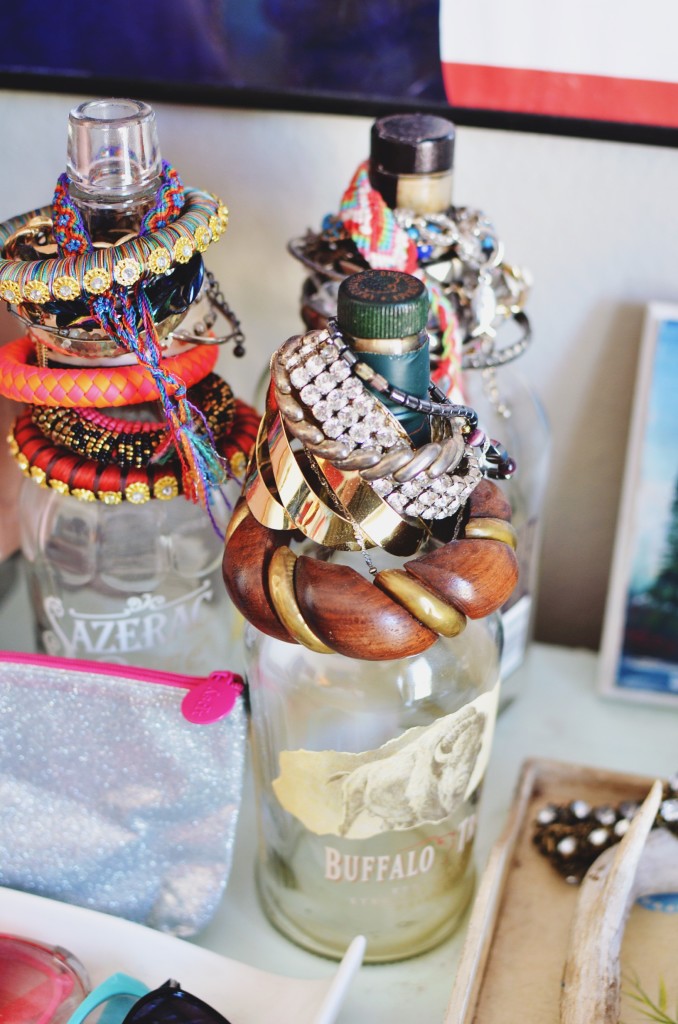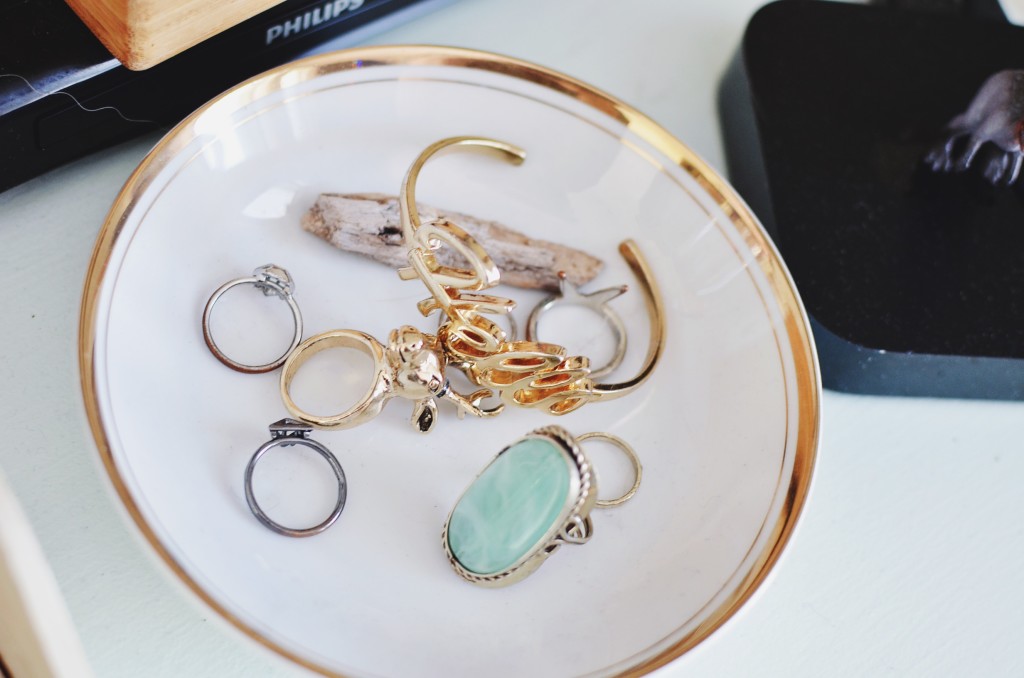 My mom had the genius idea of storing my bracelets on dad's whiskey bottles. Out of sight there's an old Tazo tea box from a set I bought my sister for Christmas one year where all my earrings live. It has six individual compartments so I can separate them by size and kind.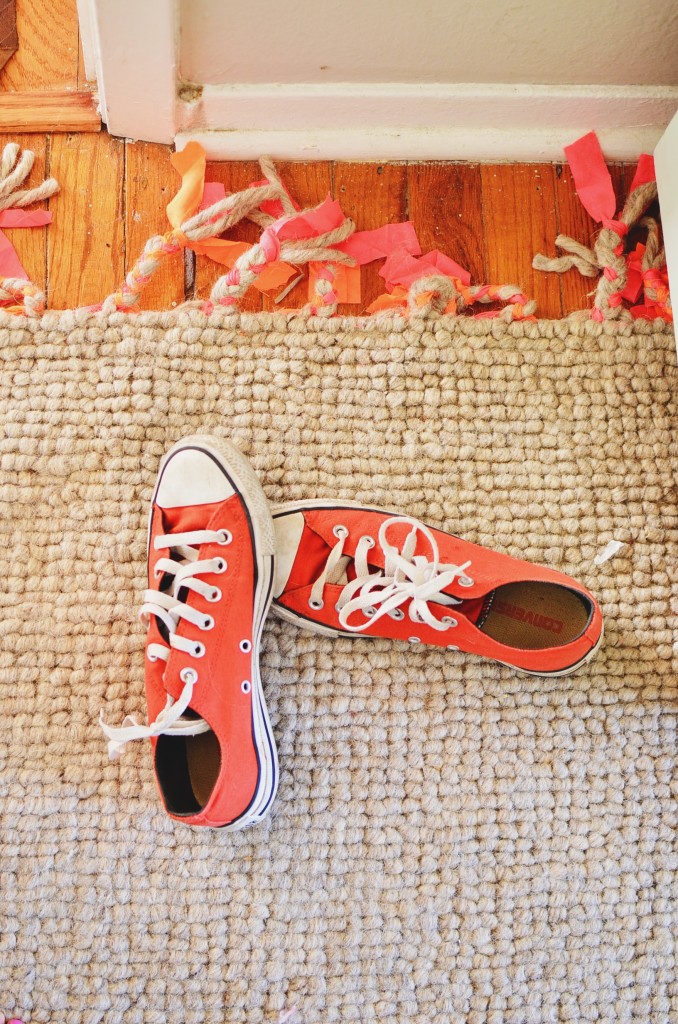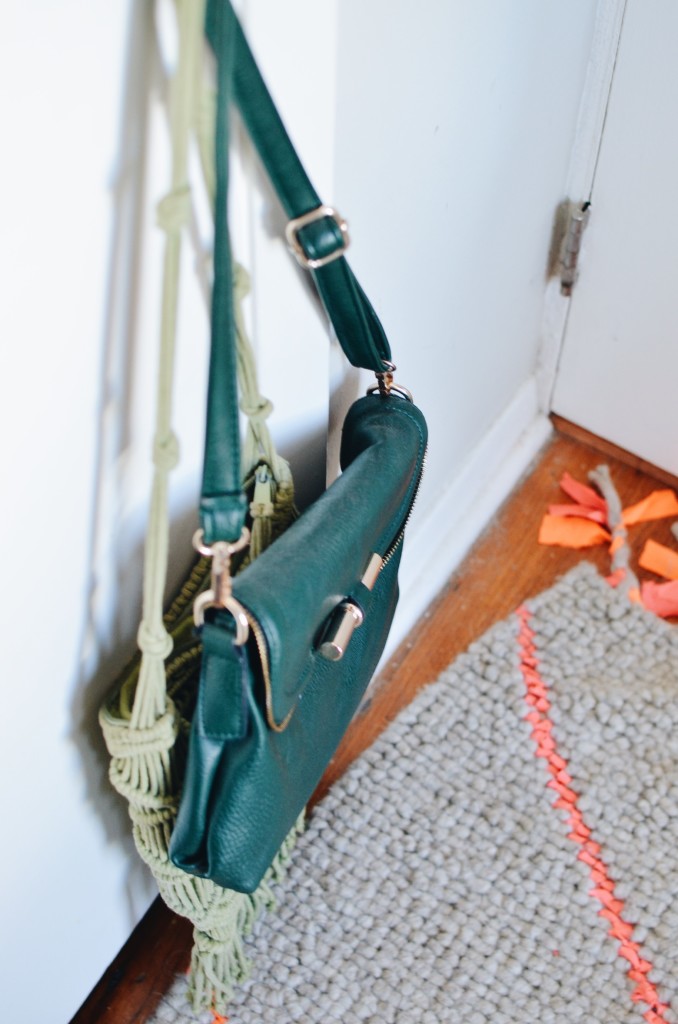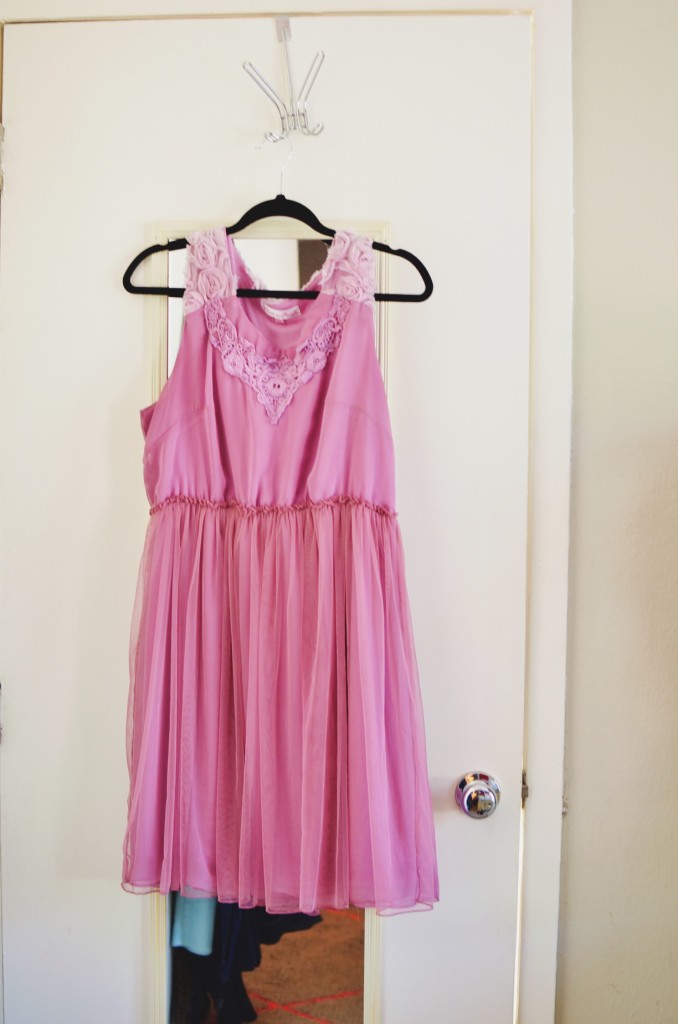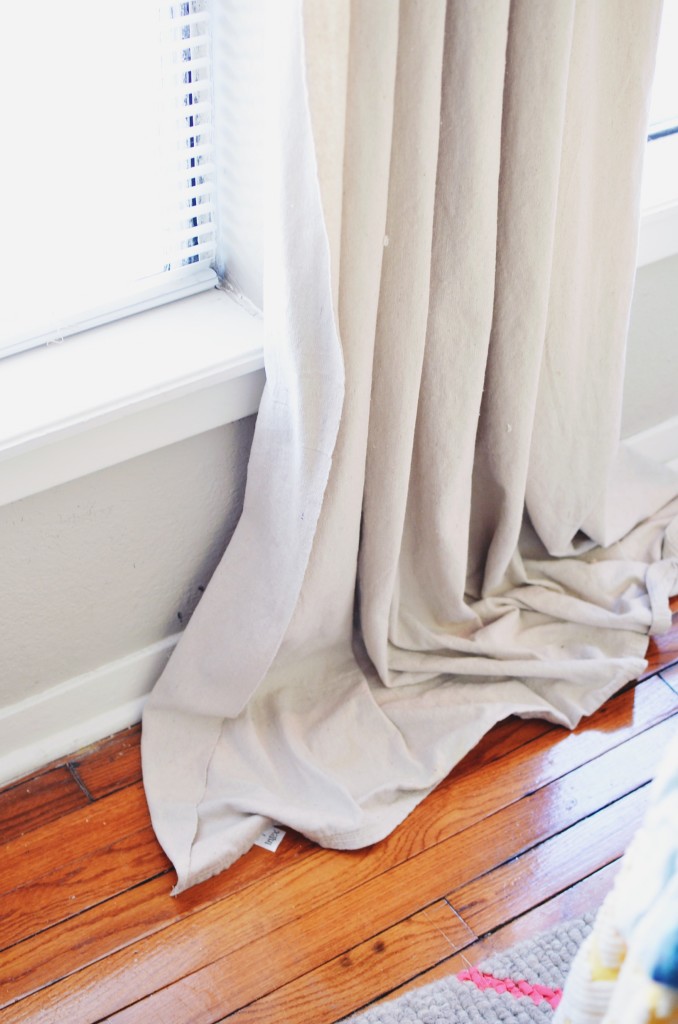 My mom bought me these dropcloth curtains as a genius idea for my whole apartment. They're 6×9 and keep out plenty of heat in the summer. I'm planning on bleaching or dying them and adding fabric or something to help them pop off the wall.
And in case you think I've got a place for everything…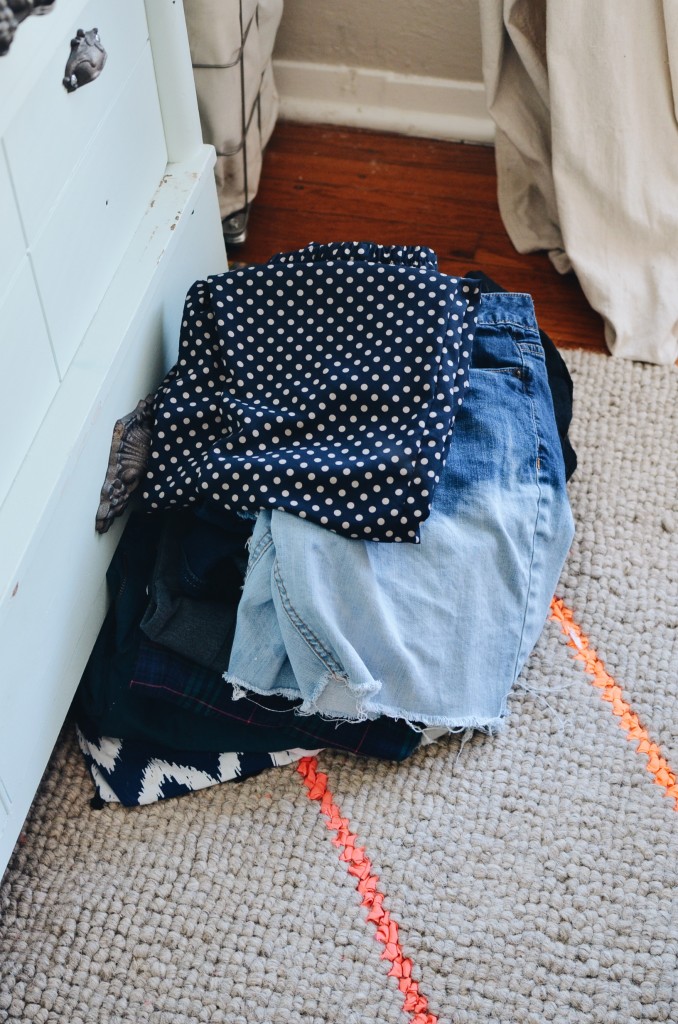 Pants in a pile on the floor with no home.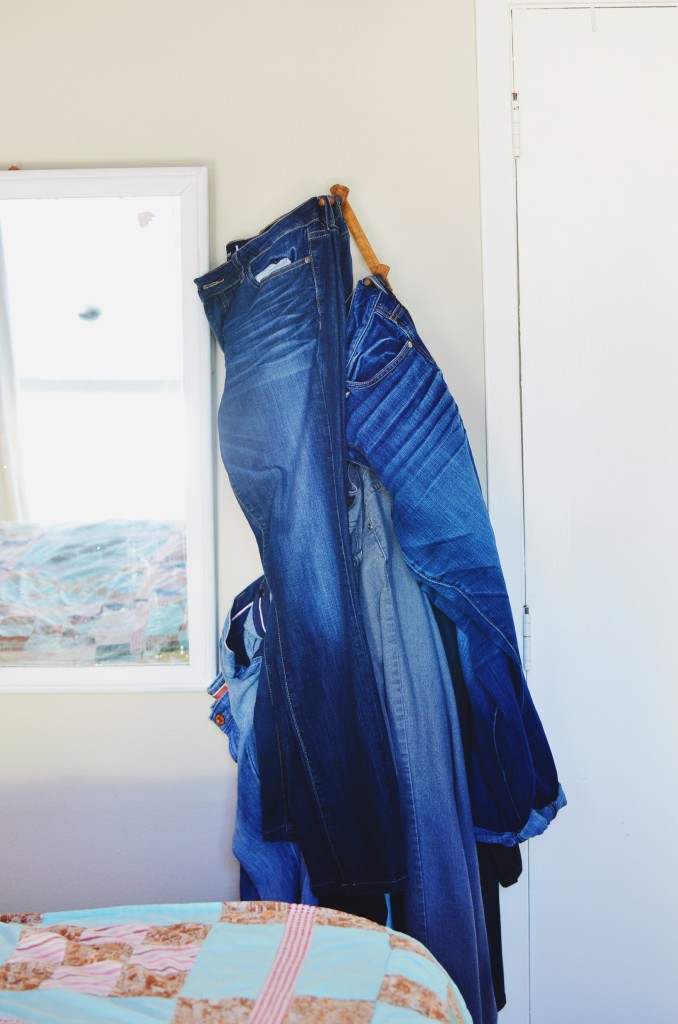 All my denim hanging on the wall. I hate it.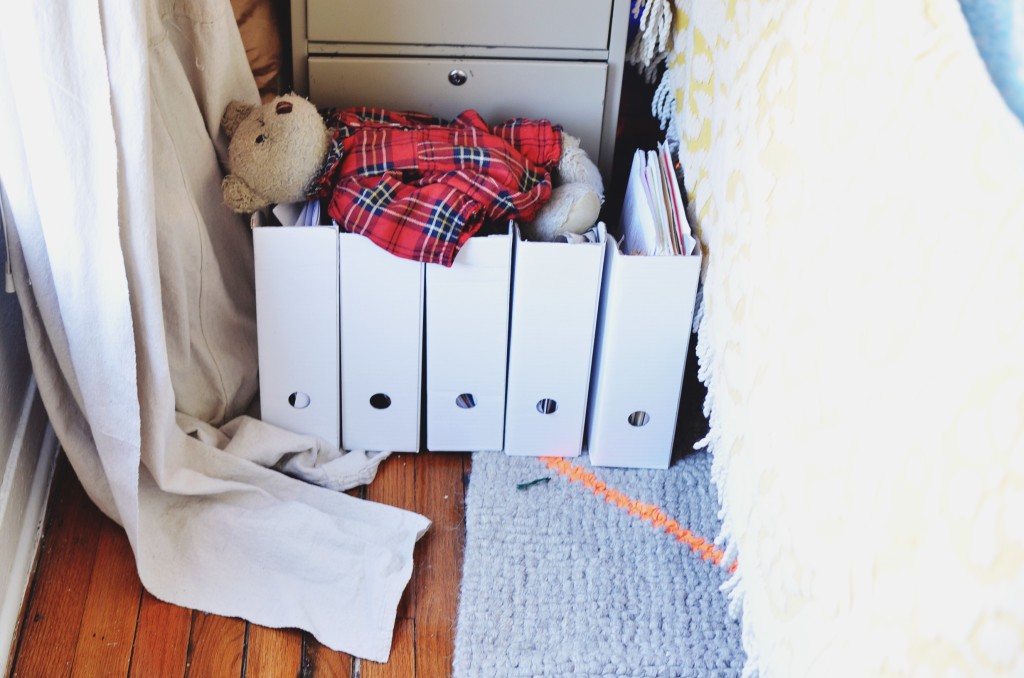 Oh and all my files on the floor. At least they're organized. (They're not in that filing cabinet because I'm replacing it, in case you thought I was a huge idiot.)
Still to do:
-Swap rug for IKEA one
-Add hanging storage beside mirror
-Buy throw pillow covers for bed
-Paint campaign nightstand
-Add more storage for denim + pants
-Update dropcloth curtains
-Clean out closet. Again.
And there it is. The bedroom! What do we think? It's a hot mess, I know. I've got plans to make it more cohesive, I swear! But I love it. Mismatching is my jam. What would you do in here? What do you think?
xx