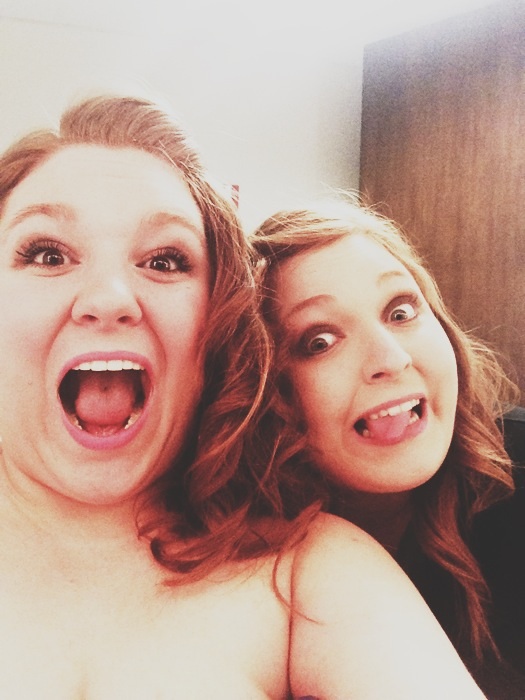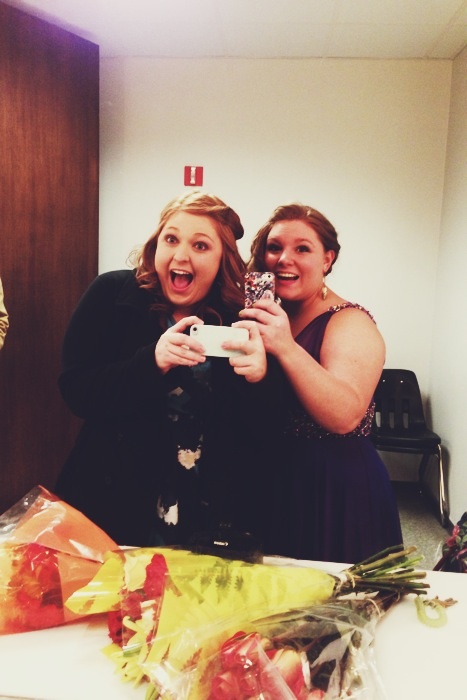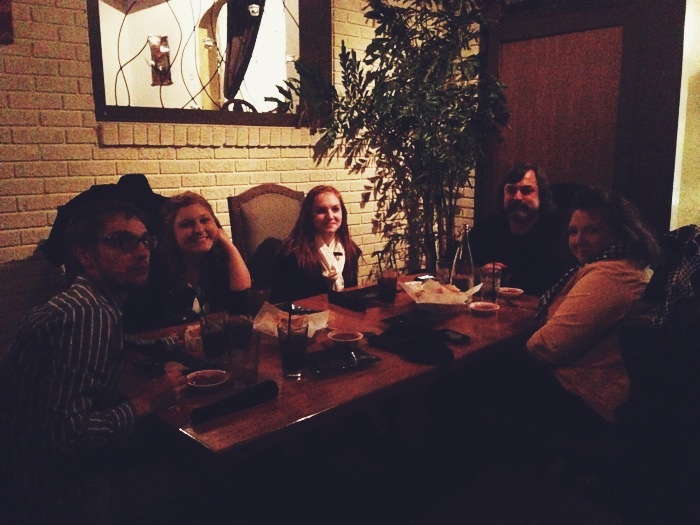 So I'm done. I'm done with voice lessons, juries, recitals… I'm done!
I finished my senior recital last night and it. was. awesome. I had an absolute blast on stage performing for my friends and family and I'm so glad they enjoyed it! I feel like I "peaked" as my sister said last night and it couldn't have come at a better time considering I didn't get off to a great start!
I was packing things up and checking things off my list all day while getting prepared but 3 minutes down the road on our way there I squealed, "Crap! My dress!" Jason swung the car around and we headed back to the house. The one thing I needed the most and I forgot it! I KNEW I'd do it, too. I'd been thinking about forgetting it all day and telling myself, wouldn't that be awful? Which I'm sure made me forget it. But I got the dress and we headed to the school. I got there 25 minutes after I wanted to be there so I could finish getting ready at my own pace and relax some.
My mom and sister met me in the dressing room and finished my hair and helped me get dressed and calm me down. Could. Not. have done it without them! I finished getting ready in plenty of time and headed backstage to wait it out. My accompanist, my voice teacher, and I were relaxed and just ready to get it going! I walked out on stage confident and excited.
I loved that so much of our family came and supported me. It really made me feel so great! Love you guys! There was so much of an outpouring of support and excitement for me after the recital and for that I am so grateful. I truly love the school I attend. 🙂
Afterwards my family took us out to fancy shmancy Villa Montez! We had a blast sitting around and talking for hours. Have I mentioned I love my family? Seriously. Wow. My sisters and mom didn't want me to change before heading to the restaurant so I showed up in my formal dress. I was the best dressed in the joint 🙂 Afterwards we took pictures outside in the frigid weather. I'll be sure to upload those later in the week. Right now I'm still on a high!
Suffice it to say I love you all. 🙂