One of the things that was nearly a deal breaker for me when apartment shopping was a patio. I've always been a huge fan of outdoor spaces, porches, patios, outdoor living… sigh. When I walked into my apartment and saw that patio it sealed the deal. It was home. Since moving in, I haven't done much but put a $5 chair I had out there plus some cacti. It's finally getting cool enough that I can put tealights outside without them melting! #texas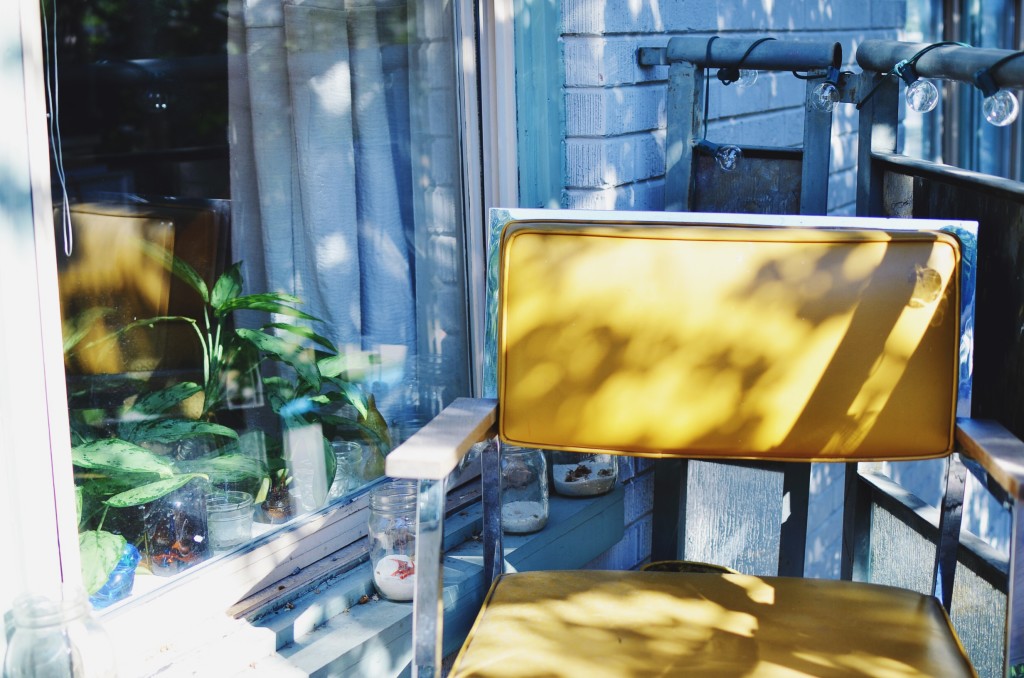 I recently cleaned the outside of both windows and the patio door. SO MUCH more light flooded in! It was insane! I've got big plans for this tiny space. One being updating the furniture. I'm dying for something like this! (Know anyone who's selling something like that? I'll be your best friend.) I'm thinking of adding shelves to the outside of these windows. They would have to be shallow at 3-4″ wide and 40″ long, but it would triple the space I have to put plants and candles. I would only do it on one window, as the chair fills up the other one. How would you do it?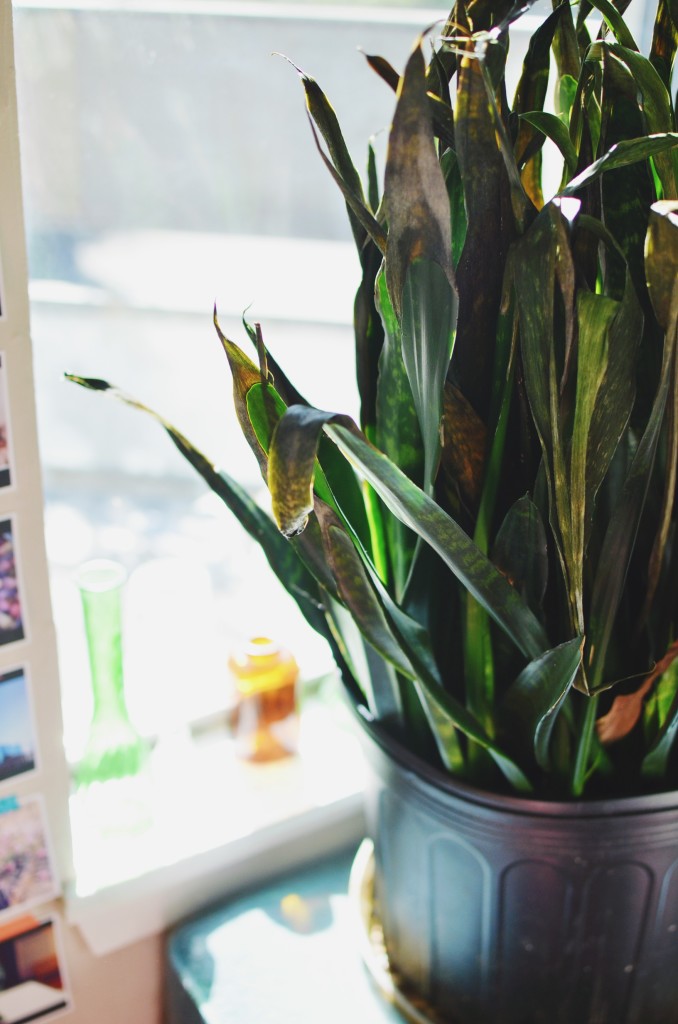 Snake plants are the new big thing in house plants lately. They're crazy easy to take care of, they tell me. I'm a new mama to this thing and I'm trying hard not to kill it. It needs a repotting in the worst way in a super cool pot. It's huge and I'm thinking of splitting it up! What do you think? Also, can you tell me why the tips are brown? I set it next to the window to dry it out because I think I over watered it.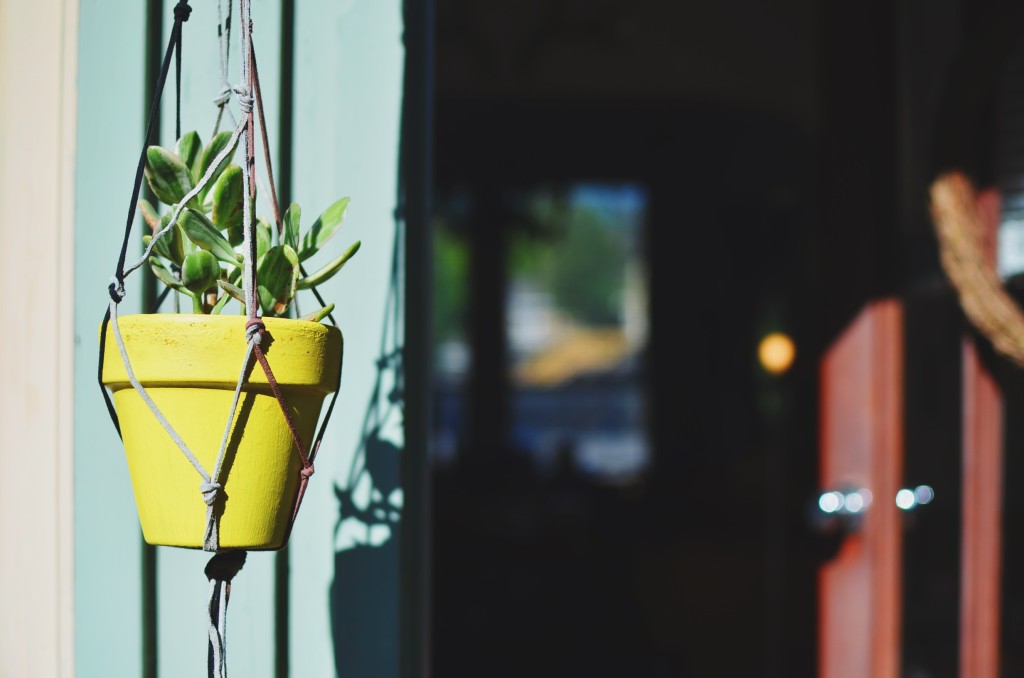 Yet another #latenightcrafting project. Hanging planters are all the rage right now too, and I saw someone make one out of leather cord. And I thought, "Hey! I have leather cord! I can tie knots! Let's do this."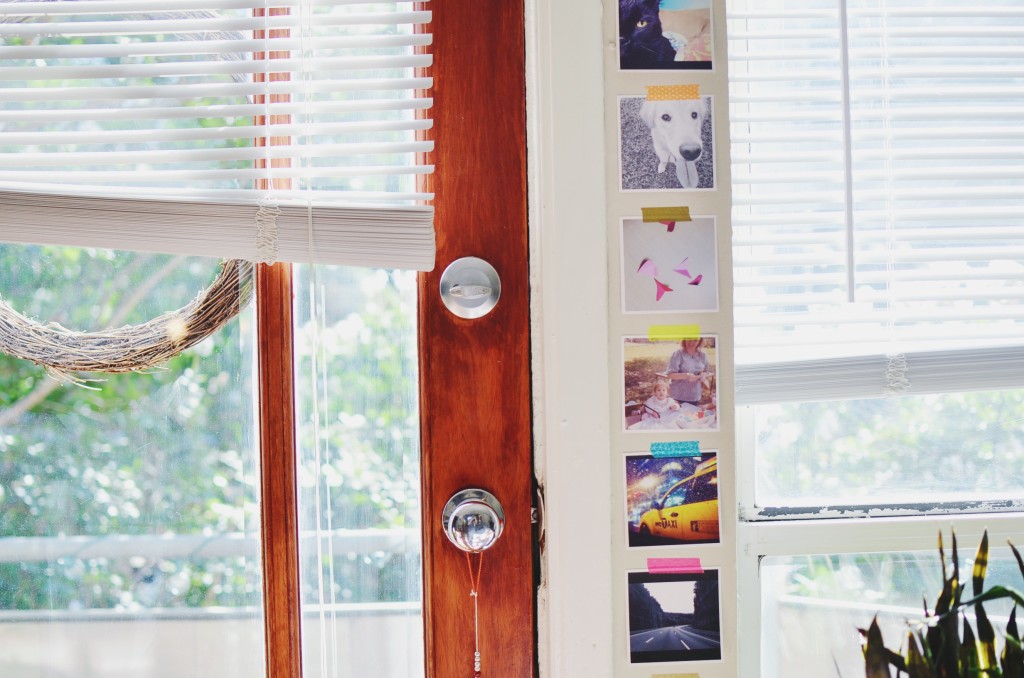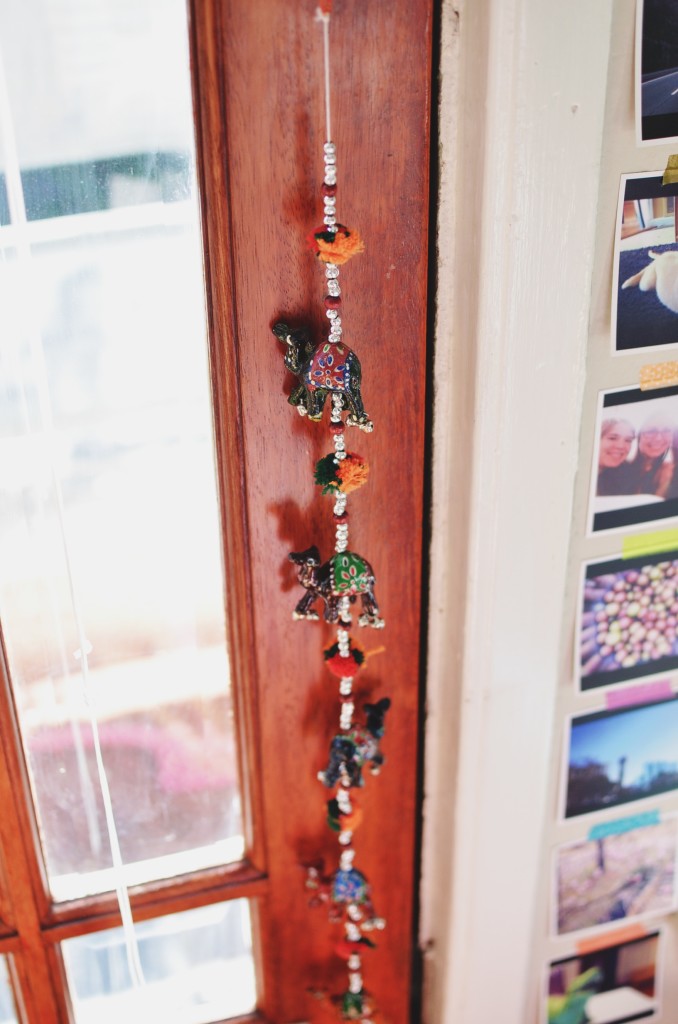 The light that pours in through these windows is incredible. The first week, I think, I bordered the door with these Instagram prints that were above my bed at my parents' place. I love the life it gives those gray walls. And yes. That is a camel garland with bells! World Market sells them, and the Indian brand it comes from, but I bought them from Gaudy Me in Tyler, TX, where I worked. It gives a really nice chimey sound when I open the door.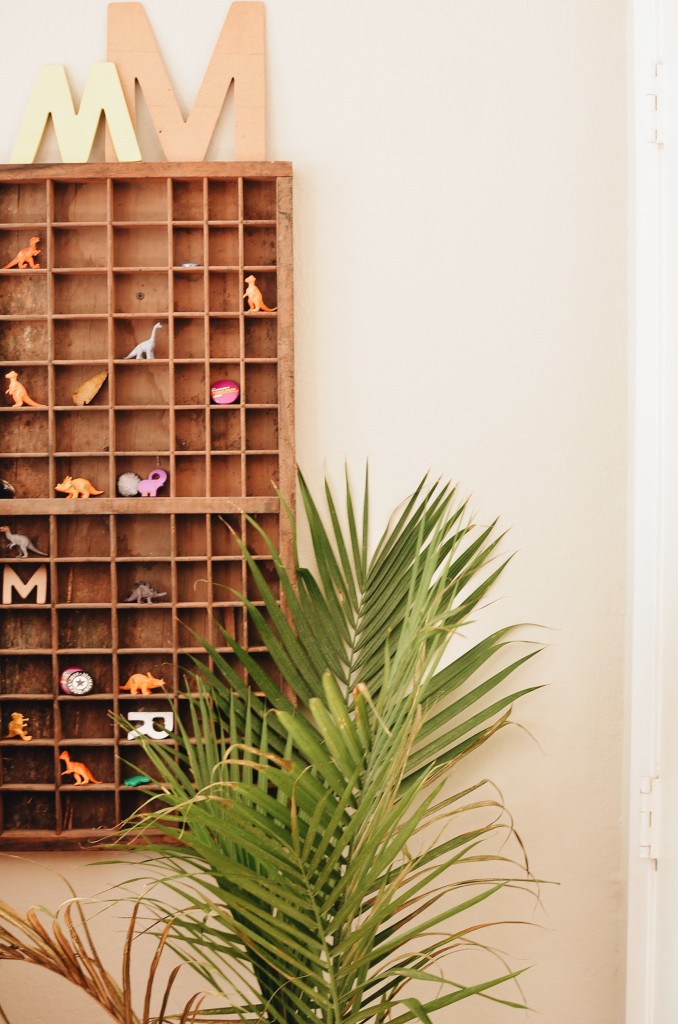 This isn't actually on the patio, but it's my palm! It's doing okay, I think. I'm really stellar at cacti and succulents because they require, like, no care. I'll be a terrific mother. That's an old letterpress drawer I bought at an estate sale a couple years ago housing mini dinosaurs and pins from my teenage years. (Relient K, what!)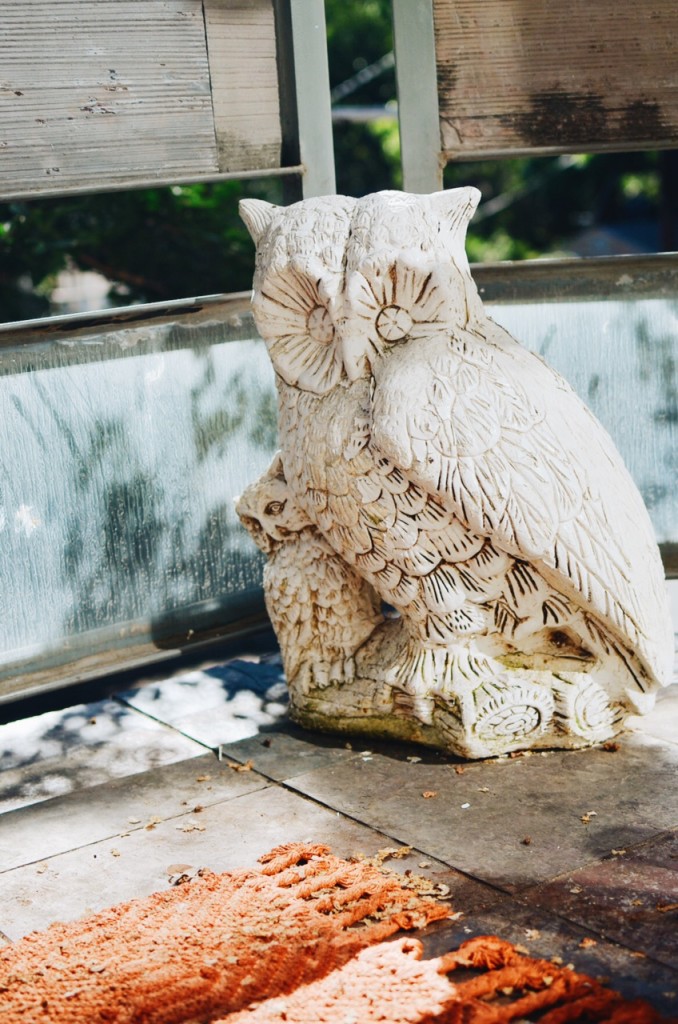 This owl has a sister that lives with my sister. We bought the pair at the same time. Shel's owl got a silver chrome makeover! Does this gal need a paint job?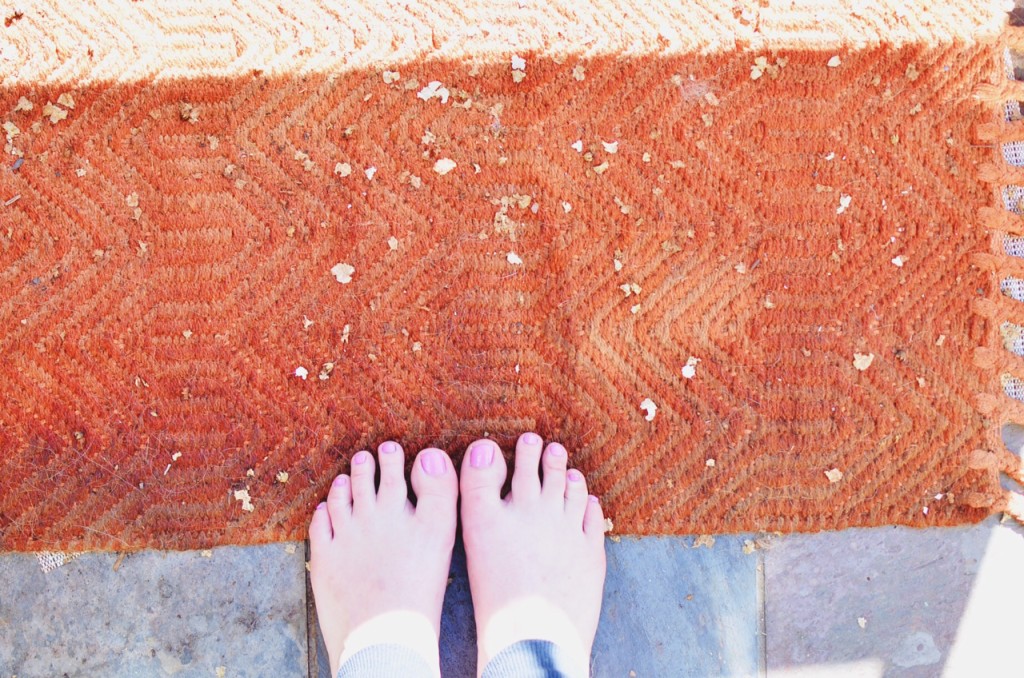 I bought this little rug the same time I bought my bedroom rug from West Elm. It was $10 and was a cool orange and white before I decided to test its limits on my patio. A rain came and basically made it solid orange. It needs to be washed and then layered on top of a proper outdoor rug, like I should've done the first time.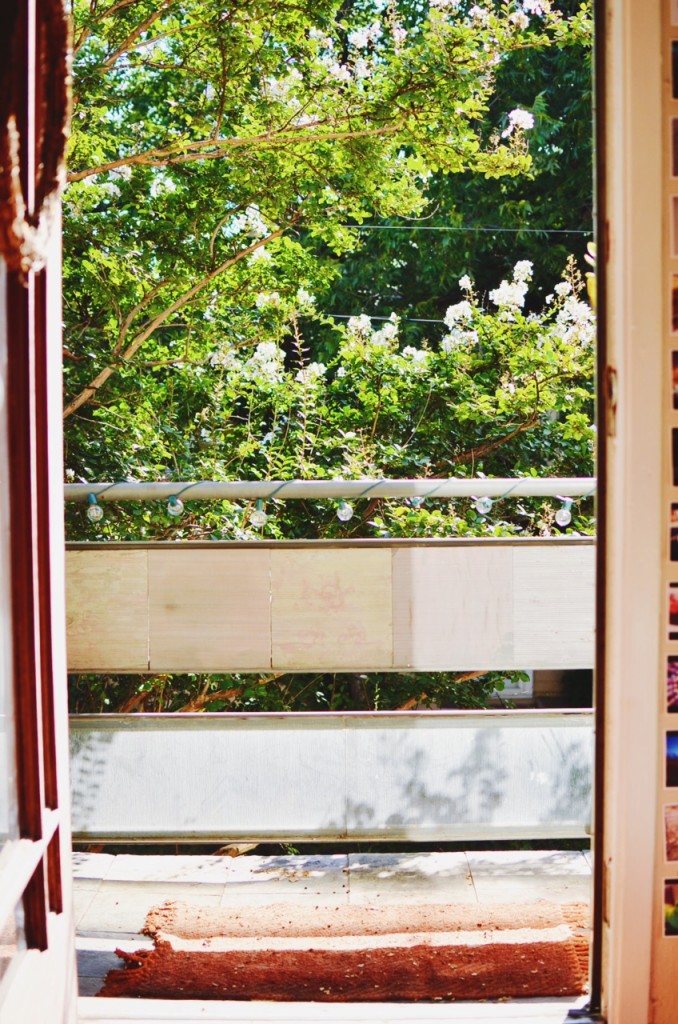 Here's the view standing in the middle of my living room. The whole patio is shaded by a big crepe myrtle, so I feel comfortable enough leaving the blinds open even at night. Out of the twelve units in my building, only six have patios and only half of those are shaded! I lucked out big time.
So there we have it. The last of the tour. Did you enjoy? How would you spice up the patio?
Still to do:
-Buy retro wicker furniture
-Add a small, short plant stand
-Replace outdoor rug with an actual outdoor rug
-Plants!
-Cushions for the furniture
-Possible window shelves
Anytime you need a gal pal to share an iced coffee with, my patio's open. Pepper will lick you all over and we'll laugh 'neath the myrtle. Just BYOC. (Bring your own chair.)
xx