Despite its size, I love my little kitchen. With its blue and white ceramic tile, natural light and charm it works well for me. Although I wouldn't be mad if the countertops were level. Setting an egg on the counter is asking for trouble. But alas! Old apartments, amirite?
I recently added a vintage kitchen cart and practically doubled the counter and shelving. Insane, right?! So here it is! My kitchen!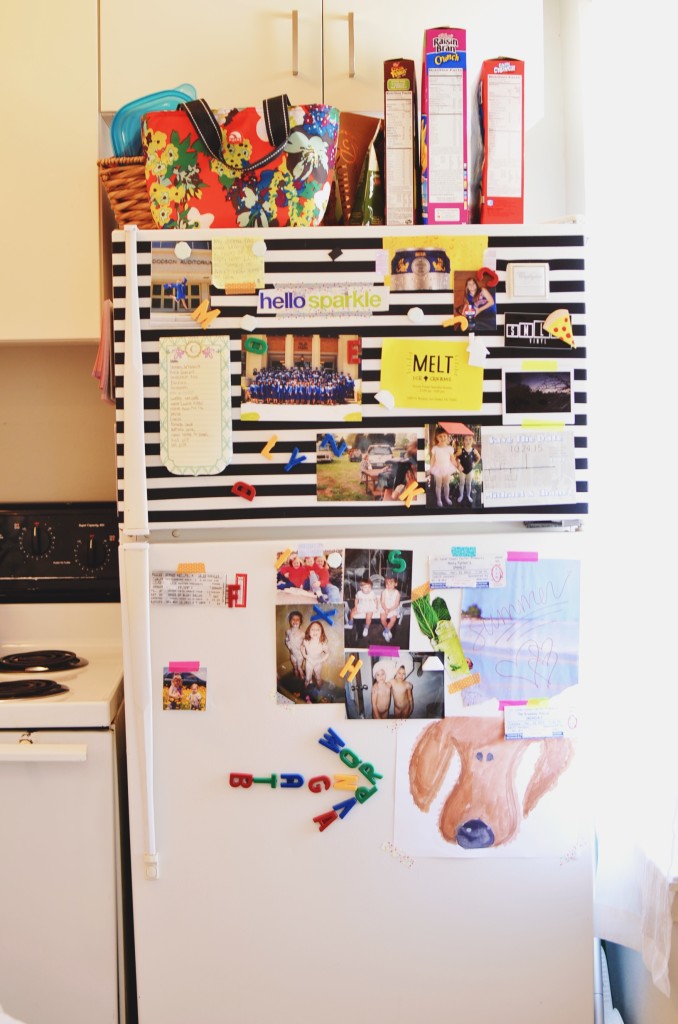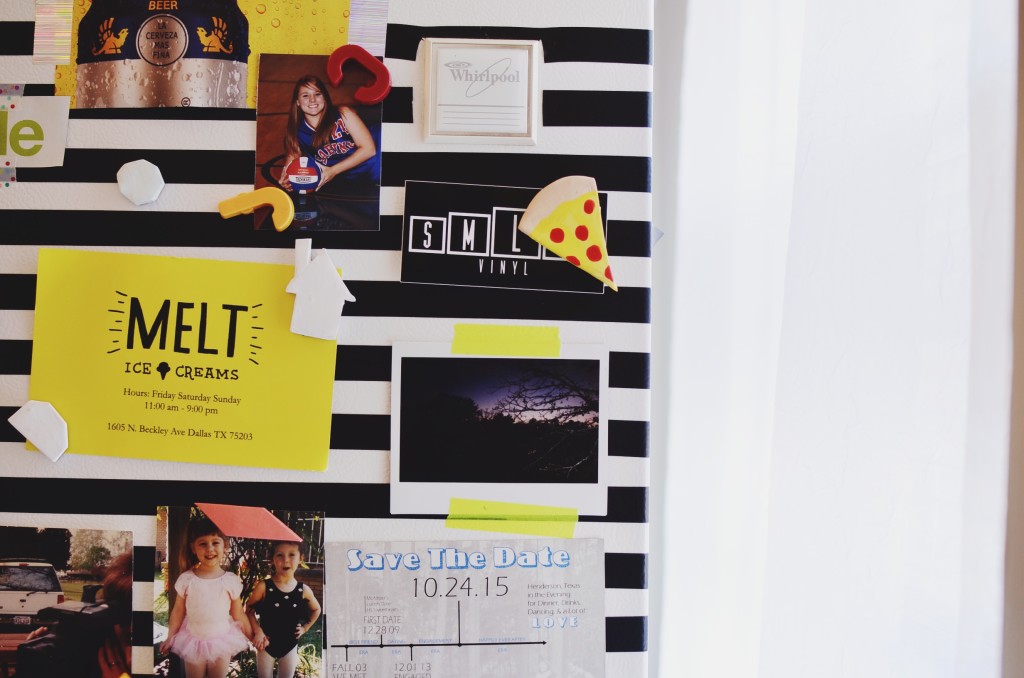 This is one of those #latenightcrafting things. Electric tape stripes! Such an easy and fun DIY from the sisters at A Beautiful Mess! That clay pizza magnet was a happy mishap from making hexagonal shaped clay magnets. I had cut a piece and saw that perfect little pizza slice lying there begging for red pepperoni circles. I was really just doing what the clay wanted me to. I love that I have a fridge to put old pictures and cool magazine art on. The fridge is the most underrated place to put art, I say.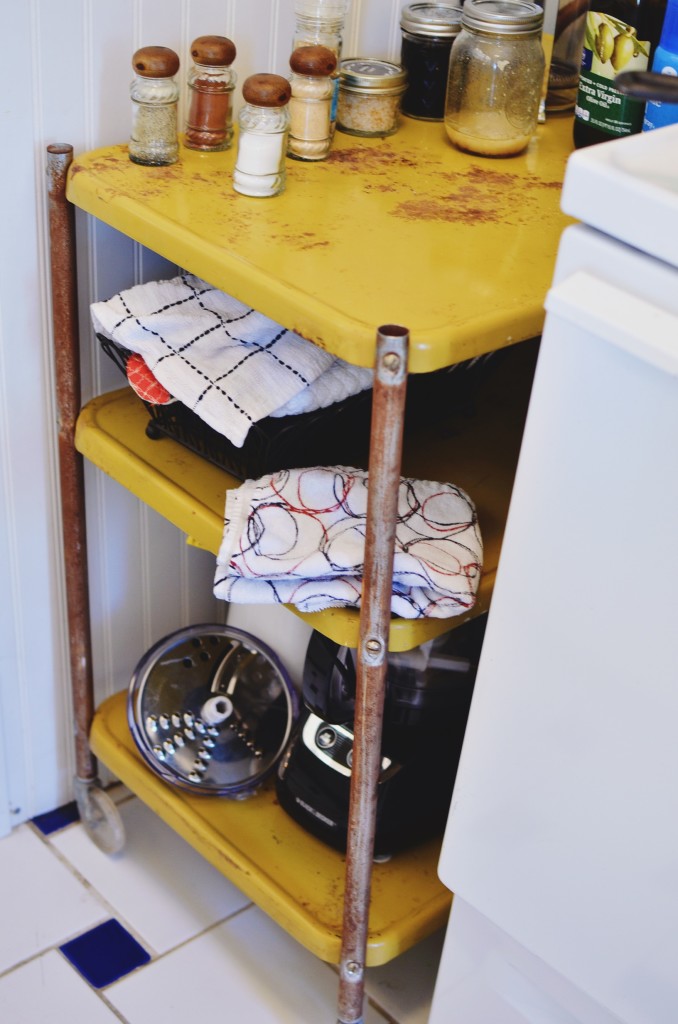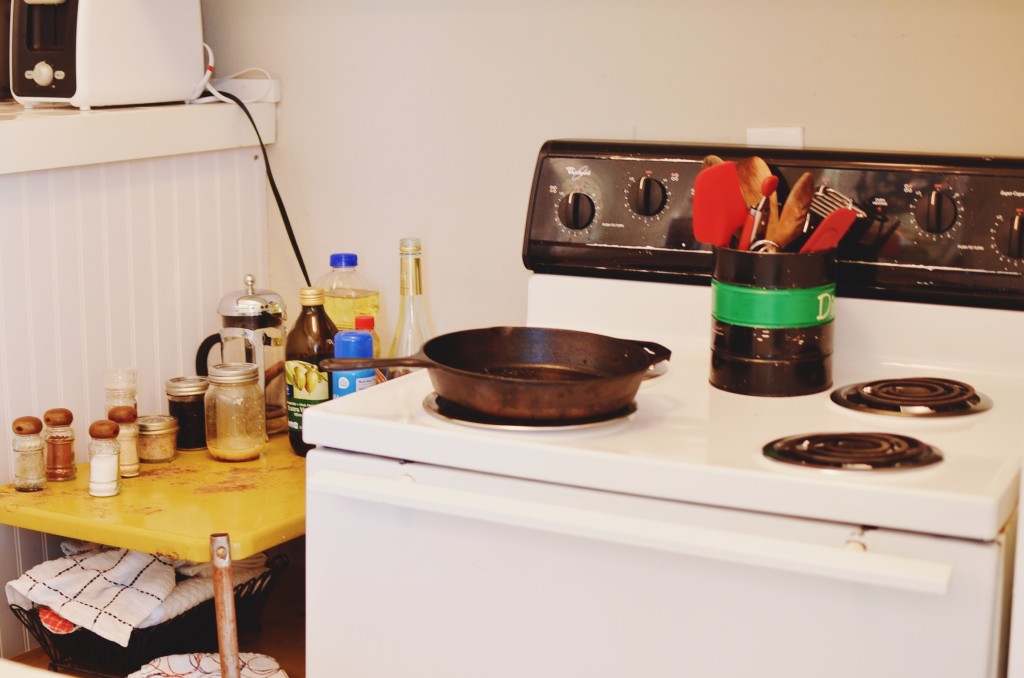 The cart! After a really good cleaning she fits in PERFECTLY between my full size oven and the boxed up water heater. (What a waste of space! At least they tiled the top!) Here I house my coffee cups, small appliances and spices I use regularly. Much safer than opening the cabinets directly above the stove while I'm cooking!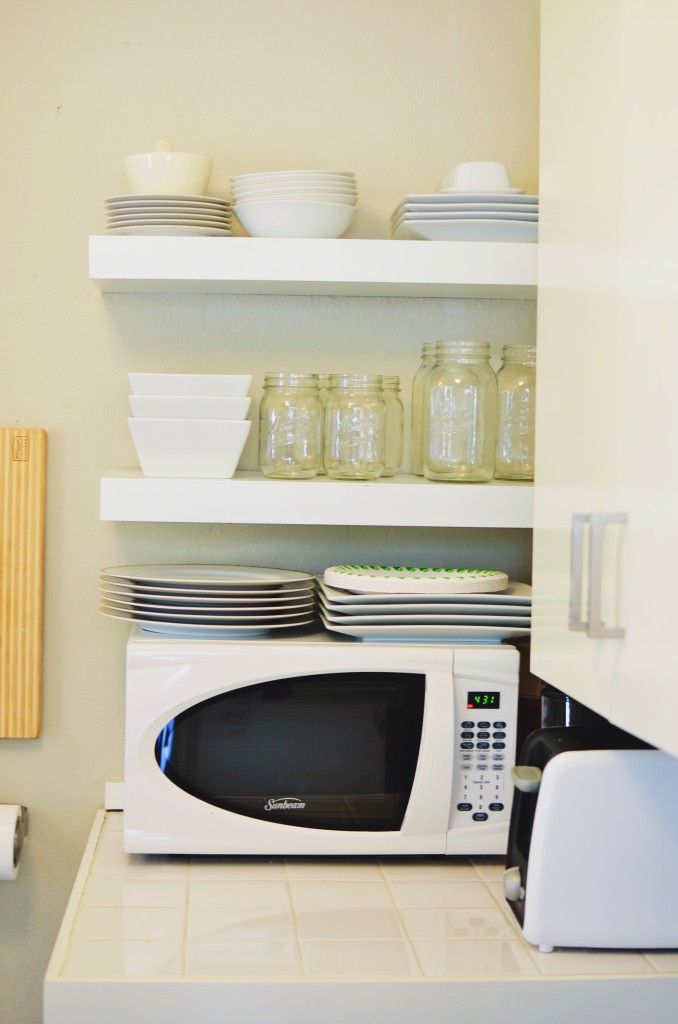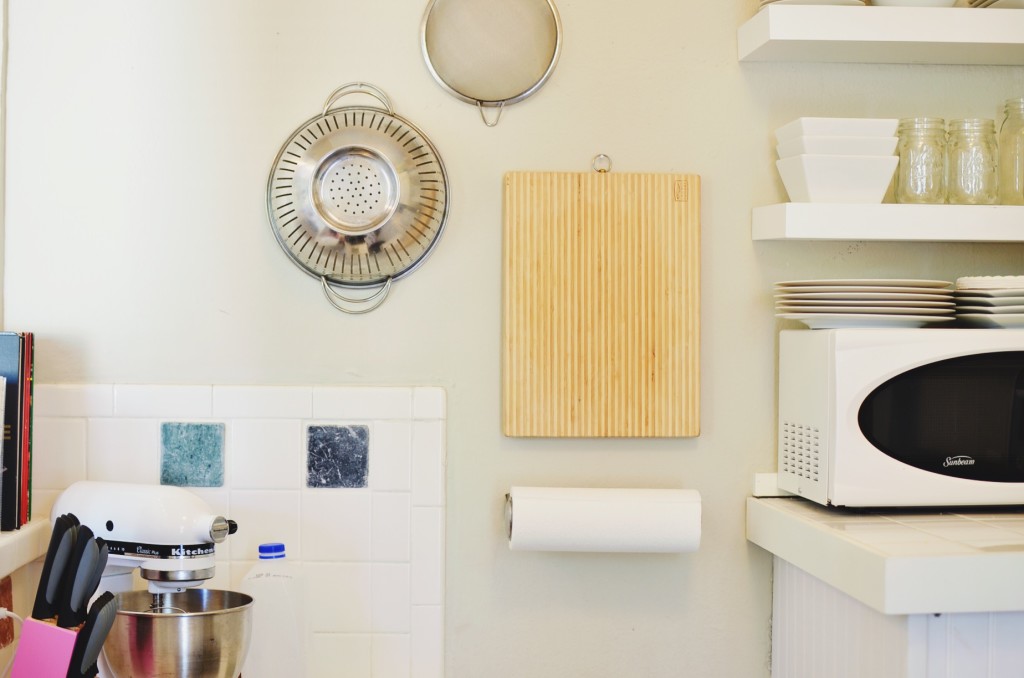 Oh boy. These shelves. Remember in the living room tour where I talked about what a pain putting those floating shelves in was? THESE. These are where it all began. At 10pm one night I thought it would be an easy enough project. But holes in my wall later and no shelves + a sorry attitude, I threw (literally) in the towel. Once I figured out it was okay to ignore the directions and pre-drill a hole, these suckers flew on the walls. I love the openness and life they give my walls. Plus, I didn't have room for these dishes otherwise!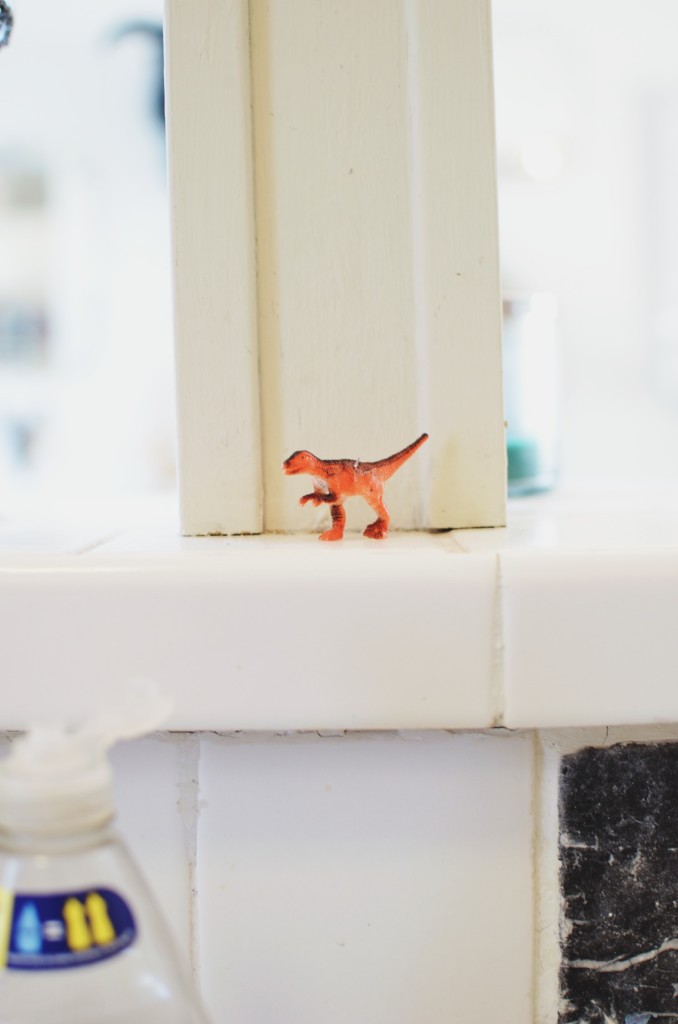 Lil' guy keeps me company while I hand wash the dishes. No dishwasher here! I actually like it better. It forces me to wash dishes more often. (Look, ma! I'm adulting!)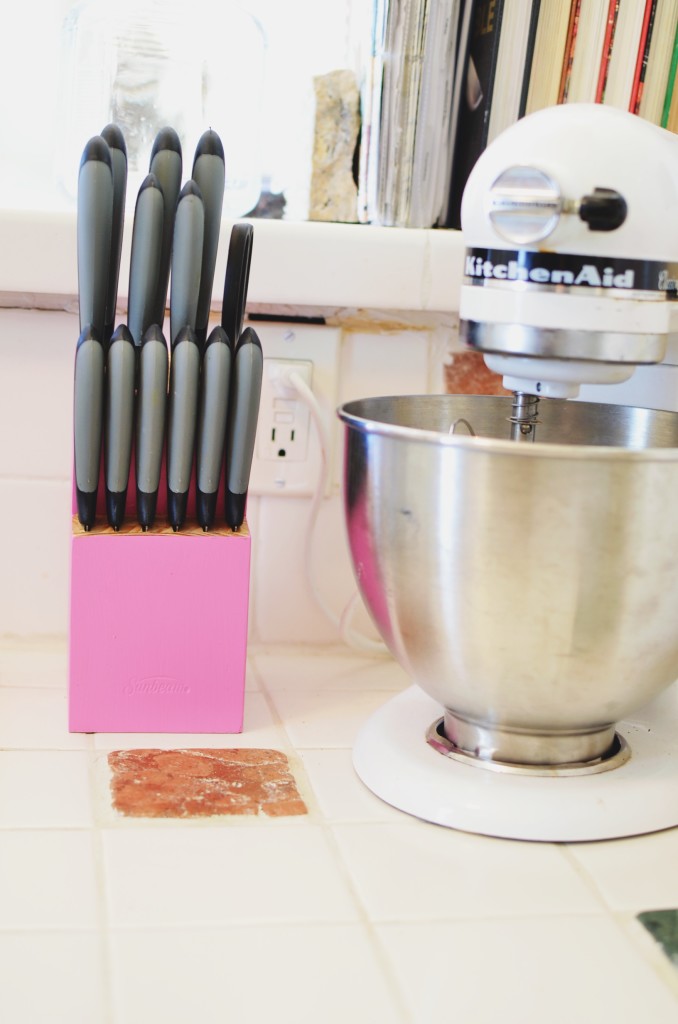 How cute it this?! The kitchen was screaming for some pink. This wooden knife block was the perfect amount! #latenightcrafting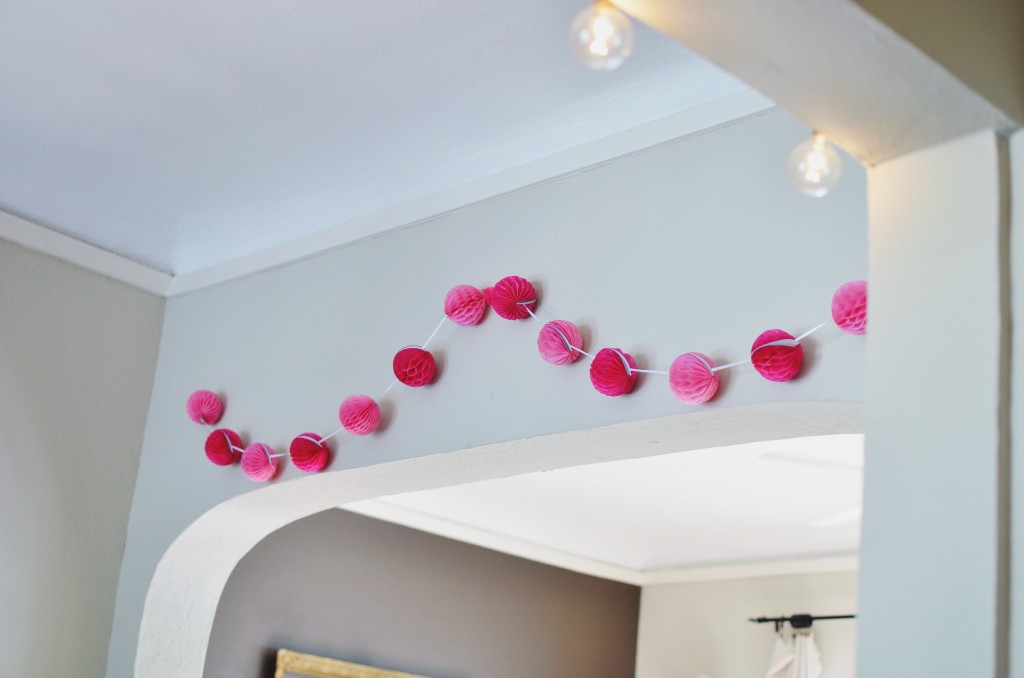 Check out that archway! This is the arch between the dining room and living room. I struggled for several weeks to find a place for this garland. The muted dining room was just asking for it.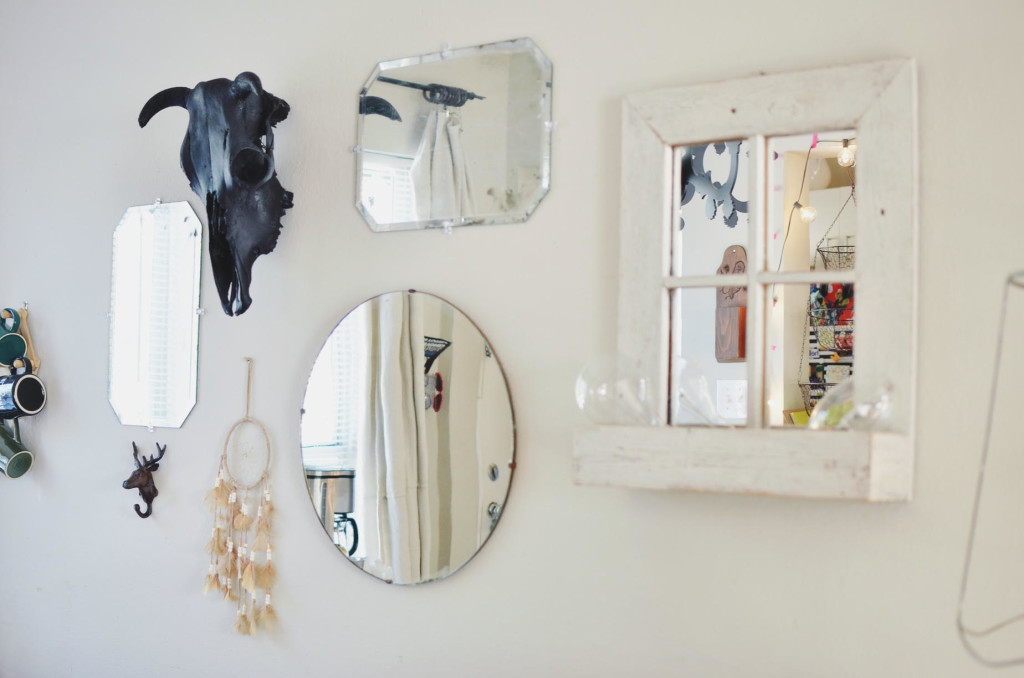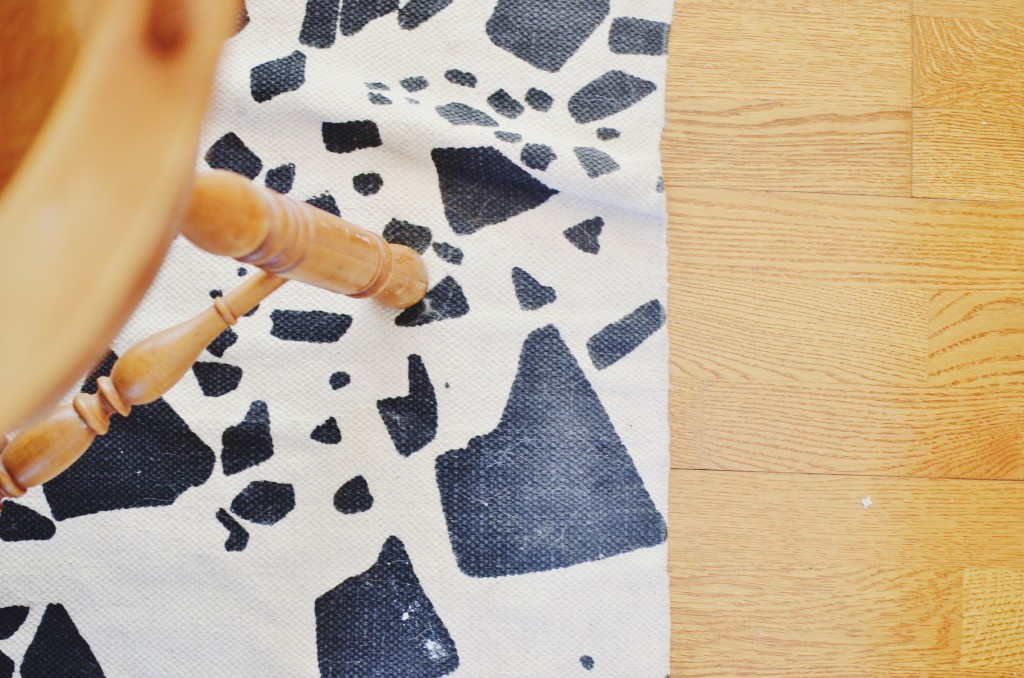 Here's the other Urban Outfitters rug I bought a couple years ago. It's doing fine! I'm planning to give this one to my sister for her dining room and move the current living room rug in here to add more color. It's so gray!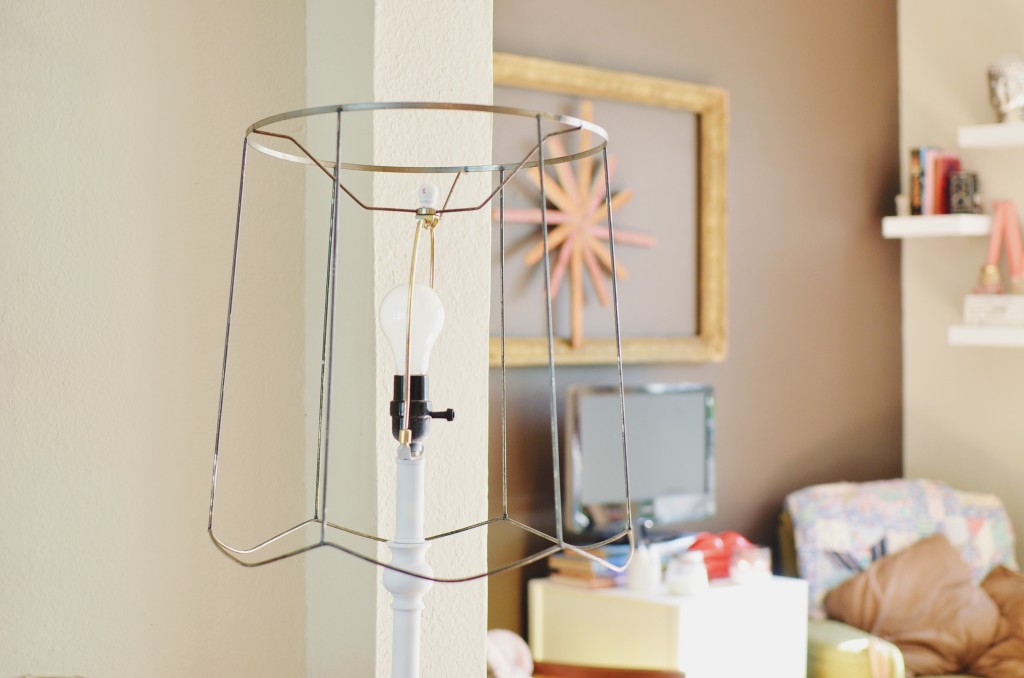 I'm planning a post about what I did to this lamp and how it turned out, but I scored this wire shade for $20 at a thrift store. Honestly, it was probably overpriced because it's basically an old shade with the fabric torn off. But what I was planning to do was much more expensive! Should I paint it or leave it undone?
Still to do:
-Stop rust on cart + possible repaint?
-Add shelving beside bartop for coffee cups + cookbooks
-Add art on dining wall
-Swap rug for living room rug
-Replace drop cloth curtains for sheer white ones
-Add hanging planters between dining room windows
-Set up coffee area (not shown. it's a mess.)
-Add hanging herb garden outside kitchen window
And there we have it! Still some mini projects in addition, like spray painting those alphabet magnets and adding/updating my kitchenware. But it's completely functional! What do you think? Should I leave the 'gallery' wall as it is? Or rearrange and add more color and art? Leave your suggestions in the comments!
xx