Hey-oh! A while back I hit up ULTA (if you've never been, go!) and bought a few things then a few days ago I spent my graduation money on some things in Walgreens! So here's what I got along with my thoughts on some of them.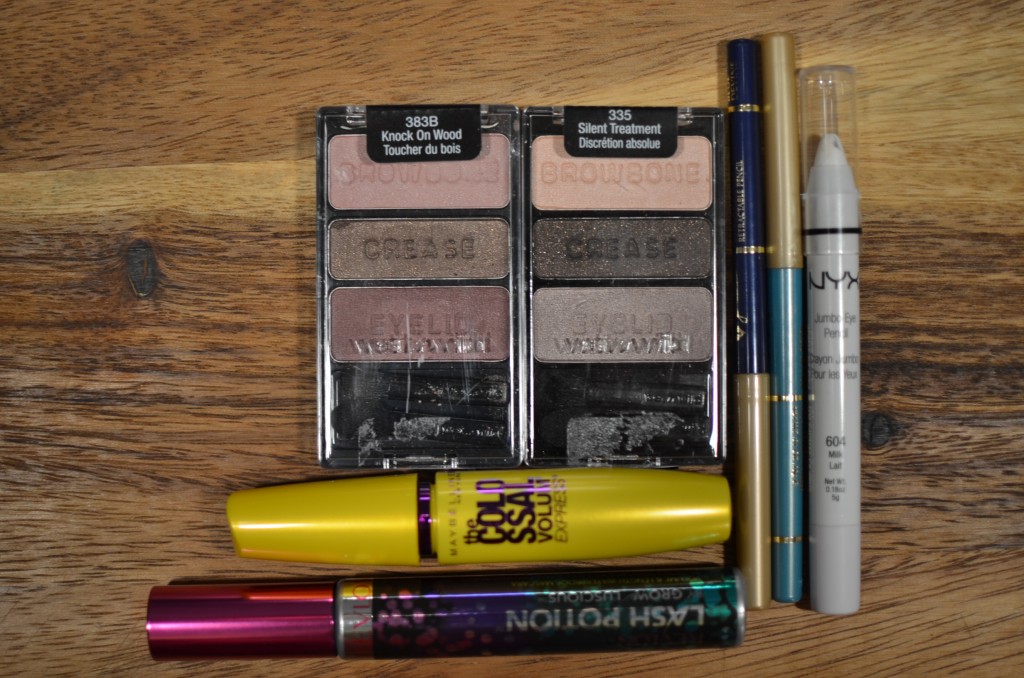 -Wet N Wild eyeshadow trios in Knock On Wood and Silent Treatment ($3)
The pigmentation on these is amazing. I started getting hooked on Wet N Wild after Emily of Beauty Broadcast raved about them over and over. The texture is so velvety and soft and not at all flaky and cheap!
Here are some swatches:
Left is Knock On Wood and on the right is Silent Treatment.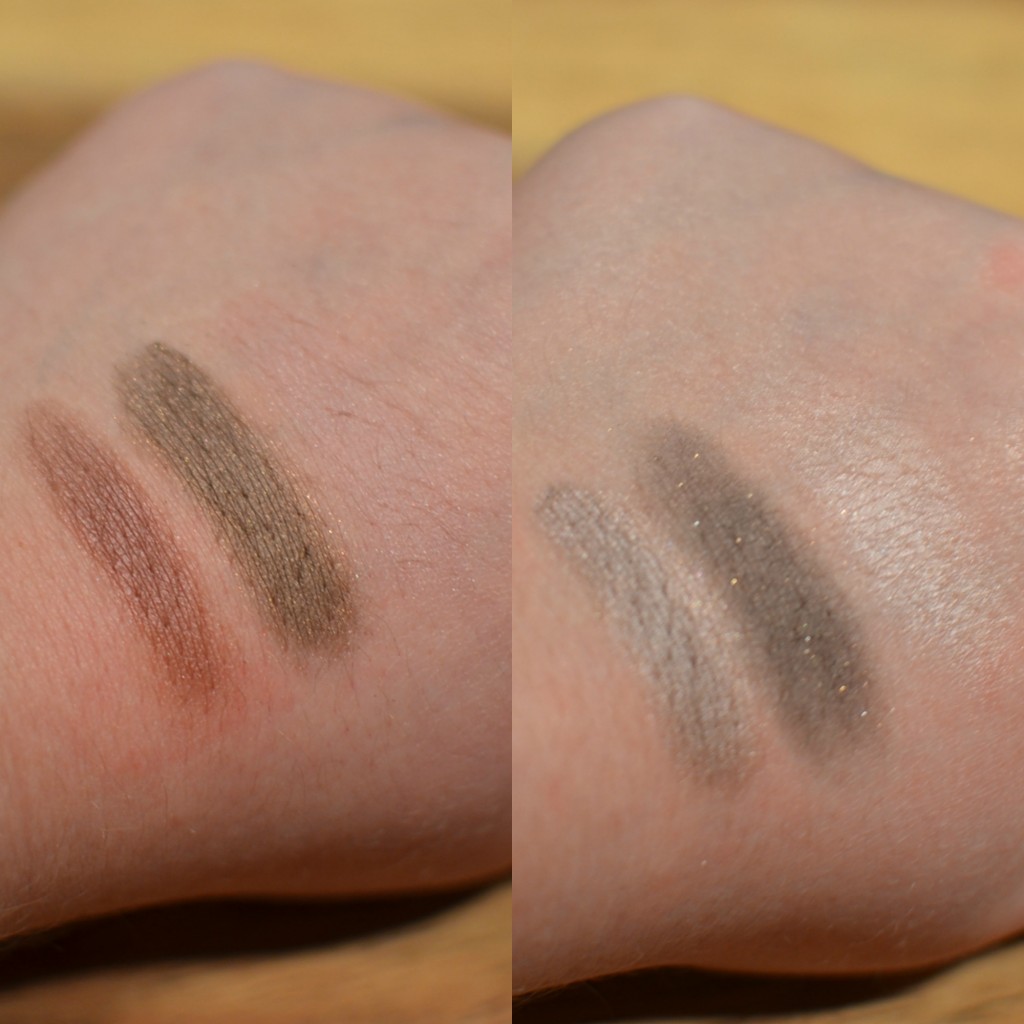 Next up!
-Jordana eyeliners in Blue Devine and Mint ($2)
I own some of Jordana's lip liners and they are excellent. Creamy and super pigments and long wearing. I have them in Sedona Red and Tawny, a nude color. These liners seem to be very similar and I can't wait to try them more!
-NYX Jumbo Eye Pencil in Milk ($6)
I bought this after my younger sister bought it and I used it a little. 🙂 It's a great base for eyeshadow. Be sure to pat off the excess though to prevent creasing.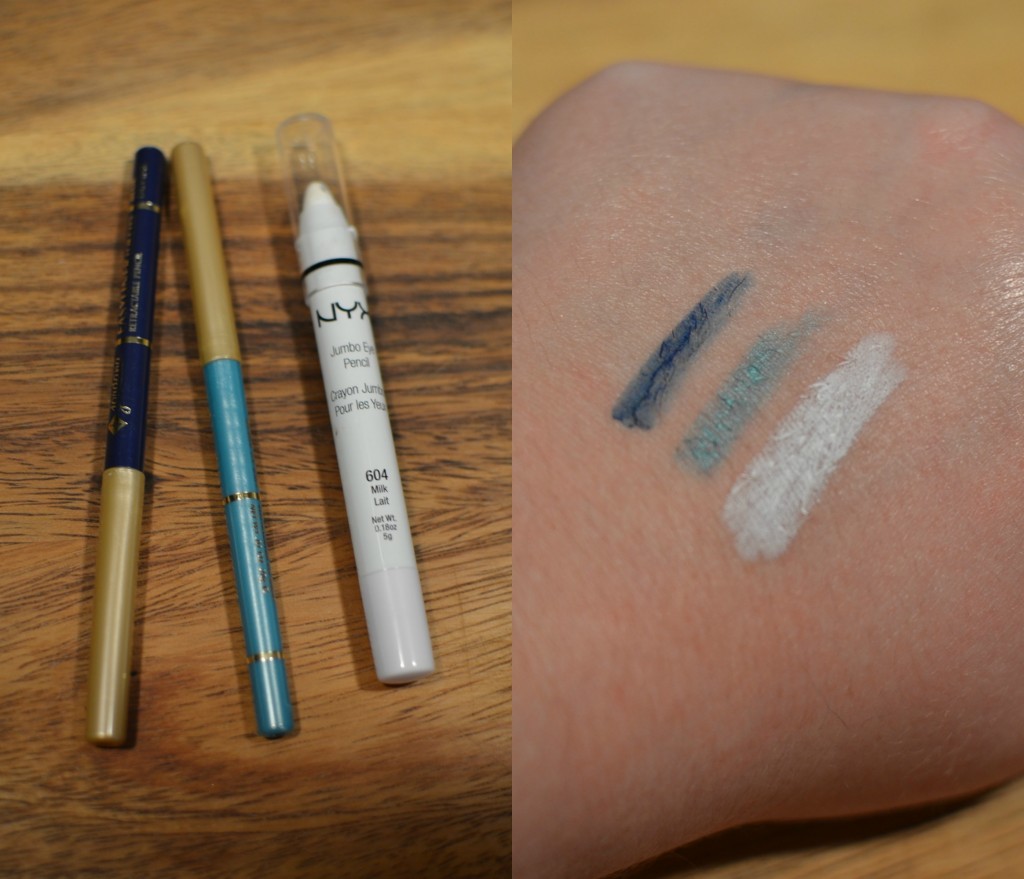 Mascaras!
-Revlon Lash Potion ($5-8 depending where you buy)
I haven't used either of these mascaras yet, but if I'm honest I bought this one solely on the packaging and name. 🙂
-Maybelline The Colossal Volum Express ($5-8 depending where you buy)
My younger sister has used this and likes it and I liked the brush so I'll give it a go!
Revlon brush on the right and Maybelline's on the left.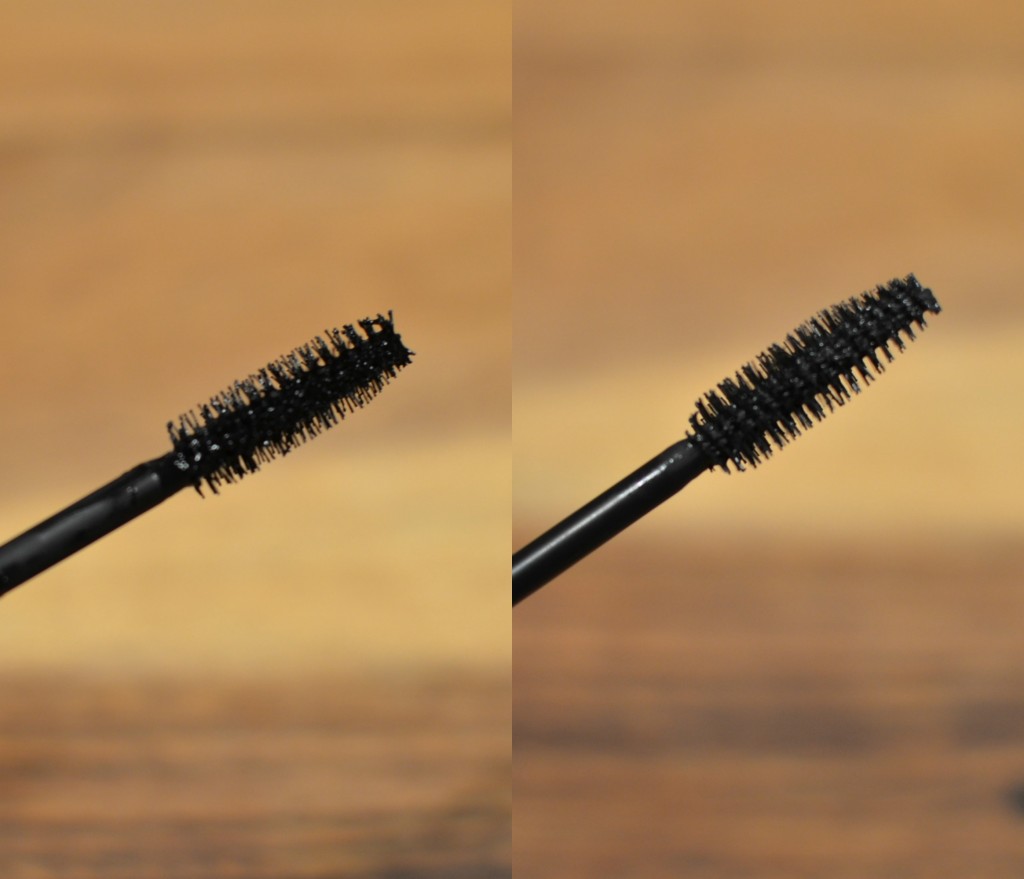 Lips!
-Rimmel London Show Off Lip Lacquers in Stellar, Nude Eclipse, and Apocaliptic
I.LOVE.THESE. It is literally like a melted lipstick. They are not sticky at all and even though they are very rich and opaque they are easy to apply without a mirror. Please try them if you get the chance! At $5 a piece you can't go wrong!
L to R: Stellar, Apocaliptic, Nude Eclipse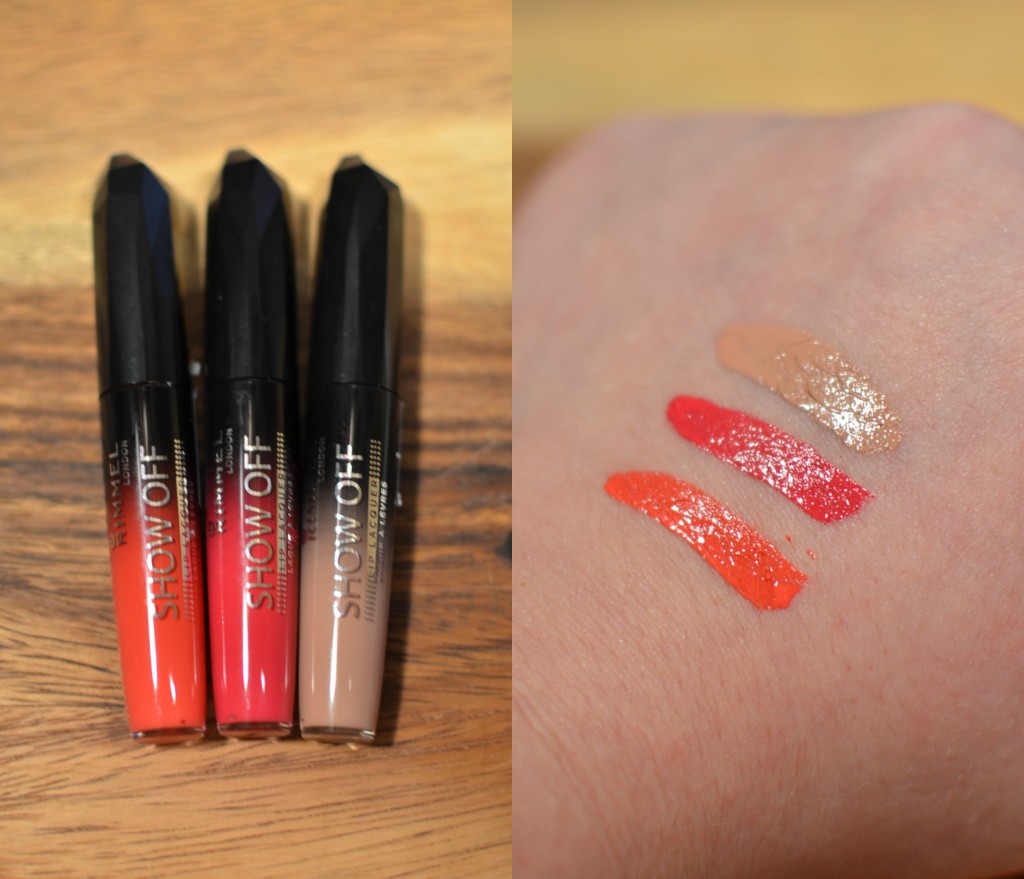 -Jordana lip liner in Baby Berry ($2)
Like I said about the eye liners, the creamy texture is easy to put on and the colors look good on all skin tones.
-Maybelline Baby Lips in Strike a Rose ($3)
These are basically a tinted lip balm. They are very moisturizing and come in a variety of colors. This color is from their new line with a neon yellow, neon green, and a very purple purple! Yikes! I'll be trying them. 🙂
-Revlon Lip Butter in Strawberry Shortcake ($7)
These are a more sheer and moisturizing lipstick. They have a little shine to them and are super easy to apply. I also have one in Raspberry Pie!
L to R: Jordana lip liner, Revlon Lip Butter, Maybelline Baby Lips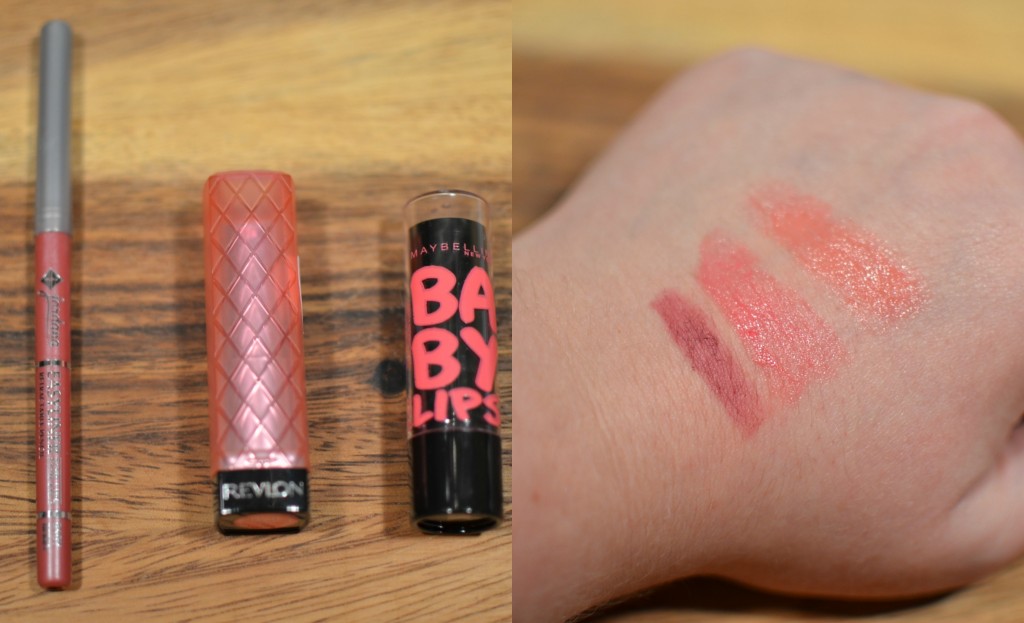 Face!
-Rimmel Stay Matte Powder Foundation in Buff Beige ($5)
I stole this powder from my sister when she came home from college and loved it so much I bought my own! It's great for topping off a foundation and keeping my skin matte most of the day.
-Burt's Bees Cuticle Balm ($6)
I love the smell of this and can't wait to use it!
-Burt's Bees Sensitive Facial Wipes ($5)
I've tried a couple other facial wipes and they really messed my skin up. These have not! They won't take off all of my makeup though, so keep that in mind. I like to use them for wiping off excess makeup or hand swatches or after a day at the beach.
-Yes To Cucumbers Sensitive Moisturizer ($15)
I LOVED this in the beginning. It doesn't smell like cucumbers unless you push your nose right against it, hah. I don't have the best luck with moisturizers, but this one worked pretty well!
-Studio 35 Beauty Blending Sponge ($5)
BUY THIS. I kept hearing about the Beauty Blender and how amazing it was but didn't think it was anything better than a regular sponge. My sister bought this one and I've used it the past few days and can't live without it. It blends the foundation in so much better than my fingers and the finish is so much more natural.
-Wigo Teasing Comb ($4)
This is great. It's easy to use and I don't feel like I'm raking hard on my hair when I use it.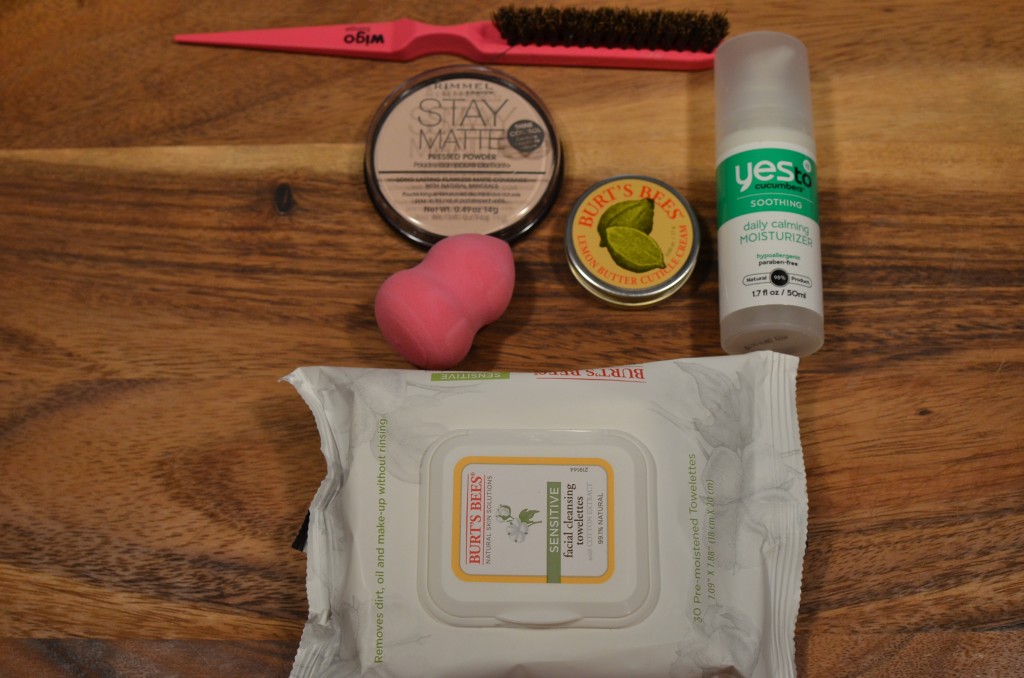 So that's it! There's my haul! I hope you found some good things to try! I can't wait to use these things more and let you know more information then.
Have a good day!
xx