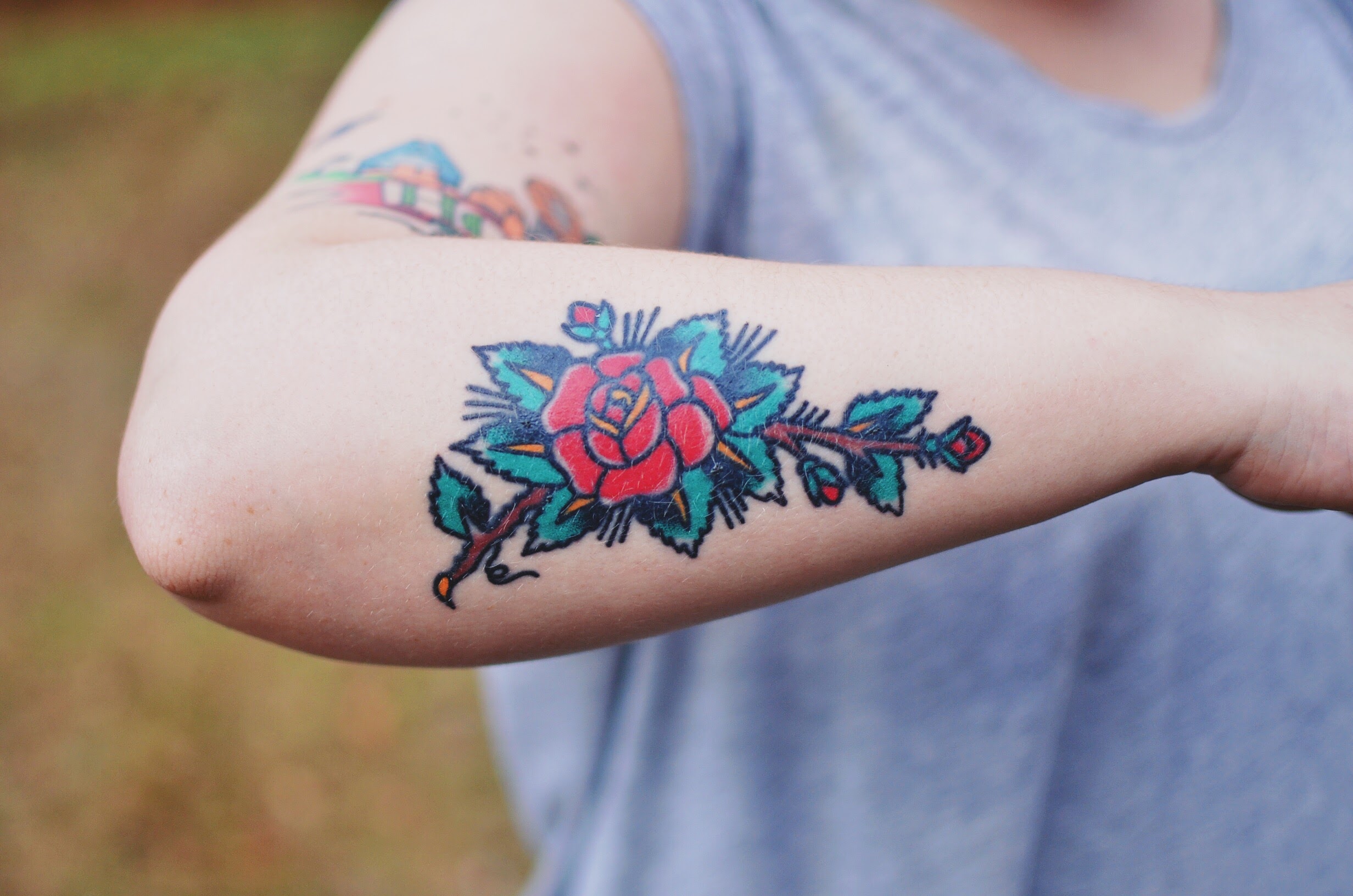 If you know me IRL, sometimes I get an idea in my head and obsess about it for literal years before I take action. This is true in my move to Dallas (ask anyone I went to college with), buying a Honda Civic and now true of tattoos.
I think I started wanting a tattoo when I was seventeen, but thank god I didn't get one back then because surely any idea I had back then was total hot garbage. (AHEM, LITTLE SISTER RUDY. I'M TALKING TO YOU.) Anyway, I'd been bouncing ideas off of my mom the illustrator and bugging her for months to draw me something. I told them leading up to my birthday in September that all I wanted was tattoo money. One day my mom randomly texted me and asked how much people tip for tattoos. And because I'm as dense as a fruitcake I was completely oblivious. ADOY. On my birthday, they gave me all the money I'd need for my tattoo AND AN ORIGINAL DRAWING OF THE DALLAS SKYLINE IN MY MOM'S SIGNATURE STYLE. I think I died.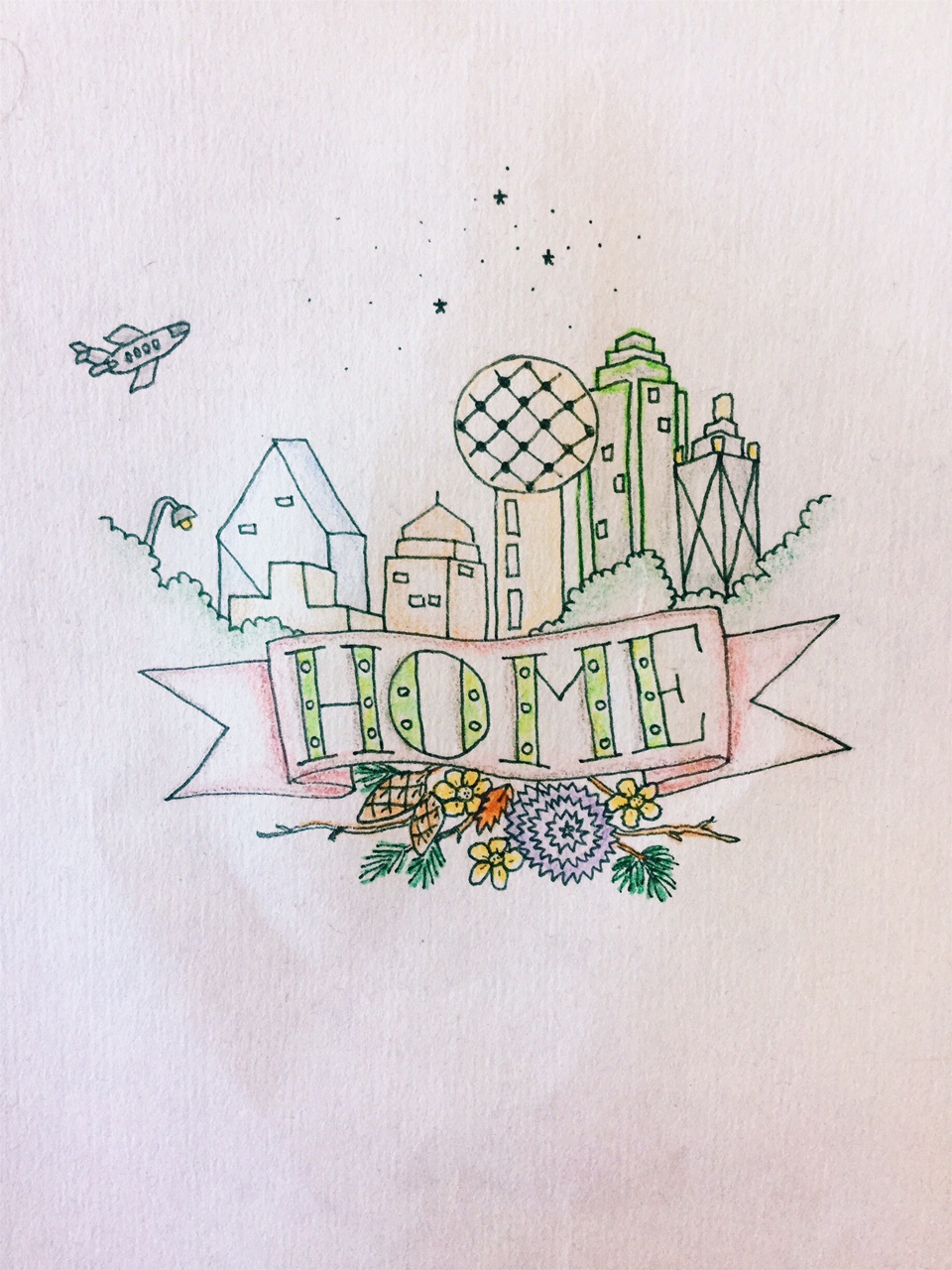 I already knew which tattoo artist I was using so I made an appointment for mid October. My appointment was on a Friday and I lucked out that my sister could come up from Waco and go with me! I hate going places alone and having someone there relaxed me.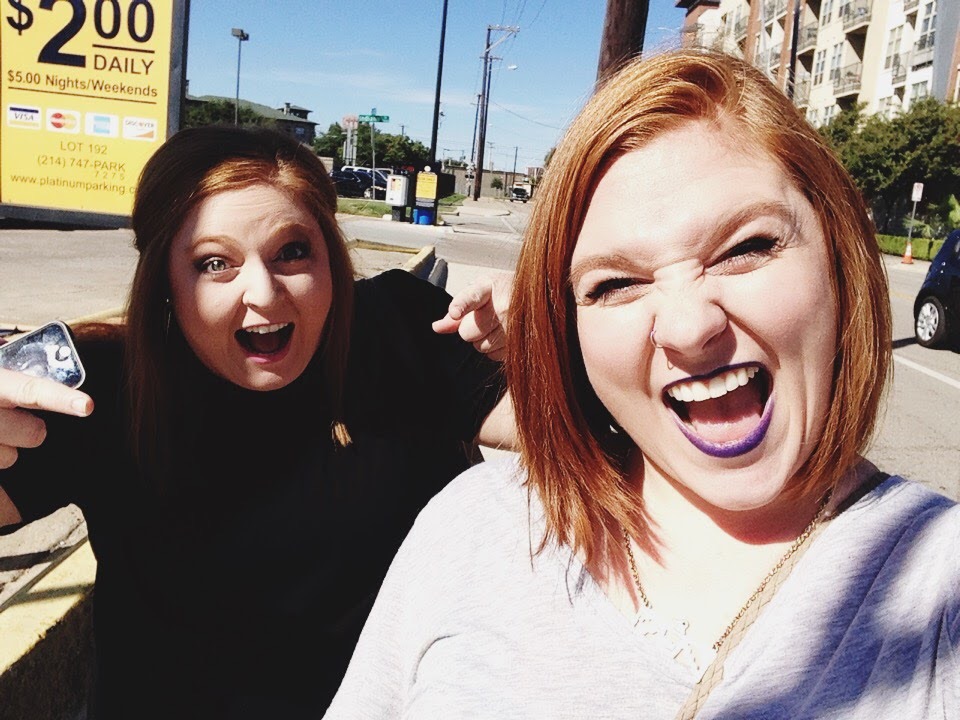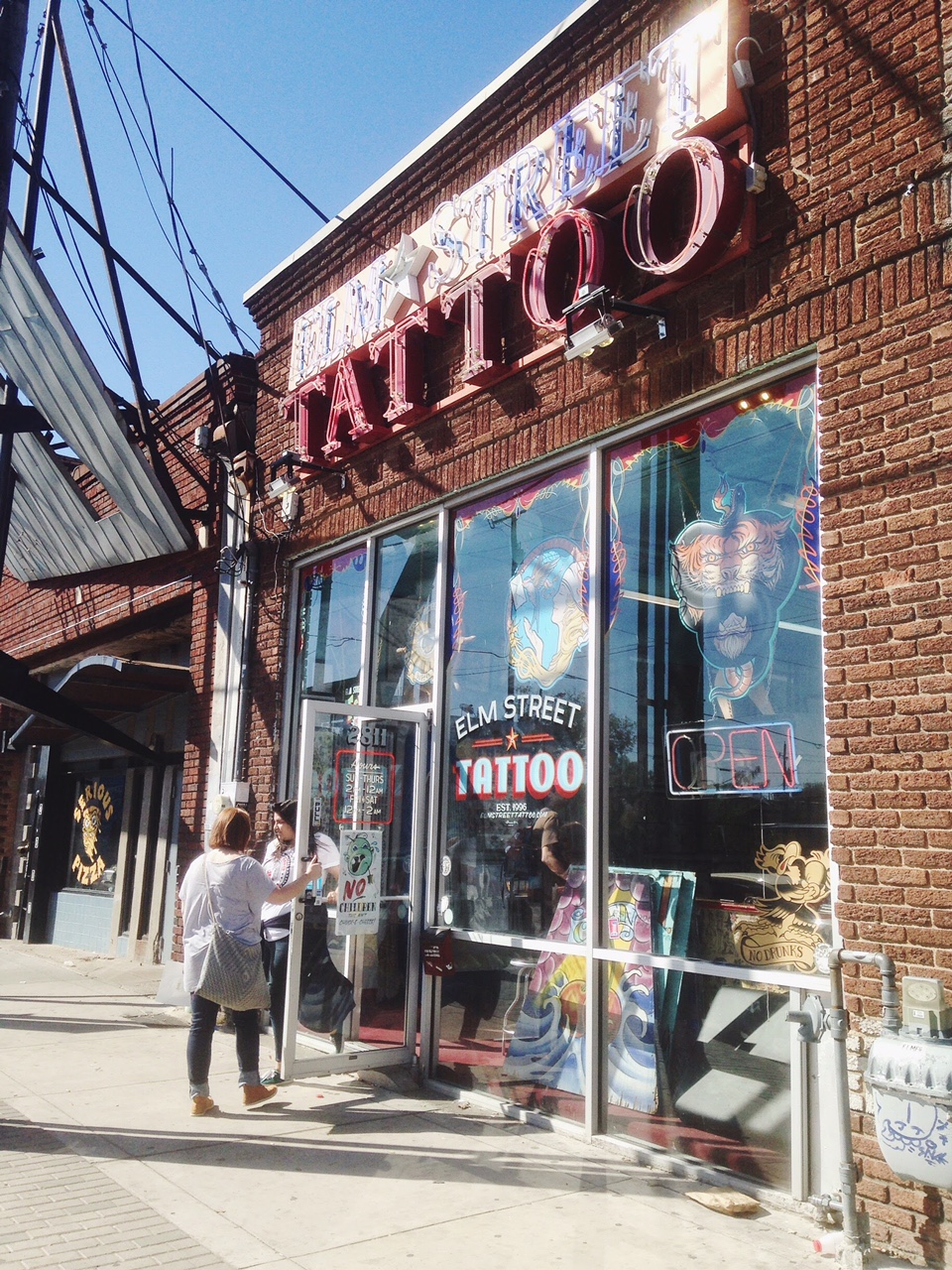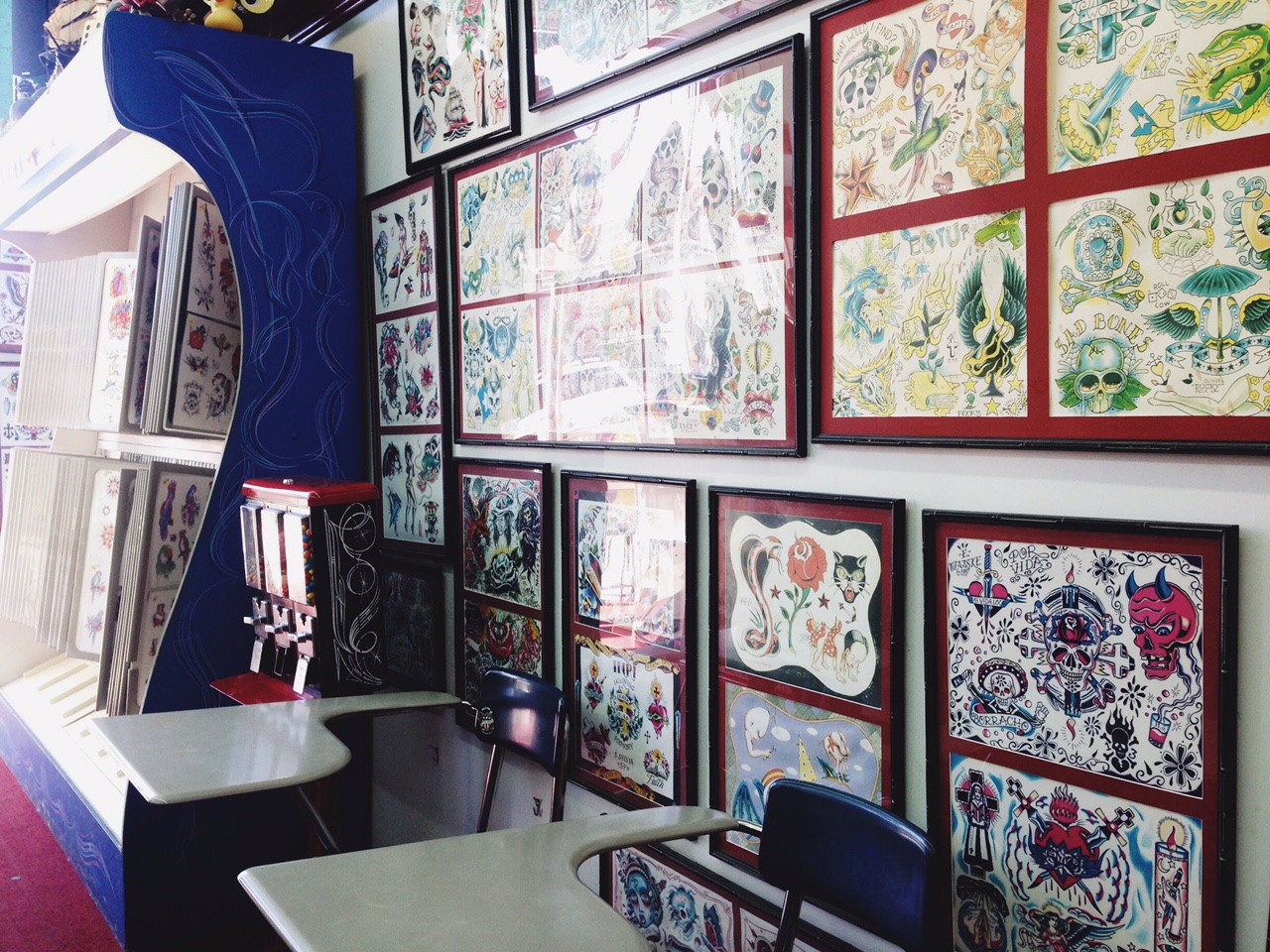 Oh, did I mention I made the appointment at historic Elm Street Tattoo that just happens to be seven minutes from me? Because I did.
Josh Arseneau was my artist of choice and he did not disappoint! He was kind, patient and talented. This was obviously my first tattoo and he indulged in all the photos I wanted and snapchats and video. Good thing the shop was pretty empty that day. THANK YOU, JOSH. You rule.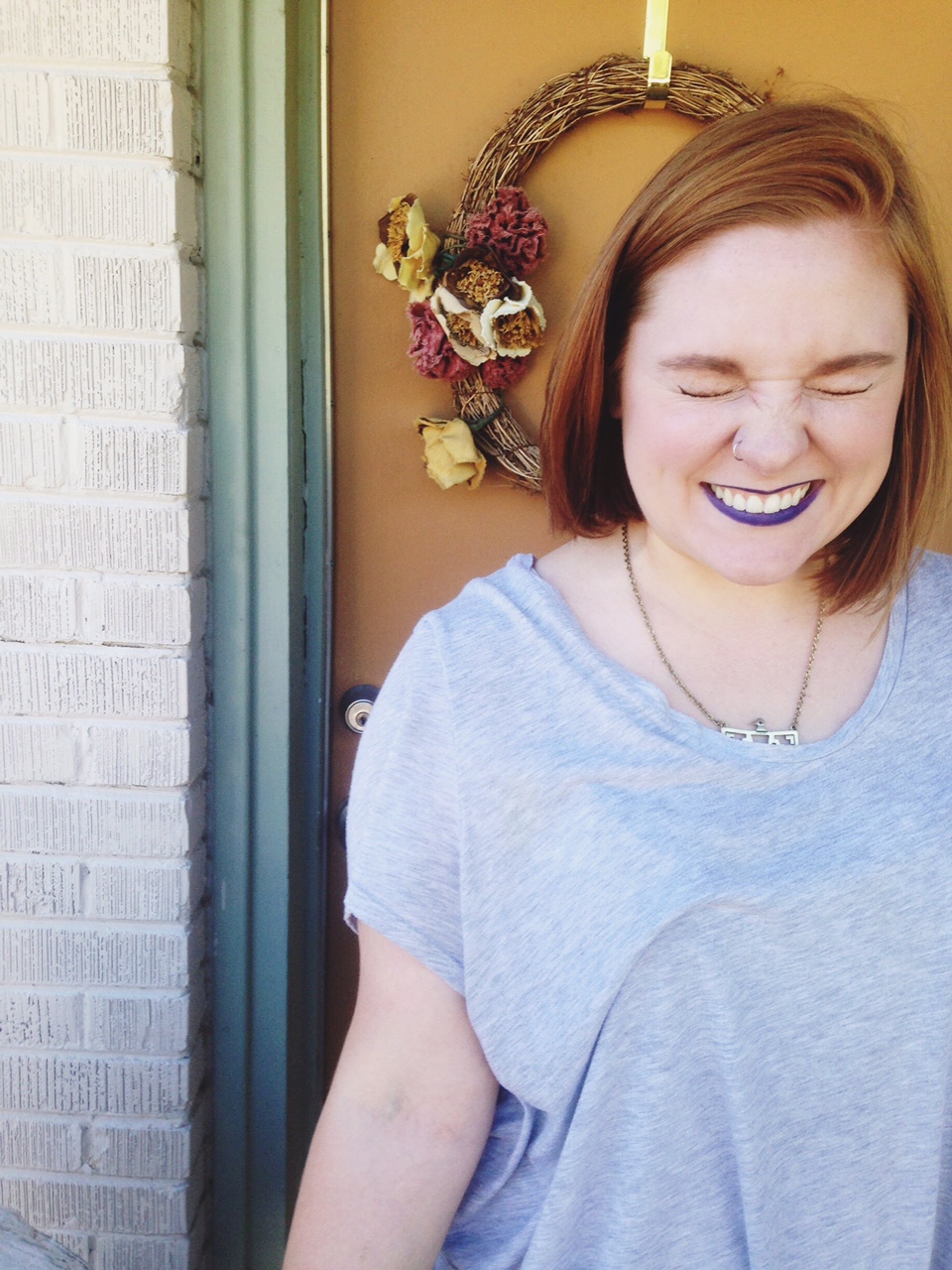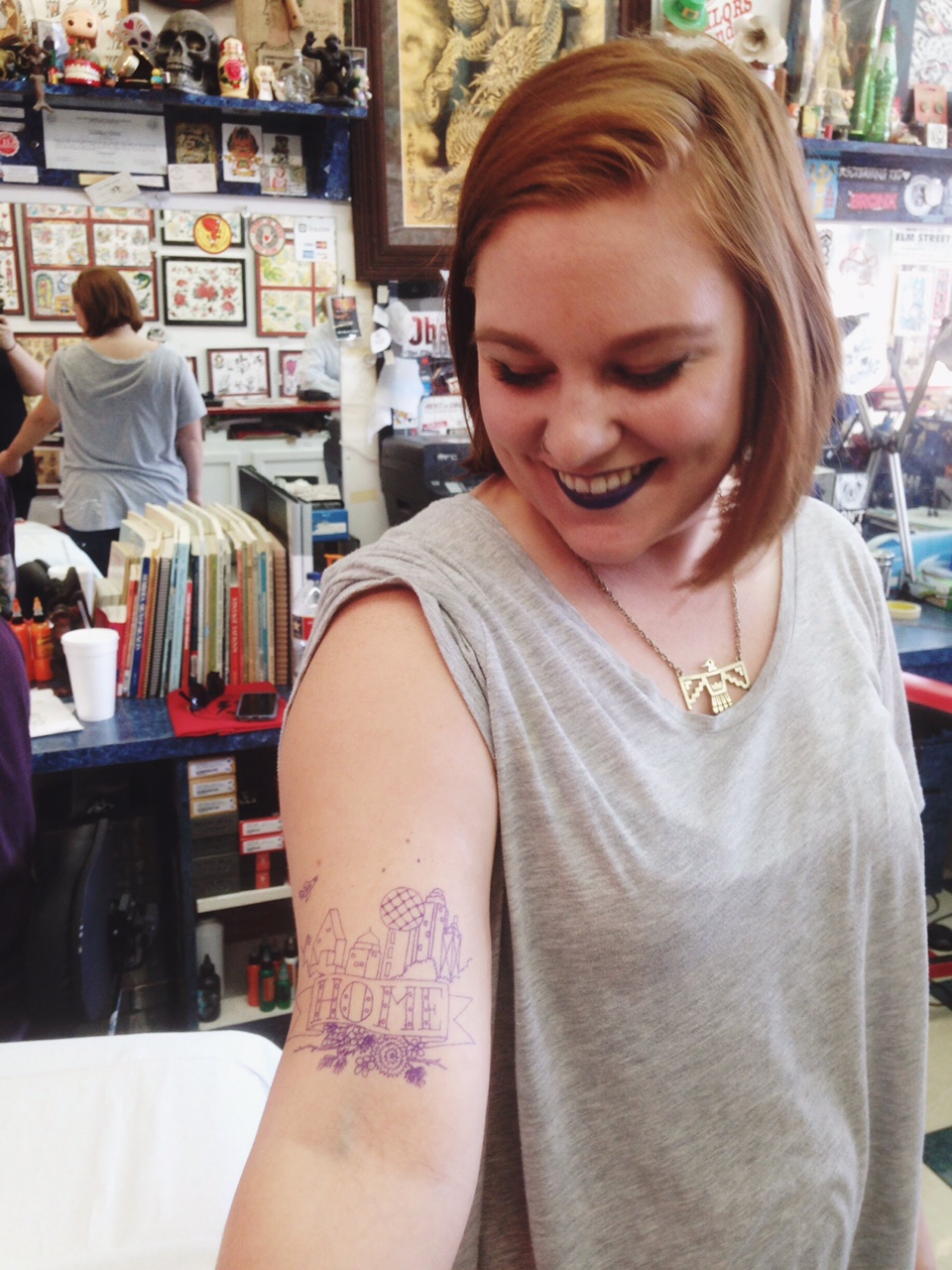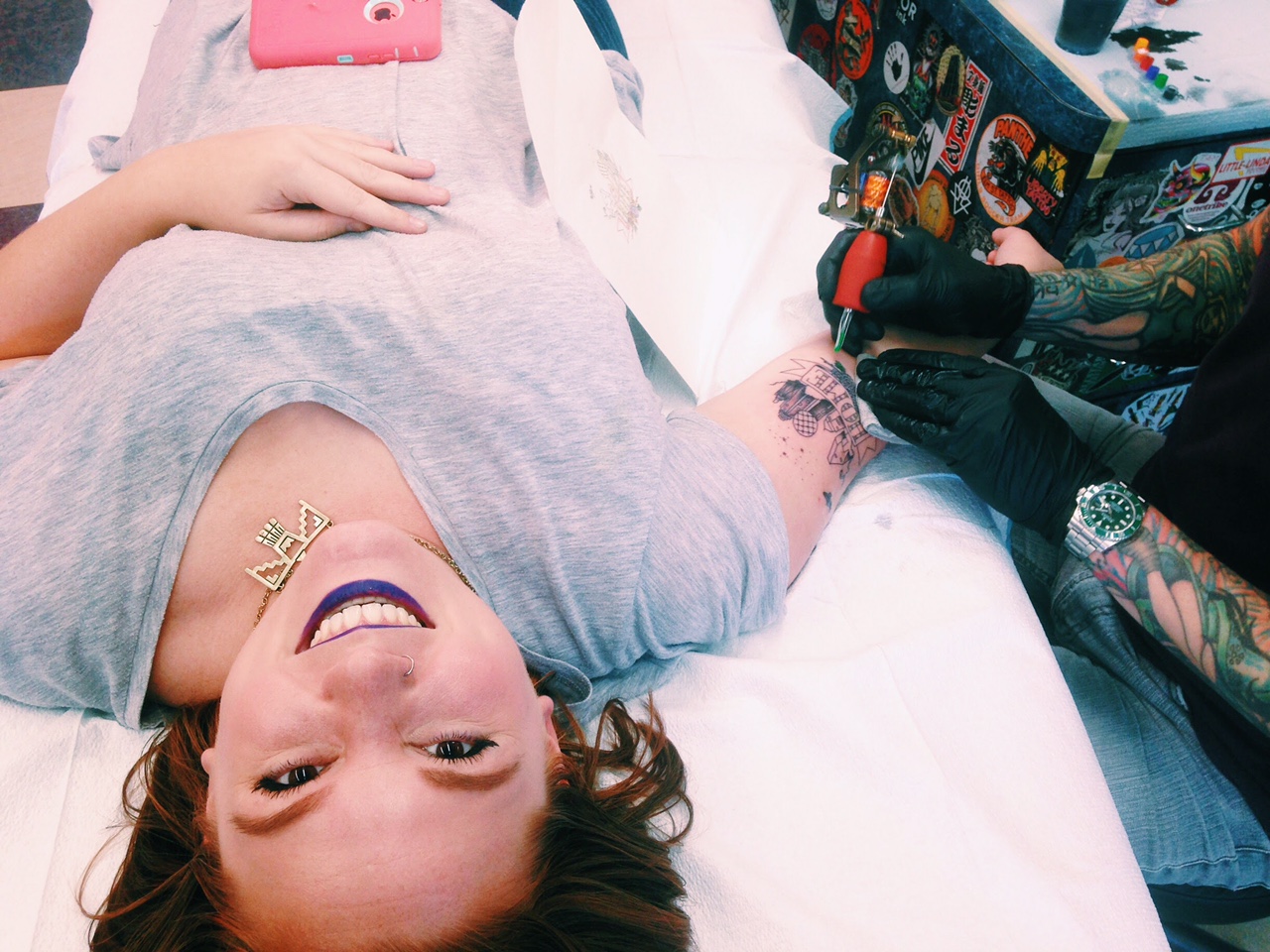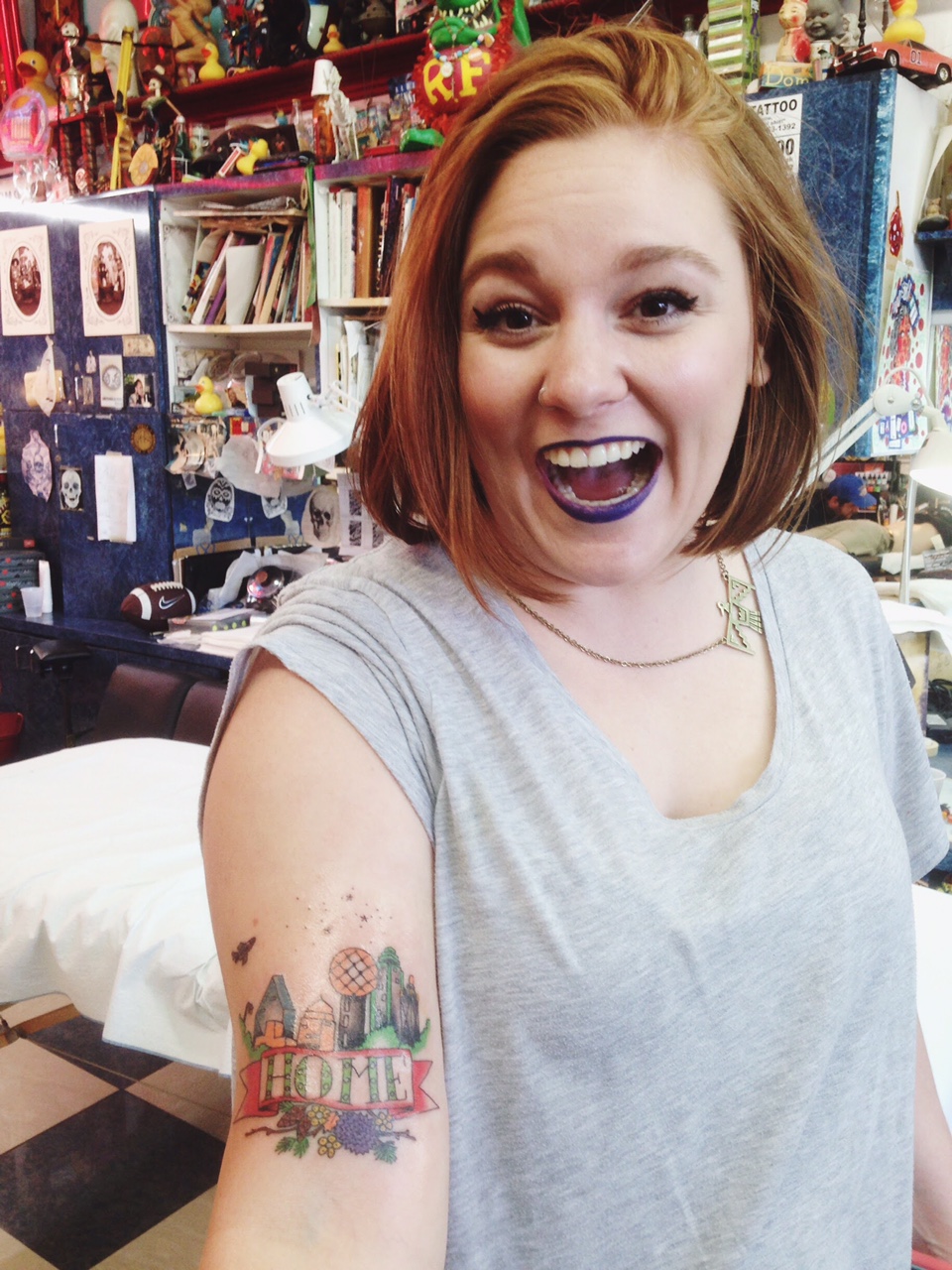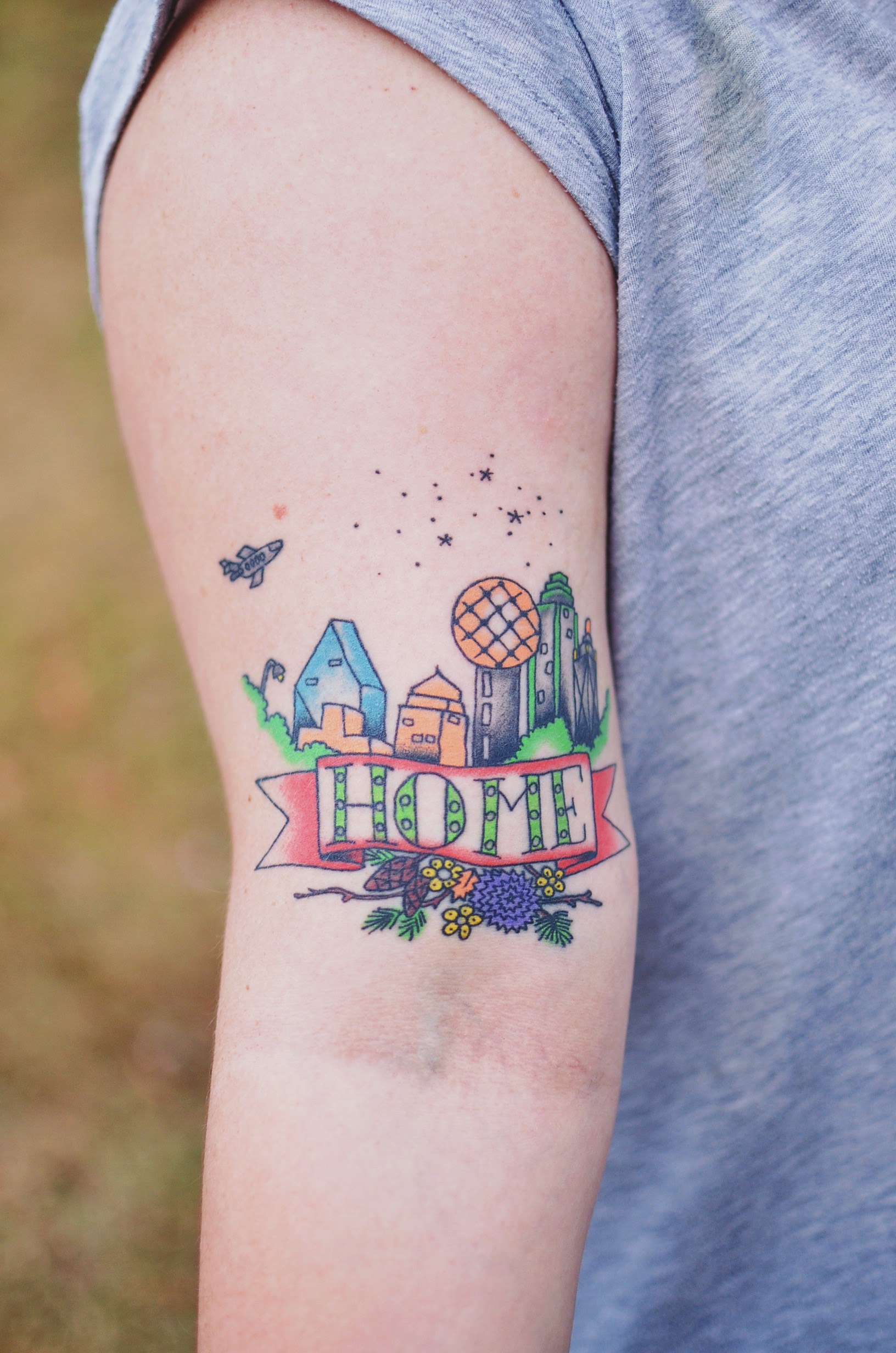 All healed up. I couldn't love it more and I've already commissioned my mom for several more tattoos. Let's just hope it doesn't take six months like the last time. >.<
A couple months later Elm Street was having an anniversary tattoo event and I decided to randomly get this awesome rose piece on my arm. This also happened to be my third date with Paden. He was a good sport and came to the shop with me and even bought me tacos after while we looked at my arm wrapped in plastic slowly turn into what looked like a pack of bloody meat.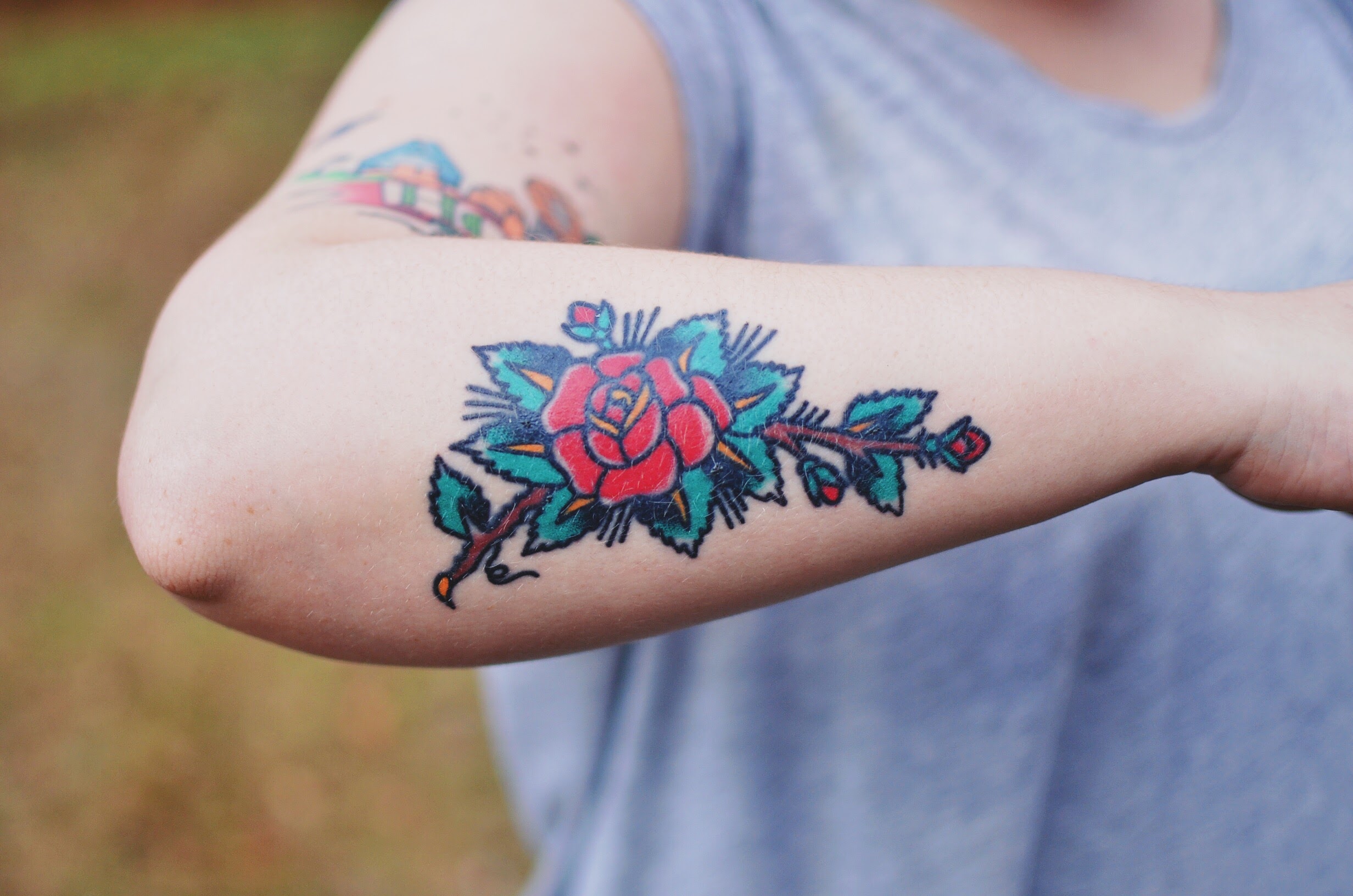 One of my other favorite artists from Portland, Tyson Arndt, just happened to be doing some appointments at Elm Street that week. When he introduced himself to me I said, "I know. I love your work." He should've been completely freaked out and rolled away from me on his stool, but instead he said, "Oh cool! Thank you." And then I got another cool tattoo.
So THANK YOU to Josh and Tyson for putting up with me and all my videos and photos and flinching, because now I have some permanent art on my body.
Do you have any tattoos? Where'd you get them? Who are some of your favorite artists? I've listed some of my faves that I follow on social media!
List some of your faves below because I am now tattoo obsessed. <3
xx