*Every time I tried spelling 'campaign' I switched the 'n' and the 'g.' Help. It's been a long week.*
You guys, it's finally Thursday! And you know what that means! Okay, you don't, but I do. ModCloth stylist Amy Hirt contacted me last week about joining their Uniquely You Campaign for 2014 and asked if I would style an outfit. Are you joking? Like they even had to ask. I was assigned this super retro swimsuit called the Fruity Suity One Piece (in plus-size!!) and built an outfit around it.
Now honestly, building an outfit for a swimsuit seems a little silly you're probably saying to yourself. But think about sitting at the beach under that cute striped umbrella you bought on sale and sipping on a frozen margarita out of a pitcher you snuck onto the beach wearing this outfit. Now are you digging it?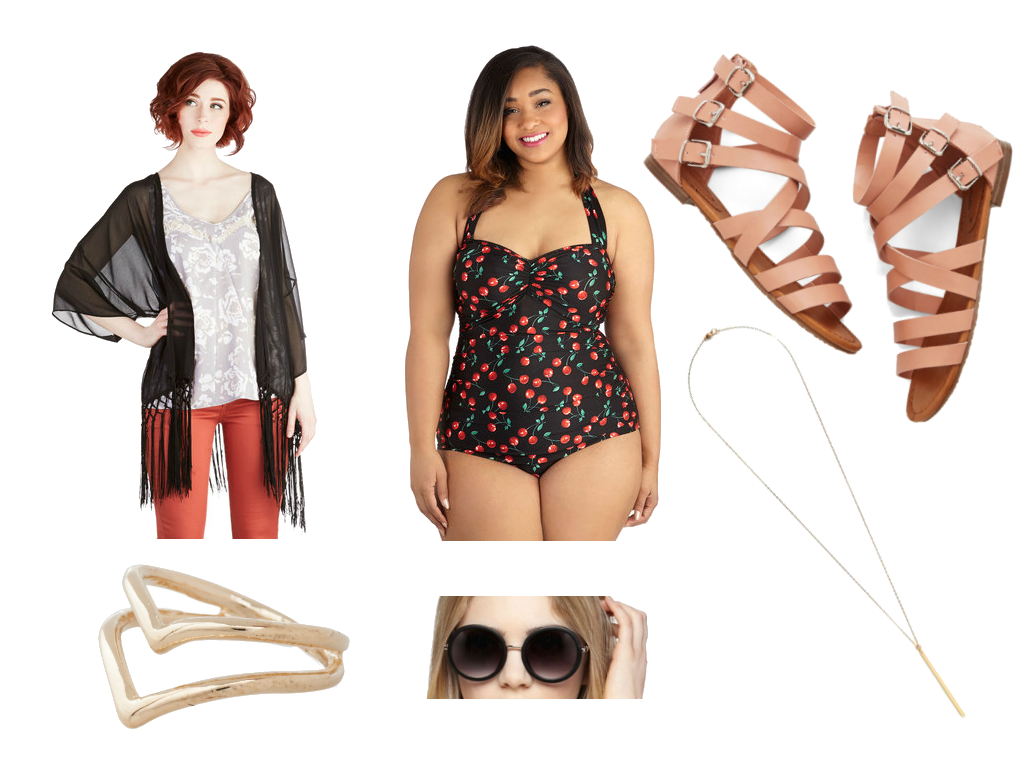 Granted, I'm horrible at collages but here's what I was picturing (the umbrella and the margs aforementioned are included, of course): it's that dusky part of your beach day where the lighting is perfect and the sun isn't harsh and you just want something cool and floaty to make you feel gorgeous. Like your salty hair and bronzed skin aren't doing it for you already, right?! I'm big into kimonos right now and the simple gold jewelry adds glam without being too much I'm-wearing-jewelry-at-the-beach. The mini-gladiator sandals counteract the edginess of the angular jewelry and rounded shades.
Here are the other pieces I used:
Savannah Stroll Jacket in Ink
Sunset Sky Sandal
The V to Success Ring
Pendulum Panache Necklace
The Music Seen Sunglasses
So what do you think? Be sure to check out ModCloths' new line of swimsuits! A lot of which come in plus-size! REJOICE AND HALLELUJAH!
Now scoot over and get your retro on.
xx