men's button-up: thrifted, jeans: Target, sandals: Old Navy, bracelets: H&M/Target, necklace: estate sale
Come on! Who knew the light in this parking lot was going to be so good? The blank slate of the parking lot was so good it was just begging to have me take my pictures in it. My sister Shel and I took our Labor Day off and hit the town shopping. We had a blast drinking coffee, strolling around Target, and buying things we don't need. 🙂 Oh and hello, do you know the wonder of TJ Maxx?! I've only shopped there less than five times in my life but I can't for the life of me figure out why. THAT. PLACE. IS. AMAZING. I almost bought a $30 Steve Madden crossbody that was so beautiful and I am regretting it now. My sister bought the most gorgeous leather and studded bag and I keep wanting to snatch! We did get new wallets that we love though. Mine is blue with tons of little compartments and cute gold zippers. I had a cheap snap one from WalMart which served its purpose but kept unsnapping in my bag and change would always spill everywhere. Flarp! Moral of the story, never underestimate TJ Maxx. Ever. Ok?
Next we hit up Target and since ULTA is right next door… 🙂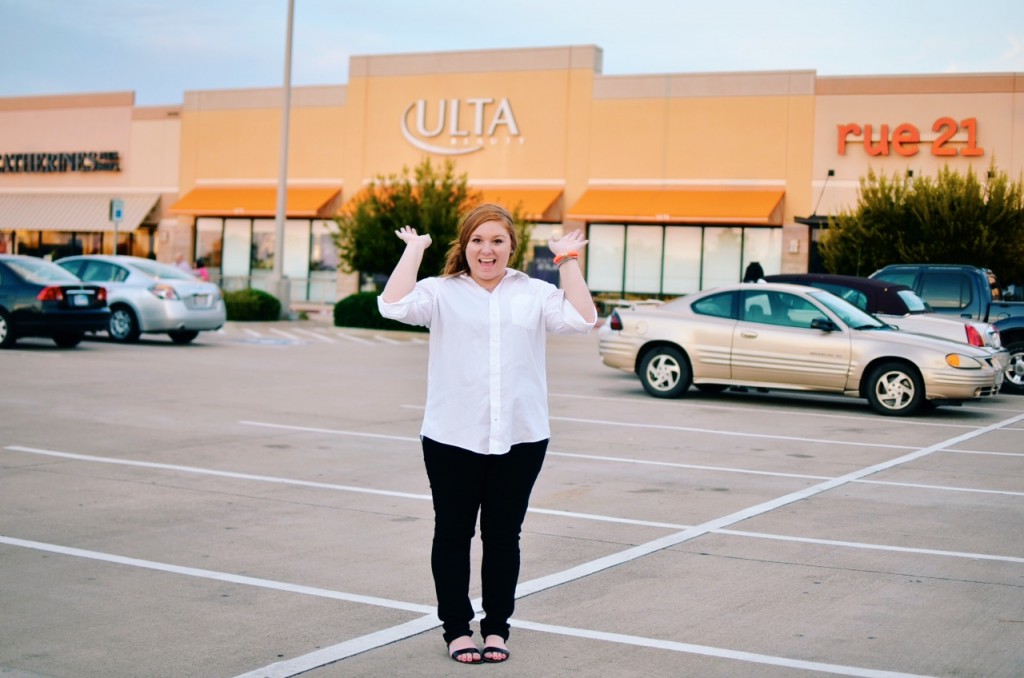 I have a hard time controlling myself in that store. It was very uncrowded Monday, which was surprising. The amount of samples and testers out sets my little swatching hand a racin'! That's why in the picture below there's a hot blue swipe of eyeliner. 🙂 NYX you get me every time! 🙂
Now on to the outfit details…
Happy Hump Day! It's almost the weekend again… Eek!
xx