Starting last fall I started getting really into YouTube videos about makeup. Specifically Beauty Broadcast! (You will get lost in her videos. Watch at your own risk.) I first found her after discovering that my favorite cheap makeup brand, E.L.F., had a website. I Googled their best products and one of her videos popped right up. I've learned loads from her videos and really trust her opinion. I follow more beauty vloggers now and after using some of the products they recommend I've compiled a list of my favorites!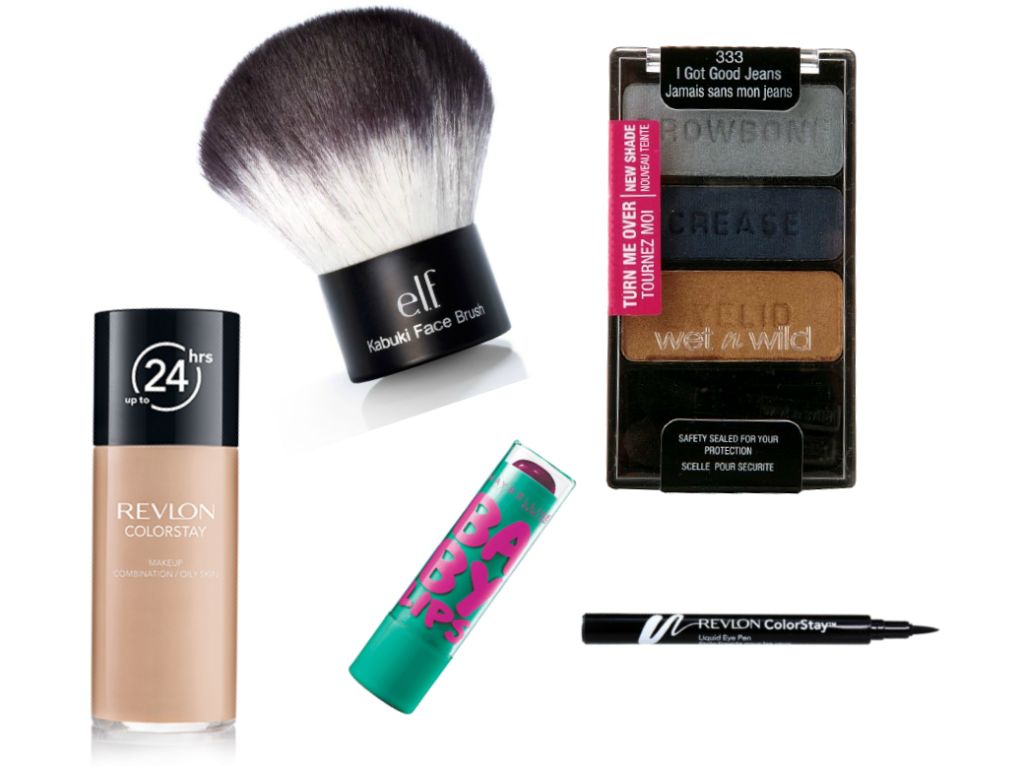 Revlon Colorstay Liquid Foundation for Combo/Oily Skin: $10-13 I've tried one other liquid foundation in my life before this one and I hated it. I didn't know what I was doing or how to put it on. Emily from Beauty Broadcast raves about this foundation. I tried it and I love it. It wears so well and stays all day! They have a great color selection and formulas for different skin types.
E.L.F. Kabuki Brush: $6 This little guy is so soft! I use it to blend together my blush and highlight so I don't look like a clown. 🙂
Wet N Wild Color Icon Shadow Trios: $3 Another Emily favorite I recently am trying. So far I really like these. They are very pigmented and last a decent amount of time. And, hey, they're only $3!
Maybelline Baby Lips: $3 This has taken my Chapstick's place. They are tinted lip balms and they smell so good! The darker ones give a little stain to the lips which I like. They are super moisturizing and make my lips softer when I wear them more days than not.
Revlon Colorstay Liquid Eye Pen: $8 I was never a fan of liquid eyeliner, but I never knew why. I finally figured out it was the type of applicator I was buying. This is a pen! It's extremely easy to use. Instead of holding a tiny stick with a glop of eyeliner on the end I just pop the cap off this guy and literally draw on my eyes. Love it.
What are some of your favorite beauty thaaangs? I'm all about some beauty. Let me know in the comments!